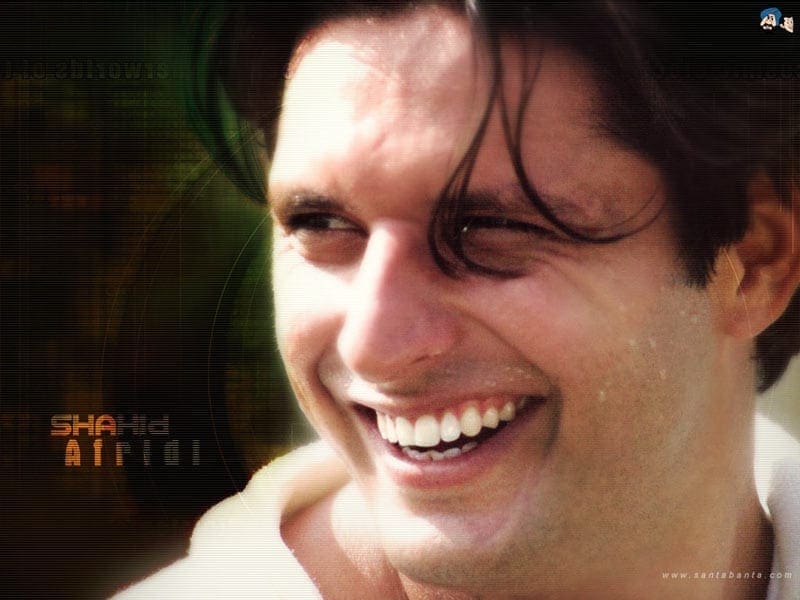 Why Shahid Afridi?
I understand that I may well be lynched on the streets for this one, but I think I will still go ahead with it! You see, my post is on a player who has fascinated me ever since I was old enough to understand cricket, and surprisingly, he happens to be a Pakistani (hence my fears!).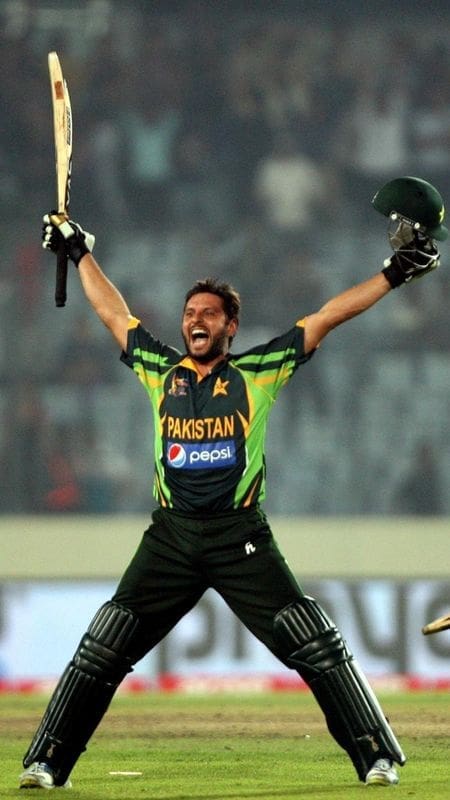 Shahid Afridi has, without a doubt, played his last World Cup game on Wednesday, the game which took us to the finals and sent him back home. But among all the hoopla surrounding our team, I felt as if I had to dedicate at least a few lines to the person who has been one of the game's greatest entertainers.
The DLF IPL starts barely 5 days after the World Cup ends, which shows its meteoric rise in importance in the cricket calendar. Now suddenly, we have people who are considered "T-20 specialists" and even a new type of bat, specially designed for big hitting!
Shahid Afridi played the   T-20 style much before Lalit Modi decided to make it the next big money-minter in cricket.
Shahid Afridi – Records Galore
Sample this, people; he was 16 years 217 days old, playing his second international match when he smashed a 37-ball century against Sri Lanka in 1996. What are the stats of the match?
Record for the fastest century in ODI cricket. Record for most number of sixes in an innings(eleven). Record for youngest player to score an ODI century. All in a single match. He carried This style throughout his career, earning him the nickname Shahid "Boom Boom" Afridi.
Three of the seven fastest ODI centuries of all time are from his explosive bat. As of 27 February 2011, he has an ODI strike rate of 113.83 runs per 100 balls, the third highest in the game's history.
He holds the record for the second-highest-scoring over ever in an ODI, scoring 32 runs in a single over. He also has the distinction of having hit the most number of sixes in the history of ODI cricket. Currently, Afridi is the leading wicket-taker in the Twenty20 format taking 53 wickets from 41 matches.
He has been terribly inconsistent, mired in controversies, and had horrible patches in his career. Probably never will he be considered among the greats. But for us, who grew up watching him demolish attacks like a juggernaut, he will be a legend. And yes, I know I will not be the only one to say I will miss the excitement of watching him come out to bat.
Take a bow, Boom Boom!
Full Name: The Full name of Shahid Afridi is  Sahibzada Mohammad Shahid Khan Afridi.
Shahid Afridi was born on 1st March 1980
Status: Currently Married
Place of Birth: He was born in NWFP, and the city is Khyber Agency
Height: 5 feet, 11 inches
Early Life
Sahibzada Mohammad Shahid Khan Afridi was born on 1st March 1980 to a Pashto family in Khyber Agency in FATA, Pakistan. His father's name is Fazal-ur-Rehman, but little is known about his mother. He has 4 sisters and 6 brothers as siblings.
He is married to Nadia and has 2 daughters, Aqsa and Ansha.
Cricket Career
Shahid Afridi made his international debut at the age of 16 years and 217 days against Kenya on October 2, 1996. He was not successful in that match, but in his next match against a quality side Sri Lanka, he scored the fastest ODI century off just 37 balls, which is still a record. He stroked 11 sixes and 6 fours and became the youngest player to score an ODI century.
He made his Test debut against Australia on October 22, 1998, and scored only 10 and 6 in 2 innings but took 5 wickets in the first innings. He made his first Test century (141), playing only his second test against India, and took 3 wickets.
He again struck a quick-fire century off just 45 balls against India and equaled the joint record of the second fastest ODI century with Brian Lara.
Shahid Afridi came into the scene as an aggressive batsman but soon found his rhythm in bowling first as a fast bowler before converting to spin. Seeing his hard-hitting abilities and wicket-taking capabilities earned him the tag of best all-rounder in the world.
He led his side as captain in 34 ODI with 18 wins and 15 losses. He retired from cricket soon after the West Indies tour in 2011 after the World Cup.
Bans & Criticism
He faced various bans in his International career and was occasionally criticized for his bad behavior on the field. The first such incident happened in November 2005 when he was banned for one test and two ODI for causing damage to the pitch. He accepted his fault and felt guilty for it.
He was again charged in February 2007 when he misbehaved with the spectator after being dismissed. He was suspended for four ODIs and missed the first two matches of the 2007 World Cup.
He was also involved in a ball-tampering case during the CB series in Australia and was banned for two T20 matches.
Captaincy Career
Shahid Afridi was first appointed as the captain of the Pakistan T20 cricket team after Younis Khan stepped down from the position after the win in the 2009 T20 World Cup.
He was appointed as the ODI captain of Pakistan for the Asia Cup in 2010.
But he fully attained the command of the Pakistan cricket team on May 25, 2010, when he was announced captain for all three forms of cricket. He was also named the captain of the squad selected for the 2011 Cricket World Cup. Pakistan did well under his captaincy and won the ODI series after 2 years against New Zealand.
As a captain in the 2011 World Cup, he led the Pakistani side to the semifinal, where they lost to India by 29 runs. Pakistan finished on Top in their group after beating Australia and breaking their 33-match winning streak. He was the highest wicket-taking spinner in the tournament and joint-highest wicket-taker with Zaheer Khan.
Awards & Achievements
Shahid Afridi made many records, some of which he still holds. Some of his achievements are:
Fastest and the second fastest Century in ODI.
Scoring the second-highest number of runs in an ODI over (32).
Most number sixes in ODI.
Leading wicket-taker in T20.
Longest six in the history of an ODI against Australia.