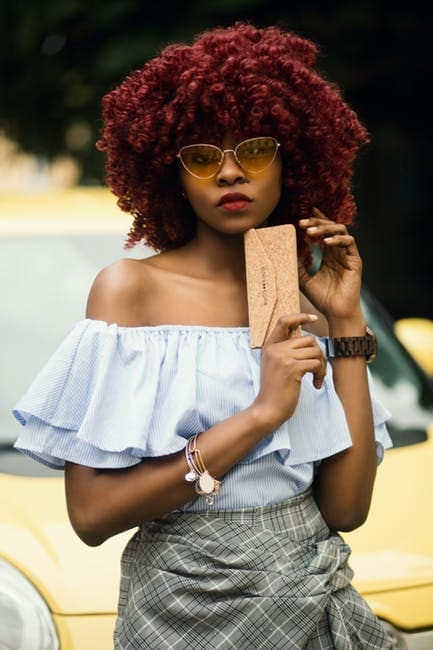 Colored hair extensions are the way of the future.  That might be a bold statement, but have you even seen Instagram lately?  Influencers, social media moguls, and celebs are all setting the bar high for new, fast, and heavy hitting hair trends.
Hair color is an important part of your overall look. It can make you feel more confident, but it can also be very expensive to keep up with in, terms of your hair health. Check out some ammonia free colors at https://beautyhill.com/best-ammonia-free-hair-dyes.
Last year, 2017, saw a whole spectrum of hot, must-have hair colors, and it owed it all to colored hair extensions.  It's why Kylie Jenner can go from ghost gray to ultraviolet from one event to the next. Currently, Peruvian hair weaves are in vogue because it is said to be one of the best types of hair weaves.
Colored hair extensions give you the freedom to explore with ease of application and the ability to transform your ook in a matter of seconds. Beaded weft hair extension created with real human hair, which is sewn (either by hand or by machine) onto a horizontal strip, or "weft."
With these necessary hair accessories, you'll always keep your friends guessing and your selfies fresh!
The Red Streak
Red is and always will be in.  There's no question about it.  Red highlights look good on everyone no matter what your real hair color is, and now, you don't have to dye your hair to dive into this amazingly hot trend.  Spice up your hair with a gentle red-colored hair extension, adding a little depth and dimension to your natural hair.  Or go for hot rod red and have your colored hair extension sizzle its way across your crown.
Curls of Colors
It's the perfect experiment style: your real hair intertwined with a few strands of vibrant colors.  A curl of light red here, wave of light blue there, and a bit of purple at the nape of your neck.  Now, that doesn't seem like much, but take a step back and take a look.  Your colored hair extensions speak volumes, even if you just incorporate a few into your regular style!
For a more dramatic version, use bolder hues and treat yourself to a nice blow out.  The volume combined with a pop of colored streaks will turn heads.
Rainbow Dipped Pony Colored hair

Sometimes, ponytails need to be jazzed up.  This hairstyle has been around since the dawn of time and can feel tired and boring.  Here's where colored hair extensions save the day.
Pull your hair back into your standard ponytail, only this time, whip out your multi-colored array of hair extensions.  Whether you're using clip-on hair extensions or tape-ins, gently collect your hair with the extensions in with a hair tie.  For a perkier look, try a high ponytail, or for more sophisticated, go low.  The bright colors at the tips of your ponytail are an excellent way to jazz up the classic look.
Dripping in Glam
Faded hues are the hot new thing.  Lilac, soft reds, pretty blush, and tinted purples have been spotted on the most liked Instagram posts with #hair.  What makes this trend so unique is that the color is focused on the tips of the hair, a slow transition to a beautiful end.   The best part is that you don't have to settle on just one of these muted colors.
Your clip-on hair extensions can allow you the will to change on a day-to-day basis, depending on your mood or what outfit matches it.  These relaxed tones say that you're up for hanging out low key and the type of girl who is always the life of the party.  It's multidimensional—just like you.
Potent Purple
You can't talk about colored hair extensions without talking about one of the most unique color of them all: purple.  Purple can be royal.  It can be punk.  It can be seductive or it can be incredibly glam.  Purple can be whatever you want it to be!  With colored hair extensions, you are one step away from recreating your look on a whole other level.
Potent purple is one of the trending fads and by the looks of it, this hue is going to bring us into the new year, too.  Get on board with an epic potent purple look with your colored hair extensions, and don't forget the selfie.
Would you wear colored hair extensions?  If you want to embark on your own trendsetting journey where one selfie can send waves of followers to their salons, then of course you would!  If you want to experiment with bold looks with no permanent commitment, then duh!  Change your hair, change your life.