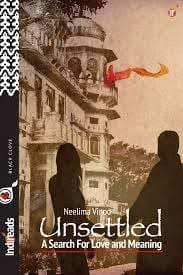 Title: Unsettled
Language: English
Author: Neelima Vinod
Genre: Love and Romance, Supernatural
Publisher: Indireads Incorporated, Toronto – Ontario
ISBN: 978192782607-2
Pages: 86
Type: e-book (Download Unsettled)
Synopsis: A poet wrongfully banished from his Kingdom finds refuge in the lust of a ghost who whispers poems of the essence of love and womanhood. He is entranced by her body and all it does to him. Not only this, but the product of their passion gives way to making the Scrolls of Love. A year later, he falls out of this trance and escapes, leaving the Scrolls, his ticket back to the hearts of his People, behind. Five hundred years in the future, Divya and Raghav are having marital trouble which could mean the end of their marriage. Divya is convinced by her Psychiatrist Dr. Ray to find these Scrolls, as they were the key to her problems at home. Will Divya and Raghav brave the legends surrounding the Big House and save their marriage? Are they immune to the powers the ghost there has? And is there more to these characters than meets the eye? Dig deep into the lives both past and present of these lovers, whose fates and destinies are entwined.
Detailed Review
Divya and Raghav are of different worlds entirely. She a Keralite and he a Mumbikar. It was always "expected" of him to end up with his childhood friend Anu. Divya and Raghav's marriage soon turned sour with Divya suspecting her husband of having an affair with Anu. Her house in shambles, her mind scattered, she turns to Psychiatry where she meets Dr. Ray. She brings to him an intriguing piece of poetry- words of ancient that float in her head, she says. She goes on to tell of how she sees ghostly women clad in white and houses of mystery in her home town in dream and wakefulness. She tells a tale of the Scrolls of Love, written by Shankar Shastry half a millennium back. The Doctor tells her that her fate could well be tied by these scrolls and that obtaining them would save her marriage. The story soon turns into a hunt for more than just ancient poetry, but a fight to rekindle the dying fires of her love-life. "Unsettled" is a story of multiple faces. It represents how frail and delicate a marriage is. How love cannot be forced, but is kindled by passion and burns like wildfire with lust and desire. How love is unending through generations, be it that of a lover or of a mother- ready to give all for the sake of just one. The essence of this story lies in love always getting a second chance- where those are deserving and destined to seed off it. A tale of lust passionless and crude turned to love. Where the past is mirrored to the present.
Positives
Characters are enriched with delightful back stories.
Although rather predictable, the story unfolds at a pleasant pace, with always something to look forward to on every page.
Negatives
The ending seemed rather abrupt. Movie buffs everywhere would find it a tad disappointing after the strong back story this book gives.
Who will enjoy this? Everyone!!
Buy or Don't Buy? Definite buy.
Go grab your e-copies of the book today!