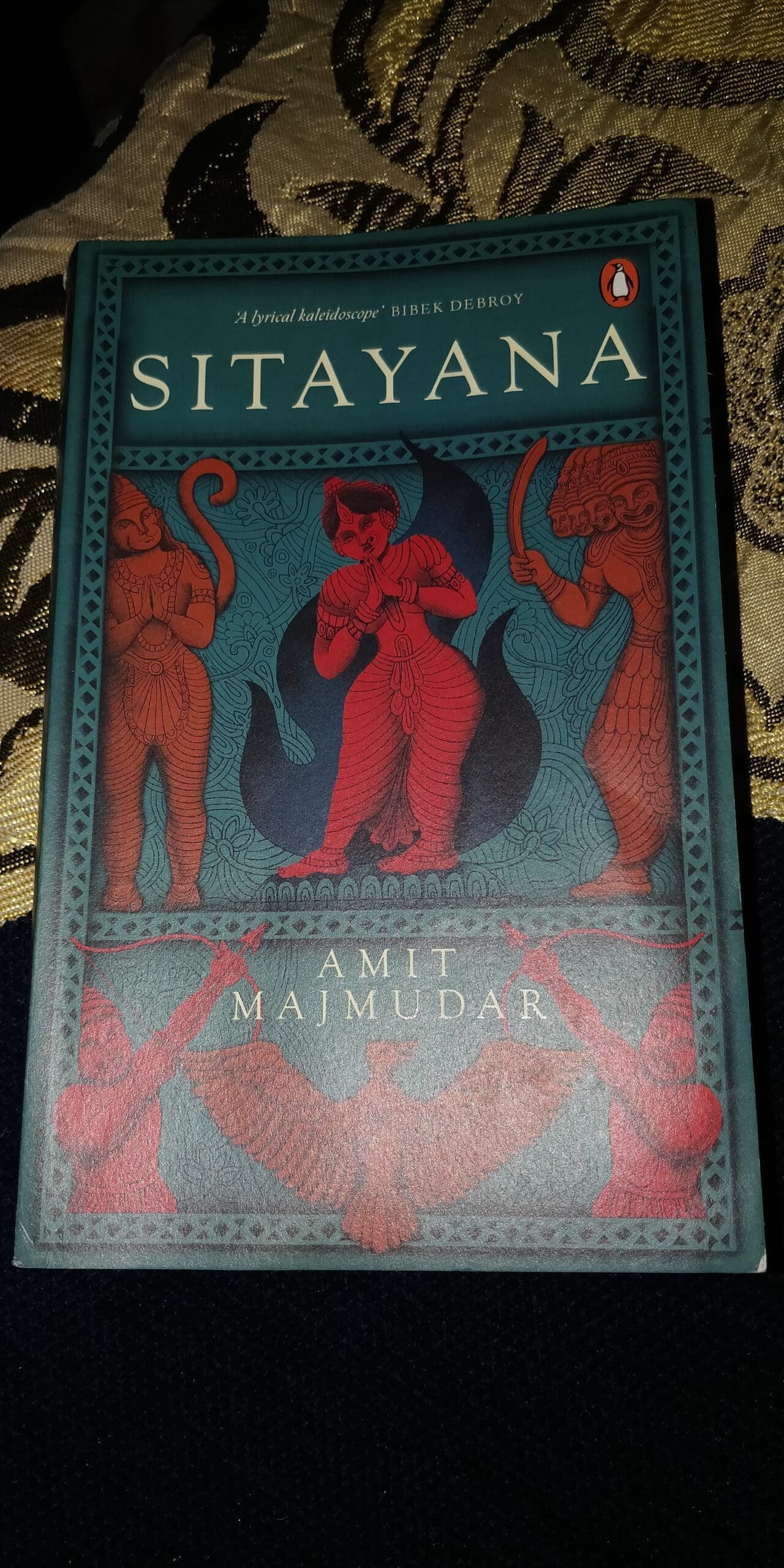 Title: Sitayana
Language: English
Author: Amit Majmudar
Genre:  Fiction –   Alternative History/Mythology
Publisher: Penguin (24 January 2019)
ISBN-10: 0143447297
ISBN-13: 978-0143447290
Binding: Paperback
MRP: Rs. 399 (Buy from Amazon for 219)
Pages: 256
Summary:
Everyone loves to fantasize about mythology. Our childhoods (at least mine) have been filled with the stories of valour – be it Rama or Krishna, Ramayan or Mahabharata or the innumerable mythical gods of India. Grandparents told these stories with a pinch of their own imagination and creativity. This then is Amit Majmudar's effort at retelling an epic with another character as the protagonist. He succeeds to an extent, but I found it a bit of a let down due to some amazing works by other writers such as Anand Neelakantan.
Detailed Review:
The cover of the book is done artistically and this makes the book stand out, however would have preferred slightly brighter colours.
Sita's story begins with her reminiscing her childhood, her love for mother earth and her encounters with Shiva's bow. The narrative then shoots forward to her swayamvara and till this point is in her own words. At this point, other characters of this story start putting forth their version of the events.
Most of us, at least those of us from India, know the Ramayana well enough to understand the various characters and their motivations. It is then refreshing to hear the story from their point of view, providing us with some amazing insights into their characters. However, with a book titled "Sitayana", it is a bit of a throw-off for me to listen to the story through these various characters.
That said, Amit Majmudar has taken up the challenging task of narrating the story of Sita from a perspective other than the traditional. He has succeeded in this to a large extent. It does require a lot of imagination to counter the traditionally held story line, decode and break it apart and reframe it from another perspective. Sitayana then is a very creative retelling.
There is humor and several puns that may be missed by the "casual" reader, but then, this book is not for the casual reader at all.
The book does make for an engrossing read, but it does not enthrall.
My opinion:
Sitayana is not exactly what the title suggests, but also is. Therein lies the dilemma for me. I expected more of a first person narrative and ended up a little disappointed.
What I liked about the Sitayana by Amit Majmudar

Simple language with good use of puns throughout.
Look out for lovely poetry within the prose (meter).
Lovely imagination, stretching into the formation of various planetary phenomenon as a result of the fights between Rama and Ravana.
What I did not like about the Sitayana by Amit Majmudar

The narrative from multiple characters doesn't justify the title of this book and is misleading.
 Sita though a central character in this storyline, is not given the importance she is due. The author agrees on this point as well, when he shows Valmiki's dilemma of how to begin the story of Sita.
Buy or Don't buy?  A tentative buy. However, may not be a light read.

I give the book 3.0 out of 5. You can buy it from Amazon India  or If you reside outside India try Amazon global.
Book Blurb:
Countless retellings, translations, and reworkings of the Ramayana's captivating story exist-but none are as vivid, ingenious and powerful as Amit Majmudar's Sitayana.
Majmudar tells the story of one of the world's most popular epics through multiple perspectives, presented in rapid sequence-from Hanuman and Ravana, down to even the squirrel helping Rama's army build the bridge.
However, above all, Majmudar focuses on the fierce resistance of Sita, letting us hear her voice as we have never heard it before.