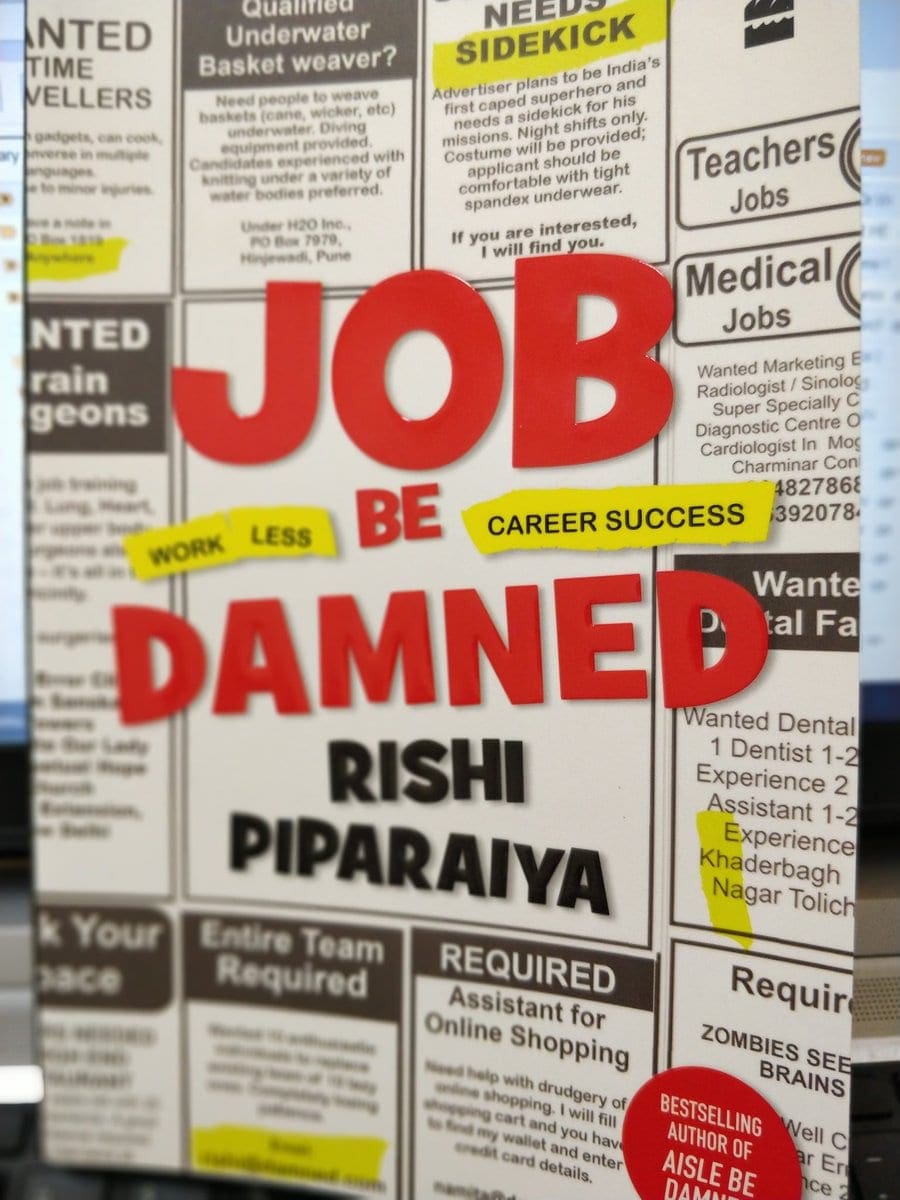 Title:  Job Be Damned: Work Less. Career Success.
Language: English
Author: Rishi Piparaiya
Genre:  Personal Development & Self-Help
Publisher: HarperCollins
ISBN-10: 9352777670
ISBN-13: 978-9352777679
Binding: Paperback
Price: Rs. 186 (Buy from Flipkart/Amazon)
Pages: 282
Synopsis: A hilarious guide to a 'relaxing corporate life'. Sounds like an oxymoron no? But this book is just that. It will provide you with all the ingredients to make your job less stressful, more relaxing, while others around you worry about performance appraisals and what not! However, do keep in mind that most of this book is satirical and you may not be able to implement it in everyday life, without losing your job. The book is basically a mirror to what corporate jobs and lifestyle have become.

Detailed Review: 
Rishi Piparaiya at Damned.com has written a book previously – Aisle Be Damned in 2013 which was and is a bestseller. That book dealt with flight journey experiences. In Job Be Damned, Rishi gives his satirical take on the corporate job and all that it entails. He begins with praising the reader for being an exceptional and highly accomplished worker and then takes that premise to the cleaners. The way he does that, makes you realize, how it is that your boss looks at you. And by the time you're done with the authors note, you'll realize that you are but an average employee and not the dazzler you think you are!
The cover of the book reads like the ads for jobs section of a newspaper, if you look at it closely, the jobs displayed will have you in splits. The cover does put you off a bit, but as the cliche goes – 'don't judge a book….'.
"Written in the self-help type of mold, Job Be Damned, is anything but a self-help book that will help you achieve the best average-ness an employee can achieve. " *
Did you get the above statement? Well, if you read the book, you'll realize that, learning to make such statements will take you far in the corporate world. There are many such insightful anecdotes in the book, that will guide you achieve a semblance of peace in your work.
Some readers may find this book to have pessimistic undertones, but what it really is, is a pragmatic take at how to be the best possible employee among the many best employees a corporate world has. The various chapters in the book are aimed at different strata of employees, right from the interview (snapshot in above image), to those who are in early career stages to the middle lever corporate bureaucrat and finally the people who are on the verge of attaining corporate nirvana.
He also has included a couple of chapters and a quiz to identify what type of job suits you, what to do with your currently frustrating job profile and how to successfully exit the same.
The writing though not exactly prosaic, is full of satirical wit, which enthused my mind. However, this one is not a breezy read and needs time to complete and assimilate (not that assimilation is required).
I believe, Rishi has created another bestseller in this book.
Positives: Humorous, simple writing, relatable (everyone of us with a job has been through this).

Negatives: Slow read, the satire may not be easily understandable to the simple reader(not exactly a self help book).

Who will enjoy this? Almost anyone who has held a job in their lives!

Buy or Don't Buy? Go ahead and buy this book. You'll keep it close to your heart for sure, as a balm to your angst ridden corporate soul. We need to support genuinely funny Indian authors and Rishi is definitely one!
You can buy this online from Amazon or Flipkart.
Book Blurb:  Do you think you're a hardworking professional who has a lot to offer? Are your ideas brighter than everyone else's in your team? Did you deserve a standing ovation after your last performance appraisal? Even if the answer to these questions is a resounding yes, do you still find yourself trailing behind corporate losers – the devil boss who takes all the credit; the slimy politician who stole your promotion; the sweet-talking weasel whom everyone seems to love? Job Be Damned is the kick in the backside that you so desperately need. This book recognizes that you are an average employee and ensures that, by the time you're done reading it, you'll be the best average employee there can be. You will gain a unique perspective to help navigate every tricky workplace situation-and unmatched bullshit-doling and handling capabilities to wing it through your spectacularly unexciting job. After all, isn't that what corporate success is all about?
The author of this book can be reached on his twitter account.