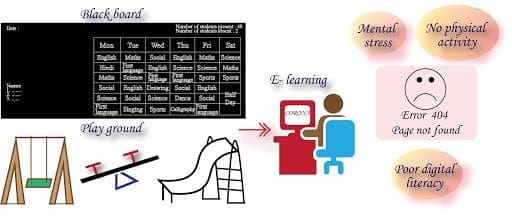 Until 2019 B.C. (Before COVID-19)
Mom: Wake up !! Wake up !! It's already 6 AM. Get ready for school.
Son: Don't scream mom, I am searching for my things. Where is my uniform? Where did you keep my school bag?  Where is my school diary? Did dad sign in that? I am scared to ask him. Please do it for today (son with an innocent face).
Mom: Have breakfast quickly. I have kept some snacks along with a lunch box. Your school bus will come in 5 minutes. Hurry up !! Go safely and come back.
The script mentioned above was the most common thing in every home till 2019. 
2020 and Covid-19 Pandemic
Schooling, by far the happiest part of life (when we grow up, we realize this fact), has become a distant dream for the students from 2020. Yet, schools are the places where the younger generation is nurtured at their best. Children are constantly engaged with lots of educational and extracurricular activities at schools. Physical activities at schools are equally important for mental and physical health and are well promoted.
Schooling also plays a vital role in life as it forms the pillars of the career. When the foundations at schools are solid, the impact will be visualized as a responsible citizen of the country in later stages of life. Many of them will be taking the examples of billionaires who are college dropouts.
On a serious note, every student and parent must realize that those are one in a billion instances. If every dropout becomes a millionaire, there is no need for further education, and Forbes will be unable to list them out.
COVID-19 has crumbled the education system as well.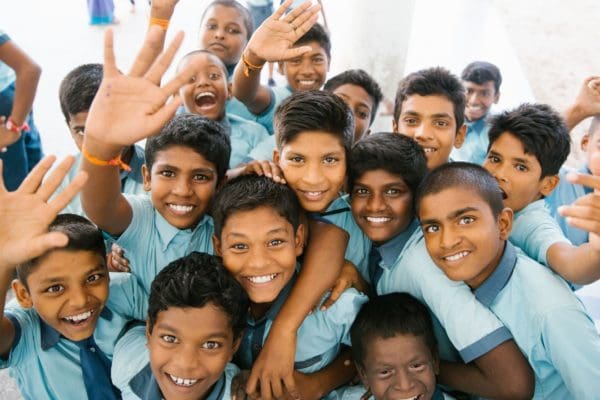 According to 2018 stats in India, 131 million students were enrolled in government schools, and private schools had shown over 119 million students. However, when India declared lockdown in 2020, more than twenty-five crore children could not attend the school, and close to fifteen lakh institutions were shut. 
When the children were locked inside their homes due to the pandemic, they experienced acute mental stress. Later on, most of the schools have come up with online platforms for efficient E-learning. The Ministry of Education, Government of India, National Council of Educational Research and Training, and Central Board of Secondary Education have launched free online resources such as Swayam, Diksha, and the e-pathshala portal.
It also telecast the audiotapes through All India Radio and videos using Swayam Prabha DTH channels. This helped students in following their day-to-day activities.
Covid-19 Pandemic Exposes India's Digital Divide
In later stages, the online education system proved to be like a double-headed arrow, where one end seemed to point, and the other was blunt. Heart-breaking stories came out where students in dire need of education traveled several kilometers for internet access. This happened in the Ratnagiri district of Maharashtra. Later this was resolved by the intervention of Priyank Kanoongo, chairman of The National Commission for Protection Child Rights.
He responded that "It is imperative that if children are dependent upon the Internet for their education, then it needs to be ensured that they get barrier-free Internet facilities." This is one such situation that came into the limelight. But, unfortunately, this is a result of poor digital infrastructure in rural India. As a result, many undiscovered and untold pains exist.
Over seventy percent of the rural population in India doesn't have internet access. However, few instances reflected the digital illiteracy where infrastructure existed, but no skilled personnel could teach them.
Manjeet Singh, the CEO, Buddy4Study.com, said, "As we advocate the shift in learning methods in the changing scenario, the challenges for Economically Disadvantaged Section of EWS students in India have only increased as they are neither equipped nor hand-held in pursuing online learning programs."
According to the National Centre for Promotion of Employment for Disabled People, seventy-three percent of the students had difficulty getting the study material in the required format. It was a grave situation for the students with learning disorders, poor vision, and autism who require constant physical interaction with the mentors.  Economically weaker sections had a different scenario where they cannot afford a smartphone for their children.
The urban perspective with students having educated parents (at least one of them) has a different opinion. Students who attended the schools where E-learning was a part of the existing curriculum felt comfortable. Handy tablets fully loaded with syllabus did not affect their learning process. Lockdowns didn't matter to them.  A survey conducted by Lifology reported that sixty-one percent of the families have opted for a virtual model of education.
Covid-19 Disrupts Primary Education
The CEO of the institute commented that "The ongoing COVID-19 crisis will change the dimensions of education and the way we spend time for it. The impact of this crisis is long-term, and parents, children will have to embrace modern technology, digital world for education and career guidance. Informed and productive use of Digital Media is going to be the game-changer for families in future".
Few of the teachers opined that eye-to-eye contact is necessary for better understanding which is not happening during the online lectures. When it comes to young kids, it is challenging for both teachers and parents to make them sit in front of the computers. 
When asked, one of the teachers stated that "It is a frustrating experience to engage students of lower classes in online mode. There are network issues on both teachers' and students' ends". Teachers have faced equal difficulties in adapting to E-learning. Because of age and health issues, most teachers had trouble sitting in front of computers for long hours. 
Network glitches had made things even worse, which reduced student-teacher interaction. This eventually downgraded the progress of the child. In addition, most homes do not have a separate room for children to listen to the class. This has shown a negative effect on understanding the online lecture.
Higher Education Finds It Difficult to Adjust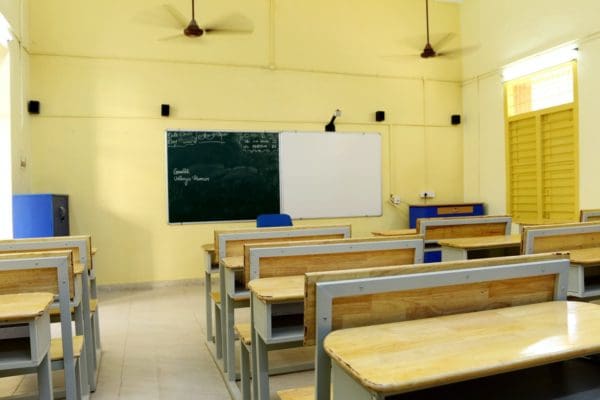 When it comes to the higher education sector, universities and the corresponding monitoring authorities such as UGC, AICTE, NMC, etc., are still facing difficulties adjusting the examination calendar. The current situation is scary enough, and students should be mentally strong to face any delay in examinations. However, this is not the time to blame the government authorities. On the contrary, time can be used efficiently to learn and explore new concepts.
Keeping aside all these issues, doctors have warned the parents and teachers that prolonged exposure of the student's eyes (especially young kids) to the computer screens will negatively affect their vision in the later stage of life. Sitting posture should be made comfortable to prevent any backaches. As there is no outdoor activity, time should be allocated for indoor games, etc. This will reduce stress on the students.
Avoiding the use of mobile/computer when there are no lectures would be protective for the children would be beneficial. It should be noted that reduced physical activity is a leading health concern among students during this pandemic. Parents should spend time with their children and look after their mental health during this stressful situation.
Education is a fundamental right and is to be executed with utmost priority. The "Digital India" mission was launched in 2015 by the government of India. One of the mottos of the missions is to increase rural connectivity using high-speed internet networks. This has to be implemented in the entire stretch and quickly as the upcoming days seem difficult for some more time. 
Providing the parents with the SOP of operating the computers and accessing the online resources in their native language will help them evade the difficulties. The knowledge gained through education should not be attributed to grades and marks. Skill and talent are the two significant outcomes out of education. Therefore, the student community and parents should look at the government's decision to promote students without a positive mindset.
If the academic year is lost, wide-scale problems of age and appearing for future competitive examinations will be troubling the students. Today, parents and students should ignore the flaws in online education and consider it as "A Blessing in Disguise." The students will miss hands-on experience, which will be a significant drawback for the children. As this virtual education system is just two years old, it will take some more time for betterment.
Equal care has to be taken in developing the digital infrastructure across the villages. It is the responsibility of every educated citizen to share their knowledge with naïve minds. As school-going children are more inclined towards outdoor sports, it is necessary to advise them of the harms of the infection. Indoor games and fun-loving activities of their interest should be carried out to reduce the stress on students. As these are challenging times, one should adapt to the new normal and move on.
Proper coordination between the student, teacher, and parent trio will benefit the student and everyone. On a personal note, the contrast between the blackboard and white chalk is a visual treat that the current generation is missing.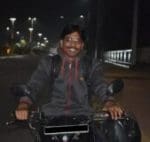 About the Author – Vasishta is an enthusiastic Life Science researcher with equal interest in exploring geographies. Blogging and photography are his all-time favorites.