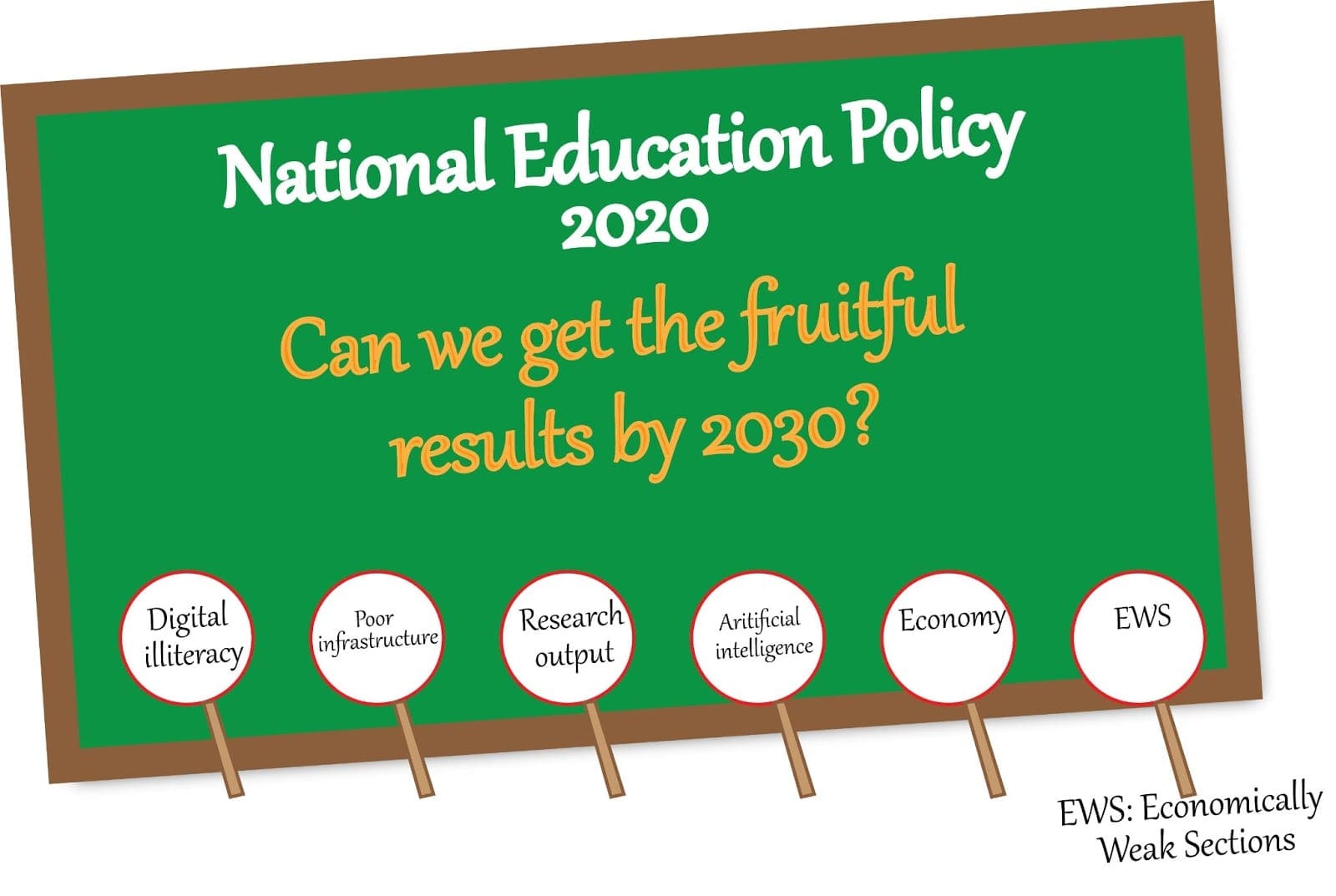 As a part of the global education development of the 2030 agenda, the Ministry of Education (formerly MHRD), Government of India, has rolled out the National Education Policy (NEP) 2020. The motto of National Education Policy is to  "ensure inclusive and equitable quality education and promote lifelong learning opportunities for all" by the year 2030.  Lifelong learning and pedagogical approach are some of the major highlights of the National Education Policy-2020.
Advancement in science & technology, globalization, the revolution in the field of big data, machine learning require highly skilled manpower. Being the third-largest economy, India is coping with climate change, food production, research and development, and sustainable energy, which requires new concepts to be taught and learned at a quick pace.  A revolutionary policy is necessary for the advancement of the current education system in India. These strategies are well "written" in National Education Policy-2020. It is a policy with a holistic approach. In the coming years, what could be the fate of India's education system will be decided on how best this policy will be executed.
Launching a policy as a part of the agenda is a regular activity. The first two education policies of  India were launched in 1968 and 1986 respectively. Full-scale implementation of these did not happen because of the financial crunch. Will the fate of National Education Policy-2020 be the same? Will the governments learn from the past? What has been done and what needs to be done?
What has been done?
To boost up the execution of National Education Policy-2020, the Government of India (GoI) has proposed a lump sum in the subsequent budget. As per the reports, the Union Budget 2021-2022 has announced the following for boosting the education system. It has sanctioned 15,000 schools that provide quality education. The government has also said that 100 new Sainik schools will be set up in collaboration with NGOs, private schools, and states. 
A Central University in Ladakh has also been proposed.  To provide financial support to the economically weaker sections, the post-matric scholarship scheme has been upgraded by providing 35,219 crores. The budget was assigned for mid-day meal schemes, Navodaya Vidyalas and Kendriya Vidyalayas. 
To enhance the teaching skills National Professional Standards for Teachers scheme was launched. This will benefit 92 lakh teachers across the country both in the private and public sectors. Along with these, many things were formulated to develop a robust educational system.
But unfortunately, the Ministry of Education will receive 93,224.31 crores, which is 6,086.89 crores less than the previous budget. One of the major schemes of the government is Samagra Shiksha Abhiyan for which the budget has been cut short. The government reduced 100 crores from a fund which was supposed to be allocated for the National Scheme for Incentive to Girls for Secondary Education. 
Some current stats regarding the education sector.
In India, as of 2018-19 reports there are  10,83,678 government, 84,614 aided and 3,25,760 private schools. As per UNESCO, there are around 69 lakhs of pre-primary school-going children in India. Primary school-going children account for 1.21 crore. Around 1.7 crore children appear in secondary school. 1.23 crore children go to tertiary school.
According to 2019 reports in India, the student-to-teacher ratio is 24:1 which is way high when compared with the other countries. UGC has reported that there are 935 universities in India as of February 2020. These include 50 central universities, 409 state universities, 127 deemed to be universities, and 349 private universities. 
Ashwini Kumar Choubey, Union Minister of State for Health and Family Welfare, has said that "there are 541 medical colleges across India. These account for 80,312 MBBS seats." The World Health Organization (WHO) prescribes that there should be one doctor for 1000 people in India. Whereas the facts at present show that India has a doctor-population ratio of 1:1445. 
The data from 'Research and Development Statistics, 2019-20' says that with respect to scientific research output, India has been ranked 3rd by the US National Science Foundation. The SCOPUS and SCI database has placed India in 5th and 9th position respectively. The HRD Ministry has stated that "every year 1.5 million students get their engineering degrees." The United Nations Developments Programmes HDR ranks say that "Barely one in five Indians in the labor force are skilled."
Currently, India is moving towards virtual education. But according to Digital Empowerment Foundation in 2018, 90 percent of India's population is digitally illiterate. As of April 2021, the Centre for Monitoring Indian Economy reported that India has an unemployment rate of 7.97 percent.
What needs to be done?
The above-mentioned facts need to be given importance. Despite those high statistics, there is still a lag in the process of development. The prime change brought by the policy is the removal of the 10+2 academic structure and its replacement with the 5+3+3+4 pattern. To implement this, what kind of infrastructure will be provided to the Anganwadi/pre-school or Balavatika where children of 3-6 years of age will be taken care of?
When asked about the National Education Policy-2020, Dr. Akhil Shahani, Managing Director, Thadomal Shahani Centre for Management, Shahani Group and Ask.Careers commented that "India spends 4.6 percent of its GDP on the education sector. But to satisfy the needs of the National Education Policy-2020 an additional 1.4 percent of GDP is required." He also said that "private investments and FDI should be encouraged to provide incentives for universities to conduct innovative research." 
As the world is moving towards digitalization, "the current taxation of 18 percent should be reduced to better access online education" said Aman Mittal, Additional Director at Lovely Professional University. He also commented that "Government should look into developing private institutions into world-class universities by allocating more funds."
Drawbacks of the National Education Policy 2020
One of the most criticized points about the National Education Policy is the implementation of the mother tongue in schools. This will be challenging for students who move across the states for the study. It is to be noted that India has around 22 major languages with 13 different scripts and over 720 dialects. One more drawback of National Education Policy-2020 is providing the study material in the mother tongue which is to be downloaded and printed.
The fact that there is digital illiteracy in India has to be understood. As the government points out that teaching in mother tongue is mandatory, what is the fate of the students who will shift to private institutions later? Of course, it is as necessary to learn the mother tongue and respect its values, as it is to upgrade and match with the growing world.
Solutions for better implementation of National Education Policy 2020
Education is a fundamental right in India. It is to be taken care that every citizen of the country receives it to a full extent. The National Education Policy-2020 should not be looked at as a document with strategies. Progress will not happen overnight within a large system. But the governments have to strive hard and dedicate full effort to achieve the set goals. Being in a pandemic situation, digitalization is the need of the hour. 
National Digital Literacy Mission, Digital Saksharta Abhiyan, and Pradhan Mantri Gramin Digital Saksharta Abhiyan are to be implemented in full scale. 

National Digital Educational Architecture (NDEAR) towards digitalization focuses keenly on E-learning activities. 

The local administrations have to ensure that every school gets a robust digital infrastructure. 

Scholarships should be given to all the economically weaker sections to maintain equality. 

There should not be a crunch or delay in fellowships with respect to research institutions. 

This will cause an excessive burden on the graduates. World-class facilities should be provided to every nook and corner school in the country. 

Fee regulation committees are to be deployed to avoid the exploitation of the parent's money for education. 

The importance of grades and marks has to be reduced and focus should be diverted towards obtaining skilled education. 

Imparting education to all irrespective of caste, creed, religion, gender and financial status will provide fruitful results.

There should be a drastic improvement in practical education. Foreign research collaborations are to be encouraged for technology and knowledge transfer. 

Additional courses should be added based on the global developments. 

Monitoring bodies like MHRD, CABE, Union and State Governments, education-related Ministries, State Departments of Education, Boards, NTA, the regulatory bodies of school and higher education, NCERT, SCERTs, schools, and HEI's has to work in close coordination to get the fruitful results.
At the end of the day, it is necessary that the country will produce skilled graduates who stand at the forefront reflecting the rich education standards of the country.
About the Author – Vasishta is an enthusiastic Life Science researcher with equal interest in exploring geographies. Blogging and photography are all-time favorites.