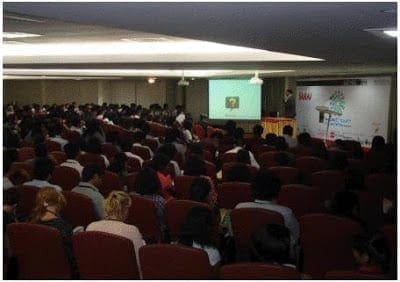 The Concept
AIESEC, the international platform for young students to discover and explore their potential brings to you Youth to Business (Y2B) Forum 2011. The forum aims at bridging the divide between campus life and the corporate world by uniting the smartest minds from both these areas under one roof. The event will provide a platform for the youth leaders of Manipal to associate themselves with successful entrepreneurs. It will provide the youth with a chance to share different perspectives, ideas and outlook on topics of global relevance.
The Event
The event will be hosted by AIESEC Manipal University at the Chaitya Hall, Hotel Valley View, Manipal on the 21st April 2011 (Thursday).
Passes for the same (priced at Rs 150 are available at info-desks at KC and the MIT Food Court)
The theme of the event is – 'Youth today, Entrepreneurs tomorrow'. Entrepreneurship and its impact on the youth will be addressed by a panel of well-renowned speakers. While India is a key player in the global economy, up and coming Universities like Manipal University have an influential role to play in this radical growth. Youth to Business 2011 will also provide business greats from the region the opportunity to associate and position themselves with the youth.
For the event we have already confirmed Sri M.V Kamath, who has chosen to grace us with his presence for the inaugural speech.
Confirmed Panelists:
Mr. Prabhakar Sastri – Director, Isa Technologies
Dr. Kripa Alva – President, Lions club and Chairperson, Mangalore Business School
Mr. Rahul Shetty – Senior Project Manager, Robosoft Technologies Ltd.
Other prospective speakers:
Varun Agarwal – CEO and co-founder, Alma Mater
Mr. Mohandas Pai – Member of the Board of Directors of Infosys, and Head – Administration
Mr. Rohit Bhat – CEO, Robosoft Technologies
Santosh Hedge – Former justice of the Supreme Court of India and current Lokayukta Justice, also on the drafting panel of The Jan Lokpal Bill
Ms. Shilpa Rao – MD, Supreme Motors
Gaurav Dhir – co-Founder, imanipal.com
Youth to Business Forum 2010:
We hosted a Youth to Business Forum last year on the 18th of September at the TMA Pai International Convention Centre, Mangalore. There was a delegate attendance of about 300 students comprising of students from Manipal.
It was well covered by the local media with print articles in all major dailies – Deccan Herald, Times of India and The Hindu, 4 web articles, Radio mentions and local news TV coverage.
http://www.deccanherald.com/content/97597/passion-work-make-successful-entrepreneur.html
The event is expected to be brilliant going by last year's response, and since it is in Manipal this time, it really should not be missed. For any of you who aspire to be an entrepreneur or "doing your own thing", this will be the place to be 🙂
For more information,
Contact:
Ramit: +91-9686915235
Faisal: +91-9535217567
Vijay: +91-9886418183