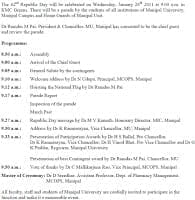 Click on the Image to see the program details!
The 62nd Republic Day will be celebrated on Wednesday. January 26m 2011 at 9.00 a.m. in KMC Greens. There will be a parade by the students of all institutions of Manipal University. Manipal Campus and Home Guards of Manipal Unit.
Dr Ramdas M Pai. President & Chancellor. MU. Manipal has consented to be the chief guest and review the parade.
Please do attend and respect our freedom!