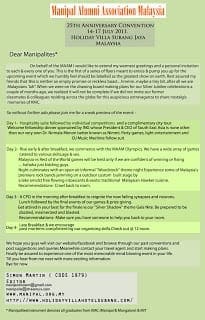 Click the Image for details
Or visit : 25th Anniversary Celebrations for more details
25th Anniversary Convention – 14th to 17th July 2011.
Holiday Villa, Subang Jaya, Malaysia.
On behalf of the MAAM I – Sivaroshan Puvaneswaran would like to extend my warmest greetings and a personal invitation to each & every one of you. This is the first of a series of flyers meant to entice & pump you up for the upcoming event which we humbly feel should be labeled as the greatest show on earth.
Rest assured my friends that this is neither an empty promise or reckless boast …. hmmm..maybe a tiny bit..after all we are Malaysians 'Iah". When we were on the drawing board making plans for our Silver Jubilee celebrations a couple of months ago, we realized it will not be complete if we did not invite our former classmates & colleagues residing across the globe for this auspicious extravaganza to share nostalgic
memories of KMC.
What is the Manipal Alumni Association – Malaysia?
The Manipal Alumni Association Malaysia was formed by the Old Students of Kasturba Medical College, who had come back home to Malaysia, and while working in the government services, saw a need for former students to get together now and then to socialise and reminisce about the good old days.
The initial core group who mooted the idea of the Manipal Alumni Association consisted of Dr. S.S. Thevan, Dr. R. L. Anandan, Dr. Rasihd, Dr. Jeyaratnam, Dr. Pathmarajah, and Dr. V. Surendranathan. This group met regularly in each other's houses or in restaurants and organised the first get together in September 1979. This was followed by the first annual Dinner Dance in the Shangri-La Hotel in Kuala Lumpur. These Dinner Dances have become an annual affair ever since. The Association was later registered with the Registrar of Societies, Malaysia on 1st July 1986 and has since grown from strength to strength.
In contrast with other Keyemcee Alumni all over the world, the unique feature of The Manipal Alumni Association Malaysia is that all Graduates from Manipal whether medical or otherwise are welcome to join the Association. There are a potential 1500 members in Malaysia of which about 300 have joined the Association. The Dinner Dances, besides being an opportunity to socialise, have also gradually earned money for the association, and we have in the past donated some of the proceeds to charity.
Information for Rates & Payment
Manipal Alumni Association of Malaysia,
7A Jalan Telawi Lima,
Bangsar Baru – 59100
Kuala Lumpur,
Malaysia.
Phone : +603 22827355
Fax : +603 22828355
Email: [email protected]
Email : [email protected]
Website : www.manipal.org.my
So, Will you be going??