The glittering jewel of the United Arab Emirates, Dubai, is a city that blends tradition and modern aspects. It has both the old city vibes of souks and spices, while the modern Dubai towers are huge and tall skyscrapers, including the most famous Burj Khalifa.
If you are planning to visit the modern city of Dubai, we have set a compact 5-day Dubai tour itinerary that will cover this city's major tourist attractions. In this planned itinerary, you will get to experience the dazzling city with its luxurious shopping malls and rich cultural heritage.
Day 1: Dhow Cruise Dinner Dubai Marina
You are set to land in the city of Dubai either early morning or afternoon. Your planned journey starts with the captivating evening experience on the Dhow Cruise in the Dubai Marina. These cruises are a proper design of luxury and a magical ambiance made in traditional wooden dhows in the man-made marina.
All passengers get to enjoy a delectable buffet of international and Arabian cuisine along with the live performance of traditional music and dance performances of UAE.
Start your trip with a relaxing Dhow Cruise dinner in Dubai Marina.
Enjoy a delightful buffet dinner while cruising along the stunning Dubai Marina, surrounded by skyscrapers and illuminated by the city lights.
Experience the vibrant atmosphere and take in the beautiful views.
Day 2: Dubai Frame
The next day of the Dubai tour itinerary of 5 days starts with the architectural marvel in Dubai, the Dubai Frame. It is a 150-meter tall frame-shaped building with a breathtaking view of the whole city from the frame and historic landmarks of UAE as a gallery exhibit. You can pre-book tickets to ignore the long lines at the ticket counter.
Evening Desert Safari
On the evening of day 2, an adrenaline-filled adventure awaits you in the deserts of Dubai. Desert Safari Dubai involves a four-wheel drive 4 x 4 dune bashing vehicle with expert drivers who give you the thrill of riding through the ups and downs of the desert sand dunes.
You get to ride the camel, do some sandboarding, and check out the mesmerizing sunset. This day ends with a tasty Barbeque Dinner in the traditional desert camp and cultural performances under the Arabian night sky.
Embark on an exciting Evening Desert Safari adventure.
Experience dune bashing, sandboarding, and witness a mesmerizing desert sunset.
Enjoy a traditional Arabian dinner and entertainment at a desert camp.
Day 3: Half-Day Dubai City Tour
Day 3  of your Dubai tour itinerary is divided into two halves. The first half of the day is a guided tour of Dubai City filled with iconic attractions. The 5 hours Half Day Dubai City tour covers both old and new Dubai.
Burj Khalifa + Dubai Mall & Fountain Show
The epitome of luxury and entertainment, the tallest building in the world, the Burj Khalifa tour will be your second half tour of day 3.  Burj khalifa tickets can be booked online or even at the counter.
The Dubai Mall is one of the largest shopping centres globally that is worth exploring at the end of the day. The mesmerizing Dubai Fountain show set against the iconic Burj Khalifa backdrop shall be the highlight of the day.
Begin your day with a visit to the Burj Khalifa, the world's tallest skyscraper.
Ascend to the observation deck for breathtaking views of the city.
Spend your afternoon and evening at the Dubai Mall, one of the largest shopping malls in the world.
Witness the spectacular Dubai Fountain Show, a water and light show set against the backdrop of the Burj Khalifa.
Day 4: Ski Dubai Snow Park
Day 4 of your  Dubai tour itinerary starts with an indoor winter wonderland within the Mall of the Emirates, the Ski Dubai Snow Park. You can enjoy a break from the desert heat inside the massive winter playground.
This snow park has adorable penguins to interact with and enchanting snow sculptures to add to the snowy landscape. The sub-zero temperatures inside the Ski Dubai Snow Park will make you forget the climate of Dubai and give you a great experience. This is a family-friendly park, so you can enjoy it with your family all day and your children will surely have a lovely time.
Spend your day at Ski Dubai, an indoor ski resort located in the Mall of the Emirates.
Enjoy skiing, snowboarding, or simply playing in the snow in this winter wonderland.
You can also interact with penguins and explore various snow activities.
It's a unique experience in the middle of the desert.
Day 5: Shopping
On the final day of your Dubai tour, why miss out on the best part of coming to Dubai? Enjoy shopping throughout the city in the best locations. The Dubai Gold Souk is the best place to get unique jewelry designs.
The Dubai Mall is a paradise with over 1200  shops offering high-end fashion to electronics. If you are looking for authentic spices, perfumes, and dry fruits, the Arabian-style marketplace Souk Al Bahar is where you should take advantage of.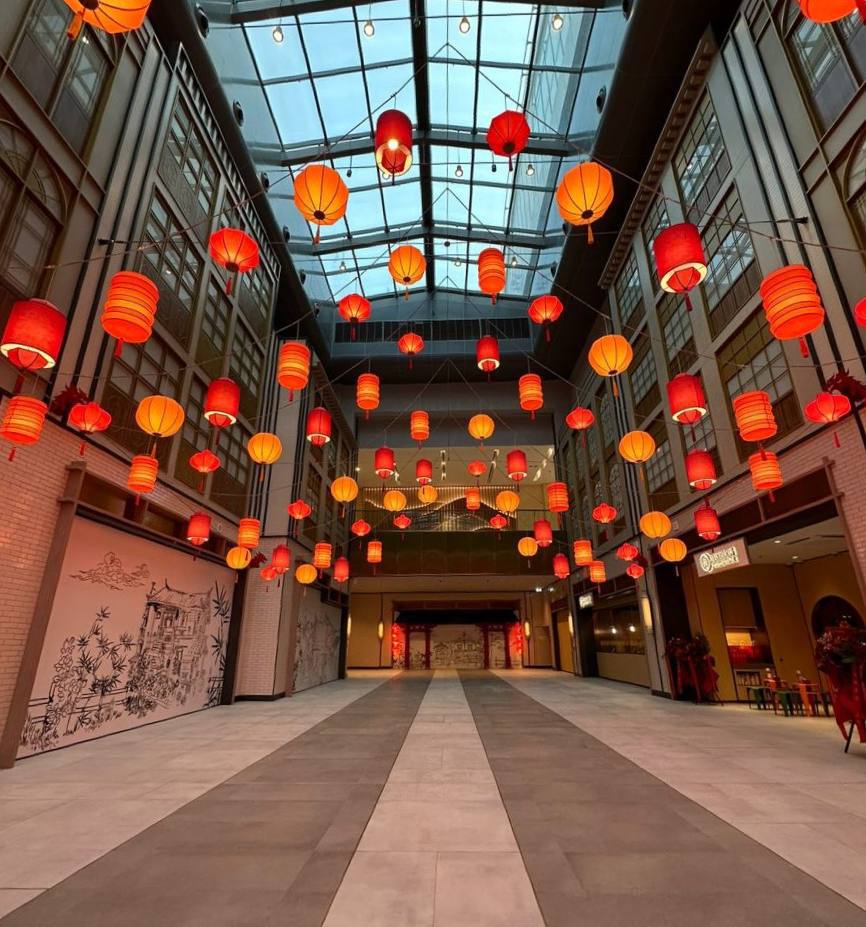 Another traditional market souk in Deira specializes in spices, textiles, and gold. The end of your tour will be memorable, and you will go back home with shopping bags filled with luxury brands and local artisanal products.
Dubai is a shopping paradise with many items to choose from. Here's a list of things you can shop for in Dubai:
Perfumes: Don't miss out on buying unique, long-lasting fragrances from Dubai. You can find various perfumes and attar (traditional Arabic fragrances) in various markets.
Spices: Explore the Spice Souk for aromatic spices like saffron, cardamom, and more. You can also find traditional Middle Eastern spice blends.
Textiles: Shop for luxurious fabrics like silk, satin, and pashmina. Dubai is known for its beautiful textiles.
Carpets and Rugs: The city offers handwoven carpets and rugs in various sizes and designs, including Persian, Afghan, and Arabian styles.
Traditional Arabic Attire: Purchase traditional clothing like abayas (for women), kanduras (for men), and headscarves, which come in various styles and designs.
Dates: Pick up some fresh and delicious dates from local markets. Dates are a significant part of Middle Eastern culture.
Souvenirs: You can look for unique souvenirs like camel-themed gifts, traditional Arabic coffee pots (dallah), and intricately designed tea sets.
Handicrafts: Explore local markets for handmade crafts like pottery, ceramics, and wooden items, which make excellent souvenirs.
Art and Antiques: Some markets in Dubai offer antique items and contemporary art pieces.
Oud and Bakhoor: Oud is a fragrant wood used in perfumes, and Bakhoor is incense. You can find a variety of scents and incense burners.
Dubai offers a diverse shopping experience, from traditional markets to modern malls, so you're sure to find something that suits your taste and interests. Remember to haggle in traditional markets to get the best deals!
Conclusion
In 5 five-day Dubai tour itinerary, you can explore Dubai's vibrant tapestry of modernity and tradition. From the glittering skyscrapers to the historic souks, this city is a marvelous place to visit in the UAE.
This trip will leave you with memories of desert adventures, culinary delights, architectural wonders, and retail therapy. Dubai's diversity will leave an everlasting mark in your travelling memories for sure ! If you want to book this tour package, contact Book My Tour.