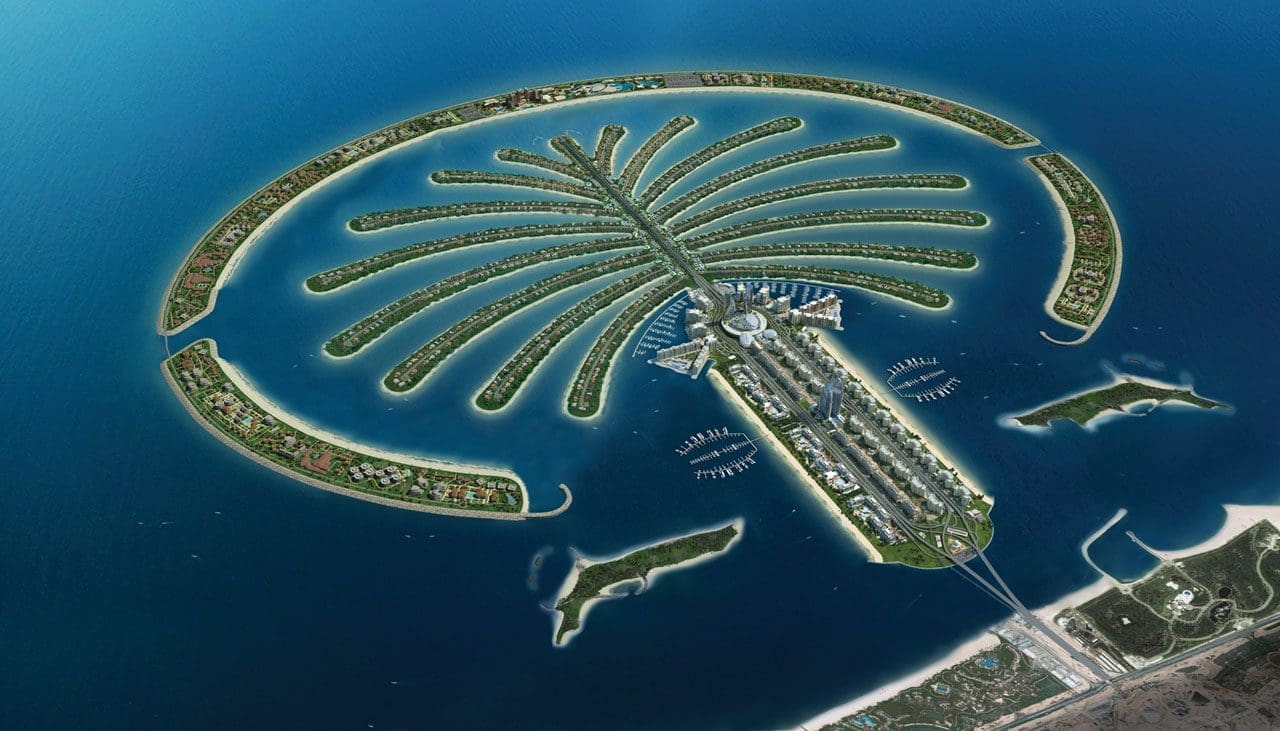 Dubai, a city which was once nothing but a desert, has risen over the decades to become one of the most extravagant city of the world. A city that dared to dream big and bring out the biggest and most luxurious mega structures the world has ever seen. On this long list of achievements, one of the most remarkable works is the Palm Islands.
Often called the eighth wonder of the world, the Palm Islands of Dubai are the world's largest artificial islands, each made in the shape of a palm tree. The islands were a brainchild of His Highness Sheikh Mohammed bin Rashid al Maktoum, Prime Minister of UAE and ruler of Dubai, whose vision for Dubai has made this city what it is today.
The Dubai-based company Nakheel developed the plans for the three palm islands.  The smallest palm, Palm Jumeirah, is the only one which is accessible for visitors now. The Palm Jebel Ali, a medium-size island, is structurally complete. And the largest island, the Palm Deira, is still undergoing sea reclamation.
The Palm Jumeirah received its first residents in 2007. The island is filled with beautiful villas with its own private beach or swimming pool, apartments, 5-star hotels and fun attractions. Shah Rukh Khan, David Beckham and Brad Pitt are some of the celebrities who have bought villas on this luxurious island.
The glittering centre point on the Palm Jumeirah is the Palm Atlantis. Remodeled after the Atlantis resort in the Bahamas, it is situated on the crest of the Palm Island like a jewel in the centre of a crown. Major on-site attractions include Aquaventure Waterpark, a 42-acre water-themed amusement park, The Lost Chambers Aquarium, an undersea city and Dolphin Bay.
The Island can be accessed by road from the mainland or by the Palm Jumeirah monorail, which offers some very nice views of the Palm, the city, and even the nearby Burj Al Arab hotel, especially when approaching the Atlantis hotel, when the road goes through the underwater tunnel and the monorail travels above the sea, offering a spectacular view of the hotel.
Recently on New Year's Eve, Dubai shattered the world record for the largest fireworks display with a show involving more than half a million fireworks. The glittering fireworks display spanned over 100 kilometers of Dubai's coast and the main displays were based at the Atlantis hotel and at Palm Jumeirah.
Do send in your suggestions, articles and photographs to [email protected].