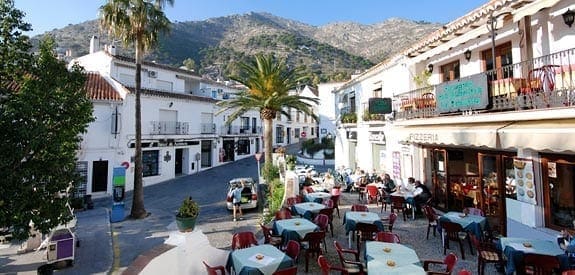 Mijas is located close to Fuengirola, north of the coast, and is able to provide to any visitor a satisfying blend of tourist facilities and authentic Andalucian atmosphere. Mijas can also claim to be home to one of the best views of the Costa del Sol, the panoramic view over the Balcony del Mediterraneo. Some would say this view justifies a visit to the town by itself!
Not that the view is all Mijas has to offer. The thriving arts and crafts movement within the town manifests itself in numerous little shops perfect for anyone seeking a souvenir for the folks back home. Such arts and crafts also help to give Mijas a genuine feel, helping to explain why it is so popular with people looking for a typical Andalucian village.
While in Mijas, why not plan a visit to the unique Virgin de la Pena Shrine. Dated from 1548, and named after the patron saint of the village, this remarkable shrine was excavated out of a large rock by Mercaderies monks. Today it stands as a piece of Roman Catholic history in what was originally a Muslim village. Close by, it is also possible to visit the Church of the Virgin Immaculate, or the white hermitage El Pueblo.
The Carromato de Max is certainly worth a look, or perhaps more aptly, a squint! This is a collection of oddities from around the world, all of which share the peculiarity of being very small! The collection includes such pieces as The Last Supper painted onto a grain of rice, fleas wearing clothes and a portrait of Abraham Lincoln produced onto the head of a pin. Be sure and bring your glasses!
But don't worry if you think you're seeing things when you leave the collection – that is if it's the bullring that you're looking at. You're eyes do not deceive you, Mijas is home to one of the very few square bullrings in Spain! All the same, to recover your nerves you could do worse than treat yourself to dinner at the nearby Miro Blanco restaurant. Why not try one of the local specialities, "guiso de patos"or "guiso de callos" (duck or pheasant stew). Any excuse!
For some lighter entertainment (and to appease the kids!), a visit to the Acuapark Mijas will provide hours of entertainment for young and old. The park has a lot of facilities on offer, providing an area for young children to play in, as well as kamikaze slides and a wild river for the more adventurous. The cafeteria will also take care of any hunger needs.
Mijas is a must – go destination for golf fans, containing as it does seven individual courses. For the lover of luxury, a stay at the Bybylos Andaluz hotel, situated at the edge of the courses, would be perfect. And for any family members not interested in bringing down their handicap, the hotel's luxury spa and skin treatments, as well as the two excellent restaurants, should provide suitable diversions.
All in all, Mijas is a beautiful little village combining tourist attractions with Andalucian style, wonderful views, whitewashed streets and 12km of blue flagged beaches. Visit for a day trip and tour the village by "burro taxi" (donkey carts!), or stay for longer in one of the luxury hotels. Whichever you choose, Mijas is unlikely to disappoint!