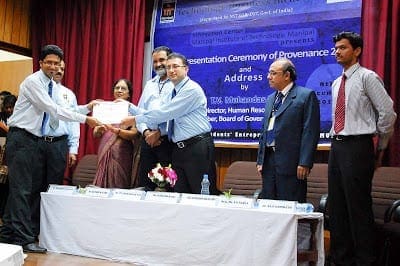 "Dude, Manipal is too expensive. My dad would never allow. Why are you even filling the form?"
One of my very good friends told this to me when I was filling the form for the Admission Test of Manipal Institute of Technology, or MIT in short. I was a bit nervous even while giving the test and, in fact, never thought of coming here. But luck had its own way and this was the best I had managed in any Competitive Exam for Engineering.
And, thus, began my awesome journey that I would personally rate as the best in my life. My father told me that life has its own ways and whatever happens, its all for the good, and I definitely have realized it now.
Hello all, I am Priyadeep (4th Year, Mechanical Engg.) and one of the Co-Founders and Director of ADD-on-GYAN Educational Services (The 1st Student Start-Up Company to be incubated at Manipal University's Technology Business Incubator)
The first few days of my college life was slow and I felt homesick all the time but the situation got better. I had joined in the IC Dept. – 2007 Batch with a wish to get to the Mechanical Dept. The wait-list procedure moved slowly and at the end of the first week, I got my dream branch. I felt ecstatic because I had told my parents – If I do not get Mechanical, IP or Civil…I will get back to back Year Backs!!!
I was in the last section of the batch i.e. P and quickly made the entire class my friend. The first two semesters were fun time for me as I just enjoyed and had a gala time. I remember those days when I see a new batch of 1st Years doing the same stupid things such as >Sitting in Massive Groups, >Always with a smile, >being the loudest of all in the Food-Court and KC, >Guys bragging off in-front of the girls who are giggling!!! AWESOME 🙂
With the advent of the 2nd year, I decided to get a bit serious and I completed 3 workshops and joined only one club – Akshay Urja Club (Renewable Energy Club). Life became different from then on. I got into Paper Presentation, Organizing Event, Managing Club Affairs and so on.. I decided to present a paper of my own at Techtatva 2008 but was not successful at that platform. That never disheartened me though. The next Competition, IEEE Ideation Challenge saw my team getting a whooping 15K as the first prize and thus began the journey of winning prizes which still keep coming.
I also completed French Course at MCON and completed classes for German Classes at MIT (I will be giving the exam now!!!). In the 5th Semester, Techtatva 2009 proved to be a great point of success for me. I designed a new event by the name of SWADES in the Energia category which attracted a total of record 300 people. I also won the 1st PRIZE in the event Engineus and 2nd Prize in the B-Plan Event – 'None of your Business'. I was also made the PRESIDENT of Akshay Urja Club for the year 2009-10.
In the next semster, I won the 2nd Prize in the B-Plan Event at IIT, Kharagpur's Kshitij (which is the largest techno-management fest of Asia). Simultaneously, I created a new techfest – SYNERGIA which made it MU's first complete renewable energy based techfest. Synergia is also being conducted by juniors at Akshay Urja.
This semester I also applied for an internship abroad and got a chance to work for 6 weeks at STRATHCLYDE University, GLASGOW, UK with a Gates Foundation Fellow and RCUK Fellow on LASERS. It was brilliant and I had a great time there. (Evident by my photographs!!!)
In the 7th Semster, me along with 3 other friends created an idea called ADD-on-GYAN Educational Services (AOGES) which won the 1st Prize and a cool INR60K at THE VENTURE (Techtatva'10), 5th Award at Provenance conducted MUTBI with an opportunity to start incubation at MUTBI.
This idea was a Finalist at IIT Kgp B-Plan again this year but we could not go due to some technical reasons, finished among the top 10 at BIG BANG CHALLENGE B-PLAN Event in SPAIN and is a finalist at IIT Kanpur IDEAS B-Plan Event.
Currently, I have started AOGES as a company with my friend Abhash (One of the ideators of AOGES) and we are working to make it successful. I have written about myself in my first blog as I believe that whenevr I would blog next, there needs to be some credibility to what I say and this blog would prove it. Here is AOGES's link – www.aoges.weebly.com (Its a free website as of now 🙂 )
I thank ManipalBlog for this opportunity and would keep blogging atleast once a week.
Adios,
Priyadeep
9986290706