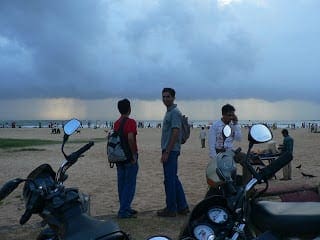 I think among my friends, I am considered to be an all time ready person for fun outing.no one bothers to ask me beforehand about 'the under construction plans' they are working on and whether I am really interested in it or not!!One more time I was asked (or you can say just told.I am never asked actually.) that we are going to malpe beach after 1 hr.And i don't really mind their considerations about me as fun loving person be cause they are not wrong!!
The short trip was really a great fun in which atmosphere played a major part.Some good clicks I have uploaded.Enjoy
Just reached and as you can see atmosphere and view of horizon were amazingly good
Some broad and black pillars extending from clouds to horizon were appreciated.They are shadows of rain in that part.And according to frequent announcements by wind they wuold kiss us very soon.But the view of those shadows were really stare worthy.
Beach is not just a tourist spot but survival instinct for few
A small kid helping above fellow to run his business .But she doesn't know that she has done a noble work.She is busy with her own business.Here a child specialist may comment that this girl has got constructive mindset and may end up in civil engineering or architectural field!
No trip is complete without food.A fried corn originally bought by Reetesh for himself but as everyone knows if you don't share with your friends , you will loose it!1