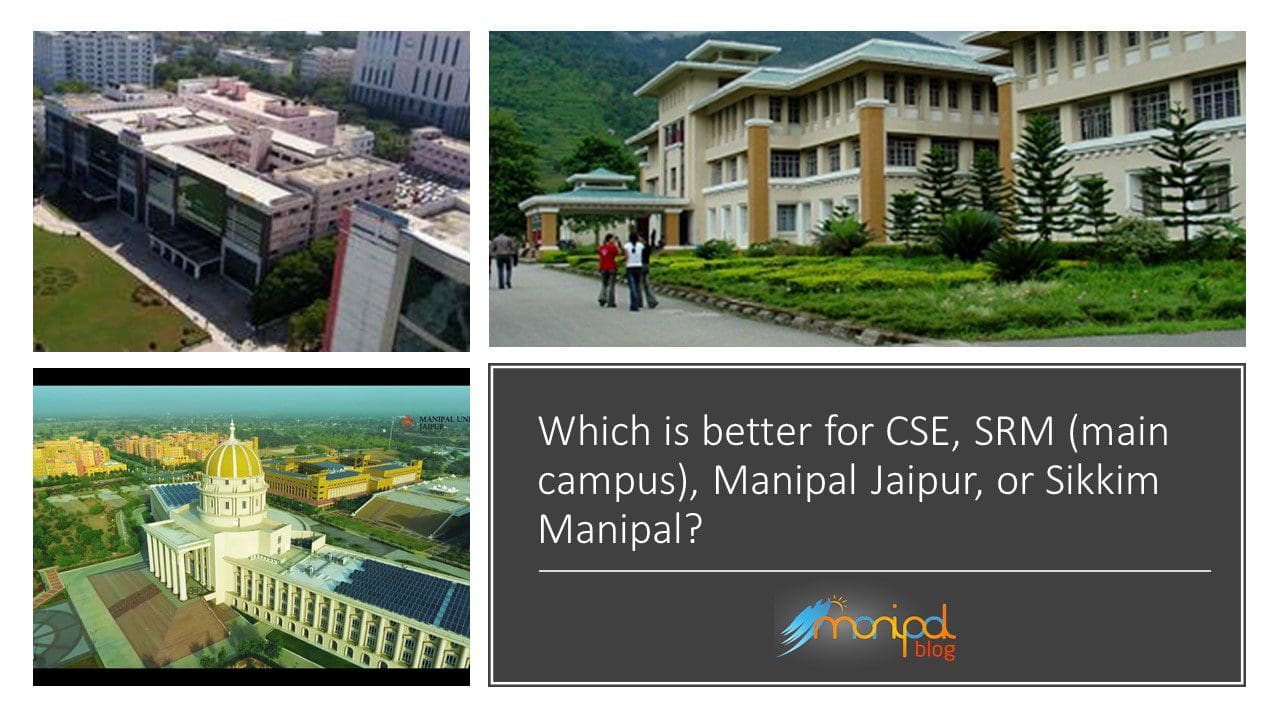 Computer Science Engineering is booming in recent years. There are several institutes available that offer qualifications in CSE. However, the three world-class institutes, SRM, Manipal Jaipur and Sikkim Manipal, often clash for the choice of the students. Each one of them is brilliant and offers certain leisures. There are some pros and cons to each one of them. However, to help you determine which institute you should opt for, we will cover one of the most critical aspect: College Life. How is college life, and what will you get from either of the three universities?
Manipal Jaipur:
Manipal Jaipur should be your choice if you're looking to have ample personal time and vibrant college life. The institute maintains a fantastic balance between extracurricular activities and academics. It offers time for the students to catch up with the studies and splits the semesters and college timings to a very flexible option for students. Here, you will have time to take part in several activities and develop your skills.
The faculty members are diverse, and you will find experts on each possible subject. They are experienced, but you may also come across fresher faces as the university likes to give opportunities to inexperienced individuals, as well. Research labs and facilities are up to date with all the modern integrations essential for one to hone adequate skillset in CSE. Hostels are state of the art with good amenities and clean rooms. Canteens are great, as well.
SRM Main Campus
SRM Campus is a good choice in terms of placements after the qualifications. It has one of the higher rates of placements because you can find it easier to get permission for an internship. You have the leisure to pursue an internship while persuading qualification with SRM. Several CSE sponsored projects take place each year, and students are free to participate. They can contribute and also showcase their aptitude easily with SRM Campus.
Academics are balanced with supportive staff. Although education quality can improve with some attention. Overall, it is the institute for you if you want to have a lot of free time in your hands. There aren't strict rules enforcing factors like attendance. Those who attend classes will progress more, but the institute is offering everyone an opportunity to determine their future. Hence, you can guide yourself down the path you desire.
However, most of your time will be spent self-learning and self-education, as you will have a lot of personal time unless you want to use that time to take part in other activities. In short, it is a place for you to have a dream college life.
Sikkim Manipal
Sikkim Manipal has received several awards and accreditations over the years. It is also one of the most highly recognized institutes available. Following the international standards, it is a diverse university where people from all around the globe appear to persuade qualifications. Faculty are experienced with apt knowledge to offer perfect education to the students. You will also find world-class facilities in laboratories, cafeteria, hostel, and other parts of the campus.
The placement rate is also great. It also offers a peaceful environment for the students to flourish. With over 20 years of experience, Sikkim Manipal has also partnered with institutes like IIT to offer a research platform to the students.
This is the institute you opt for a balance and well-versed life that concentrates on all the aspects of education, qualification, and growth. However, you will not get enough time for yourself as the institute will keep you busy with one thing or another.