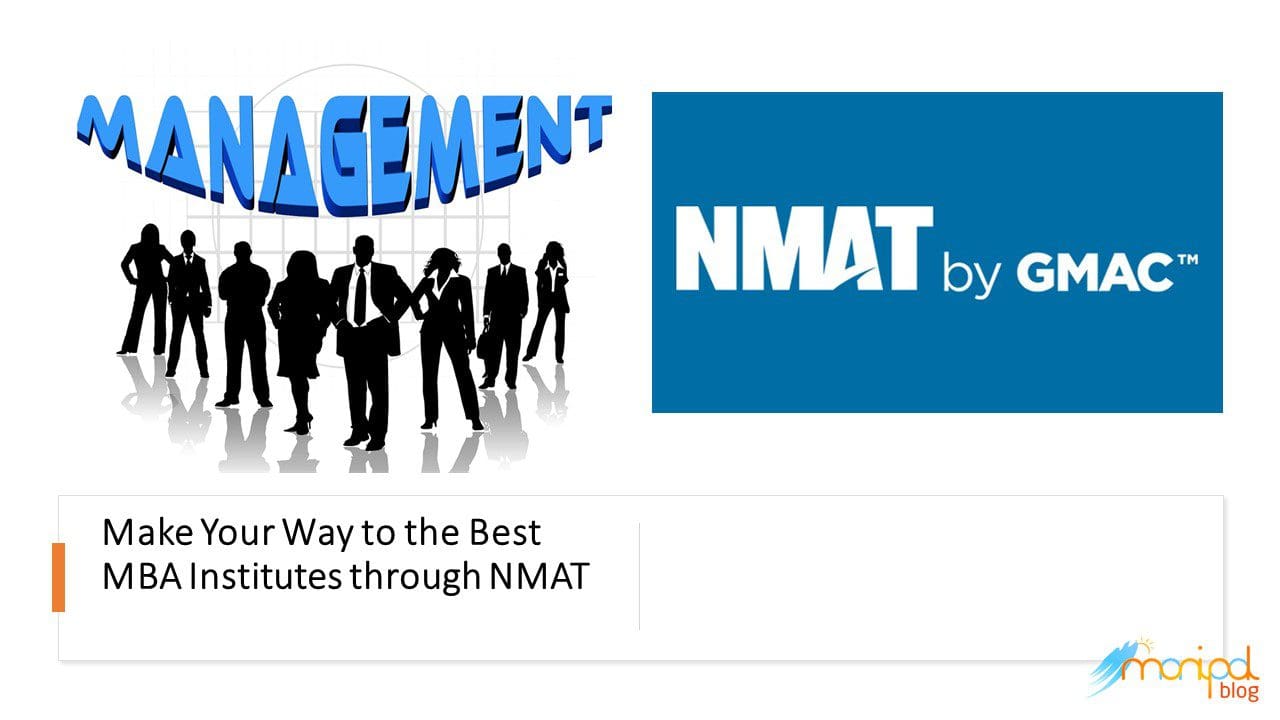 NMAT  a national level MBA entrance test is leading to MBA admission in the top MBA colleges like NMIMS Mumbai, SPJIMR Mumbai, ISB, VIT Vellore, XIM Bhubaneswar and many other MBA colleges in India. MBA attains a completely new meaning when a student graduates from one of the reputed institutions. Apart from education, various aspects such as Infrastructure, faculty, college reputation etc. add volume.
There are more than 20 participating institutes which accept the NMAT score. Only those candidates, who will clear the cutoff as prescribed by NMAT participating institutes, will be shortlisted for the further process.
Candidates willing to pursue their MBA in NMIMS must appear for the NMIMS-NMAT conducted by the GMAC. GMAC test enables business schools to admit only those students who qualify the test and get the required score. NMAT 2019 is already over, candidates who were not able to perform in this session can re-appear in NMAT 2020 which will be conducted in the 1st week of October.
NMAT enables you to take up the test multiple times.
There is no negative marking for wrong answers, which allows you to attempt every question.
It gives you the liberty to choose the dates that are best convenient for you during the 75-day test window.
College and Its Facilities
NMIMS is a deemed university with campuses spread across five cities in India. The MBA program is a two-year full-time program covering areas that include MBA in Marketing, Information systems, Finance, Operations and Decision Sciences, Human Resource. Besides these, the college also offers a dual MBA degree in Decision Science and Analytics.
NMAT is a computer-based management entrance test conducted at various test centres across the country. The most preferred B-School in the country. With NMAT by GMAC exams around the corner, students can attempt this competitive and the most acceptable exam for various programs such as MBA in Marketing, or Human Resources, or Finance etc.
NMAT Selection Criteria
Aspirants are intimated about their result through mail on their registered email ID. Candidates are shortlisted for rounds based on their NMAT by GMAC score. The score of the students is further sent to the institutes for which aspirant opted for at the time of filling out the application form. The selection rounds are a set of procedures which candidates will be evaluated upon to seek admission in the desired program finally.
The selection process of all NMAT participating colleges involves a similar pattern, comprising of all or any of the following stages:
Group Discussion (GD)
Written Ability Test (WAT)
Personal Interview (PI)
Few colleges follow a different pattern, but that too is not different, it's almost the same process. In some institutes such as SDA Bocconi, there is some weightage given to the parameters such as extracurricular activities and academic background.
Candidates with a consistent academic background and who participate in extra-curricular activities such as management experience, leadership potential, entrepreneurial experience, communication skills, creativity, have an advantage in the selection process.
NMAT Participating Institutes
Following are the expected participating institutes of NMAT.
Name of Participating Institutes
Expected Cutoff Score in NMAT
SVKM's Narsee Monjee Institute of Management Studies
200+
Indian School of Business (ISB)
140+
Xavier University
85+
SDA Bocconi Asia Center, Mumbai
200+
ICFAI Business School (IBS), in Hyderabad, Kolkata, Jaipur, Ahmedabad, Pune, Gurgaon, Dehradun, Bengaluru & Mumbai
150+
Myra School of Business
100+
Pandit Deendayal Petroleum University
85 percentile

NMAT score – 354: full fee waiver

NMAT score 325-345: 50 per cent fee waiver

Jain University – CMS Business School
For Non Sponsored category- 60 percentile

For Sponsored category- 50 percentile

Alliance University
65 percentile
Amity Business School, Mumbai
65 percentile
Amity Business School, Lucknow
65 percentile
Amity Business School, Gurgaon
65 percentile
Amity Business School, Gwalior
65 percentile
Thapar School of Management
140+
Woxsen School of Business Management
160+
University of Petroleum & Energy Studies (UPES)
140+
GITAM School of International Business (GSIB), Visakhapatnam
140+ score
Hyderabad Business School, GITAM University
140+ score
SRM University
180+
BML Munjal University
No cut-off
Mody University
40 per cent
ISBR Business School
140+
Amrut Mody School of Management, Ahmedabad University
NA
ITM Business School, Navi Mumbai
150+
Bennett University
NA
BSE Institute Limited
NA
Jindal Global Business school – Delhi/NCR
NA
School Of Petroleum Management, Pandit Deendayal Petroleum University, Gandhinagar
NA
Key Points
Before applying one must keep the following in mind:
Admission Process: Candidates must go through the admission process of each institute and must be present in person for Group Discussion and Personal Interview.
Cut off Percentile: Check the 'minimum cut off percentile required' of your target institutes and apply only if you have the qualifying score.
Faculty: For good educational experience and training, one must get the best during the two years of the program. Check college reviews, talk to alumni, research about faculty members, before selecting the institute.
Infrastructure: Good infrastructure of the institute is very important for a student's overall development. Extra-curricular activities like sport, public speaking, art, etc. contribute to the making of a successful manager.
Placements: Campus placement is a necessity for every candidate, which must be checked before the college you are targeting.
Though these points are not of much importance for those who wish to be a part of this institution, one must be familiar with the institute he/she is going to continue his/her further studies and has to be a part of the institute for the next two years.