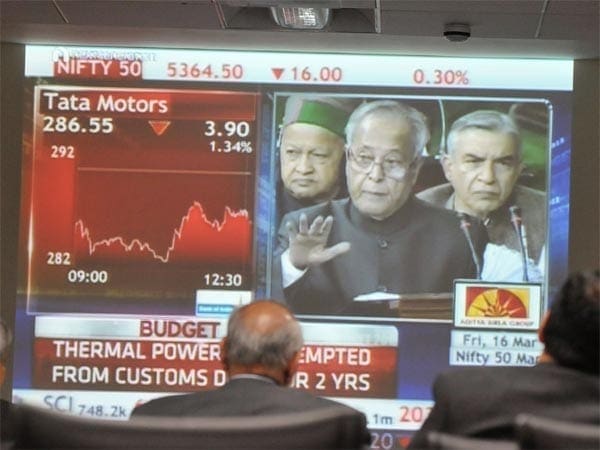 "I have to be cruel to be kind", said Finance Minister Pranab Mukherjee as he presented the Budget for the current fiscal year (2012-13).  These words from Shakespeare's  'Prince of Denmark'  rightly sums up his state of mind vis-à-vis Mamata Bannerjee's outright opposition to any policy of the Govt. and a tumultuous global economic scenario. It seems that the Budget has been carefully crafted by the FM keeping the protesting allies in mind for it lacks the teeth to address the critical issues head-on. Nevertheless it is a mixed bag as far as the students are concerned.
Dealing a heavy blow to everyone aspiring to study abroad (and probably settle there, as is mostly the case) the FM has increased service tax rates and excise duty to 12% from 10%. A 2% increase means applying for foreign education is going to become substantially costlier. Think of any of the related services—coaching for GRE, consulting agency's fees, fees for the various tests and everything else that one requires doing before actually obtaining a seat in a foreign university. All of these will become dearer for their parents. Maybe the FM has taken a pledge to prevent the brain-drain that is eating away in to our resources but I seriously doubt that.
It seems more like a move to generate revenues to keep up with the projected growth rate of the GDP as he knows nothing is going to deter parents in facilitating a secure future for their wards. Foreign education apart, this move will also dent a big hole in the earnings of private coaching centers and tutorial classes who'll obviously pass the buck on to the end customers—the hapless parents. With more and more students making a beeline for professional and technical courses these centers have become almost synonymous with another rung of merit to climb over for getting entry in to the coveted colleges. Such changes will definitely make the parents frown a lot more over the ever-increasing educational expenses.
Many students will swear that nothing else helps them to stay awake the night before exams or cope up with the strenuous lecture hours than a few puffs of the cigarette. Bad news for them though: the prices of cigarettes, bidis, paan masala, chewing tobacco and all such intoxicants are set to rise thanks to the recent Budget of the FM.  Also with IT exemption limit being increased parents are more likely to invest in savings than to increase their pocket-money!  It seems like a no-win situation for the pitiable lot…
Along with cigarettes, cars and two-wheelers too are set on becoming costlier. It is advisable for all those who had planned on asking these for their birthdays to defer their plans to their next birthdays. The students' life-line—the mobile phone is set to burn a deeper hole in their pockets as telecom bills are also set to increase. The late-night calls and seamless chatting on the cell stand in jeopardy unless service companies hem out some favorable caller plans for the students, which they hopefully will. Lucky will be the ones who live close to their places of study.
For the less unfortunate lot, there is bad news galore as air travel too will become more costly in the current fiscal. Maybe the airline companies will take heart in the fact that a lot of sops are being offered to strengthen the aviation industry and therefore decide against any jolting hike in the air travel rates. The only succor is that branded garments manufactured in India are set to become cheap, a tiny consolation for all the things that the students will be made to suffer by the FM.
However we tend to forget that majority of the Indians still live in the rural areas where basic educational facilities need an urgent attention. By making favorable opportunities for foreign and private investors in the Budget one hope to see some of this being diverted to invest in rural schooling schemes. The FM has also proposed setting up more schools in rural areas which if implemented, are a welcome development. Aiming to stir up research studies in the country, grants have also been allocated to fund more such centers in India. All this may hopefully reverse the brain-drain that is plaguing our higher educational institutions.
The Budget doesn't give many reasons for the Indian student to celebrate. FM Pranab Mukherjee gave all a lot of hope when he assumed office a couple of years ago. But few had foreseen the current global economic turbulence where we saw India's lofty projections of achieving 8.5 plus percentage growth hurtling down to become steady at a mere 6.9%. Still, many expected a stronger Budget from him which would have addressed the issues more strictly. However with the reins of the Govt. firmly in the hands of the allies, he is playing it safe by presenting a placid one lest it embroil into another fiasco like what happened with the Railway Budget.
| | |
| --- | --- |
| | This is a Guest Post by Manish Parashar. He is a B.E. Mechanical Engineering student at the Manipal Institute of Technolgy, Manipal. |