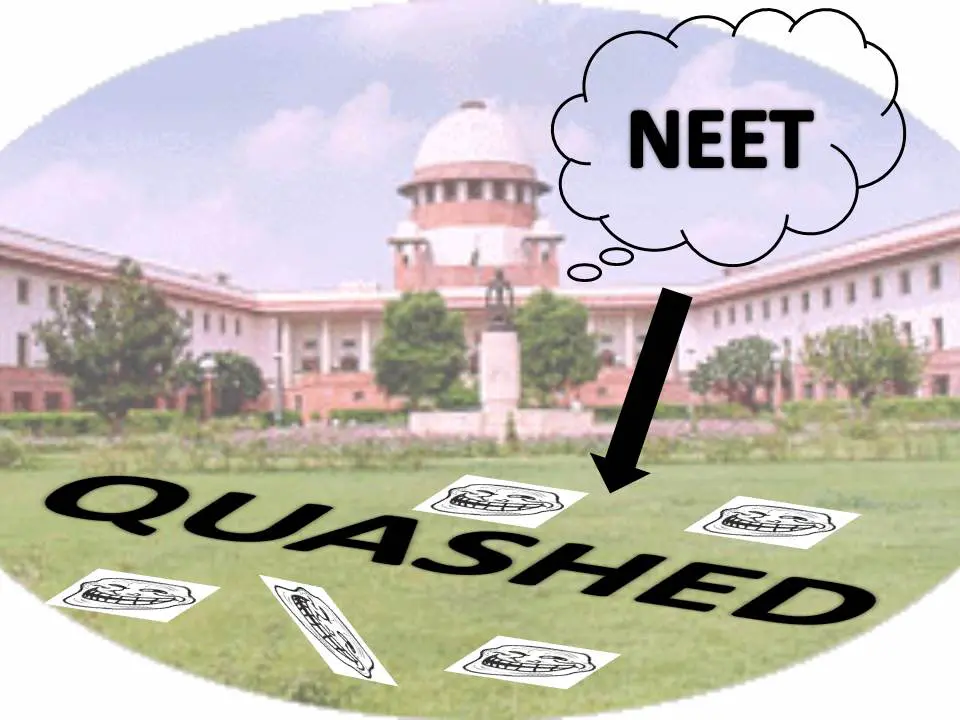 Note: Before I begin this article I would like to beg forgiveness for not quoting any constitutional articles or dates. They are far too many and complex. In case anyone wants references, kindly contact me at [email protected] :p
The Supreme Court in its recent judgment quashed the NEET exam for UGs conducted by the CBSE under MCI directive, stating that MCI has no constitutional authority to do so. Far from solving the problems it has left the future of thousands of students in jeopardy yet again with the Government considering a review petition and MCI considering how to take in the insult. Here are few points I would like to discuss.
Firstly, coming to the benefits of having a common entrance test:
It saves students' a lot of money which is spent in buying forms, travelling to various cities, getting specific photographs, etc. in addition to the time it takes to do all this
It brings uniformity in the admission process. The trauma of having missed the dead line for filling a form is a regret one has to carry for a lifetime. It also makes the preparation more centered as there are no changes in the prescribed course.
With increasing no. of entrance examinations they is often clash of dates in exams of not just medical colleges but of medical, engineering and other courses. A hurdle in the already rough road of those considering taking multiple streams. Sometimes, dates to such clashing exams are changed at the eleventh hour leaving students groping for breath and in utter confusion.
The ordeal of having to sit for multiple examinations can of course never be forgotten. Instances where you give an exam and next day have to appear for another exam in yet another city where you need to rush are not unheard of, I having myself been through such a hectic schedule. It is like a battle that never seems to get over. First the board exams and then these.
With a single agency conducting a single exam there can be greater transparency and it becomes easier to fix responsibility to prevent discrepancies. With increasing corruption and selling of seats in many medical colleges, such a step is necessary to make sure real talent not is not laid waste by the rich and powerful. Only a common exam by a neutral agency (preferably government)separate from colleges can make sure such feat at a pan India basis as not everyone is honest you see 😉
A uniform standard can be maintained for the country and quality assessment, enhancement and maintenance can be efficiently concluded. Besides, it makes sure that everyone entering medical colleges is 'on the same page' and his professional education can then be then be carried out efficiently as per a centralized course. Not to mention it is more convenient for the students.
A common language is something that is of paramount importance to every scientific field as information exchange is what ultimately leads to progress. Had it not been for this exchange we might as well be still inventing the same thing over and over in different geographic areas. Therefore, an entrance which defines this common language, is in such a language is of utmost importance. The choice is of course English as it has the qualification of being an International language. Besides, medical education as I have seen since sometime is mostly imparted in English so the question of people having difficulty in giving an exam in common entrance and being compromised thus should not actually arise. Even if they get through with their regional language exams, they will in 'hot waters' when they join the course and will be unfit to meet its requirements. Ultimately, they will have to tune in to English if they wish to become doctors (talking about allopathic medicine only of course!).
It was the Supreme Court only that had in an earlier judgement directed the MCI to analyze the possibility of conducting a common entrance examination and do so. It was not an ad hoc step of the MCI.
It being the prime motive of MCI to ensure quality of medical education in India, it is not pragmatic to isolate it from the admission process. You cannot hand over horses to the MCI and ask them to train them at the same time maintaining high standards of education. It has to have a say as to the prerequisite standards a person has to meet if he or she wishes to be trained in medicine further.
It makes things simpler for everyone, be it the government, teachers, students, parents, vigilance, Court or the common public. You don't need to spend hours over the internet to get a knack of things.
With one common entrance, it will be easier to assess student choices and form a statistical list about the reputations of various colleges. Credible surveys as to which colleges are actually better, which only have a good name now, which need to be ousted, which need to gain more prominence, etc. can be carried out to guide students.
The other side of the coin and more will follow suit soon. As of now my word limit holds me in shackles. Not to mention this is enough food for thought at a single time. So stay tuned………………..
Feel free to present further points and your views in the comments section below.
You all can send us your articles on this or any other topic, literary works, photos, etc. at [email protected] or [email protected] . We will be more than happy to share them with everyone.