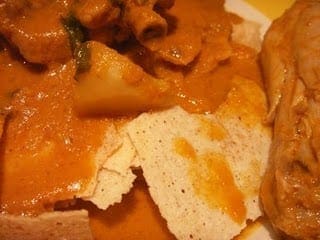 Source: Food,Football and Baby
When you end up staying away from home, one learns to appreciate home food. Thanks to the rather awesome quality food that is offered at our hostels, and even our canteens, it is not surprising why people flock to various hotels at every given opportunity. We often become a victim of this, and even though its hard on the pocket at times, food at Mangalore is the only sort of compensation one has when home food is not available. So ManipalBlog.com decided to make a list of the 5 best things you can eat in this wonderful city, that does justice to lack of good food.
Here's to Mangalore, our second most favourite city.



5. Chicken Dum Hyderabadi Biryani at Palkhi
Palkhi is often mentioned as the most expensive restaurant in the city and it is not often that people can afford to go eat there. ManipalBlog.com has enough experience to know that this dish is brilliant. The closest you can get to authentic Biryani, priced at 100, is quite a steal for the quantity and quality it has to offer.
4. Dal Makhni at Rinku Punjabi Dhaba
There's a good chance you have not heard of this place. But one hungry day, ManipalBlog.com found this place and thought to have struck gold once done. Roti's are probably a rip off at this place, but the Dal Makhni is simply superb. It even tastes better than the one at Palkhi and its costs just 40 bucks. Now that's a deal for a hungry person who carries a light wallet, which of course describes most of us guys. The Dhaba is a little hard to find, it is located near KMC Hostels at Attavar, in case you want to give this dish a go.
3. Murg Kali Mirch at Palkhi
This is a regular , probably have had this almost every time at Palkhi. Its a little expensive at 120 bucks, but is the best non-vegetarian side dish one can find in Mangalore to eat with Rotis. Now that surely is an incentive to at least try this dish once.
2. Paneer Shazlisk at Liquid Lounge
People do not understand when we say that ManipalBlog.com likes LL for the food more than anything else. But trust us, the food there is simply out of the world. There are many dishes that could fit this list but this one beats them all, by a big mile that too. Its a little expensive at 120 bucks, but it is very filling. This dish is a combination of what looks like Ghee Rice in the dark setting of LL along with the most wonderful gravy which has almost innumerable paneer pieces. And they do indeed make a great combination. People who do not drink, who have things against places like LL, have come here to eat this, that should speak volumes.
1. Kori Rotti and Curry at Kori Rotti
Your probably shocked at this. and you probably ought to be if you haven't eaten this. But that's where you've to go eat it. This dish is a Mangalore speciality, it basically comprises of what is known as Kori Rotti, which looks something like fried rottis. These rotti's are placed on a plate and hot spicy Chicken Curry is poured over it which makes the Kori Rotti soggy and my god, it is a match made in heaven. It costs 45 bucks and you are full at the end of one plate. The place is located opposite Empire mall and is on the main road, so it is easy to find as well. The place is located next to the Deepa Comforts building! Earlier it used to be opposite Empire Mall. This dish is prepared in most Mangalorean homes as well, and this place makes it as good as the home version.You just have to try this.
Honourable Mentions: Twister at Cherry Square, Auflauf at Diesel Cafe, Chilly Chicken Lasagna at Froth on Top, Cheese Burst Pizzas at Domino's, Foot longs at Chef's
If you have not eaten any of the above mentioned, please go ahead and do so!
And please if there's anything we have missed out do let us know 🙂