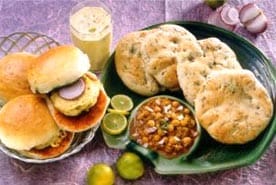 Now that you've explored the fine dining set ups in Mangalore, how about some places not so hard on the wallets and with a different sort of ambience. Places where you can treat some friends, go hang out in the evenings and have yourself some snacks.
So for this week's special on Food and Restaurants, here's a list of some general places for casual meals and snacks…Enjoy!
Hot Bitez 
Students can go there when low on budget; burgers n' fries. It's located behind Deepa comforts. But you can count the number of fries on your fingers…if you know what I mean. And the burgers are pretty small too…

Chaat Square
Below Dominos, opposite Ocean Pearl. It's new and a pretty decent place. These guys sure know the various uses of chaat masala!
Chaat Point
Chilled out, Cheap and nice chaats both spicy and sweet. It's near the prison though :p, behind Deepa Comforts.
Diesel Café
 Near Cherry square, Balmatta. You may not want to try any sea food, my advice, otherwise ambience good and snacks and drinks are decent.
Anmol
The best Dosa's in Mangalore…really. It's near Bejai campus.
Chandu's
Amazing Chinese food, but roadside, so weak stomachs stay away. Near Bejai campus.
Ras Prakash
PURELY VEGETARIAN, They know how to cook Paneer in a LOT of ways..and its good. The thali's suck though..especially North Indian  Opposite KSRTC bus stand, Bejai.
MFC 
Along Falnir road. Casual place, you'd rather take out then eat there though…ambiance not so good. They serve up a lot more than just 'fried' chicken though…try it out.
Domino's  Pizza
The pizza base isn't as good as Pizza hut, but the variety and location is good. My personal favourite is the Gourmet; and their pizza mania combo's are quite famous.  Opp. Ocean pearl
Goodies
The best Shawarma's in Mangalore comparatively, and the Alfaham is good too. Outside KMC…a very convenient location.  
Danish
Outside Nandagiri, the Chicken Tikka Biryani is one of the 'good' dishes… especially if you like it spicy
Froth on Top
The lasagna is good, ambiance is nice but a little congested, little costly too. In Balmatta area…opposite the CCD. They serve Beer too…
Punjabi Dhaba
Next to City Centre…The typical Punjabi menu and dishes; along with dishes from other states too. Average dishes…
Ideal Café
Good ambiance  it's on the road opposite City centre, near the Ganesha temple; snacks are pretty good both in quality and quantity, and the place is quite nice. You may get really irritated at the background music playlist though!
Rinku's Dhaba
Near Casa Grande, the Aloo tadka is quite good, chicken dishes are average, but cheap and tasty place.
Chefs Kadri
More remote, better for couples…Pizza's are not some of their good dishes. I'd recommend the Xin Lai Choupsey…especially if you are really hungry!
Chefs Sturrock
Nice location, good Chinese food, try the chicken stroganoff or the chicken tikka footlong.
Punjabi Rasoi
Casual place in Milagres area, near CL. Good Aloo paratha (VEGETARIAN)
And that around winds it up…so go out there, have a snack or two, hang out with a friend and don't forget to join up next week as we explore the different dessert areas in and around good ol' Mangy!
In case of any questions, queries or additions, contact me on [email protected] or [email protected]
Happy Snacking!