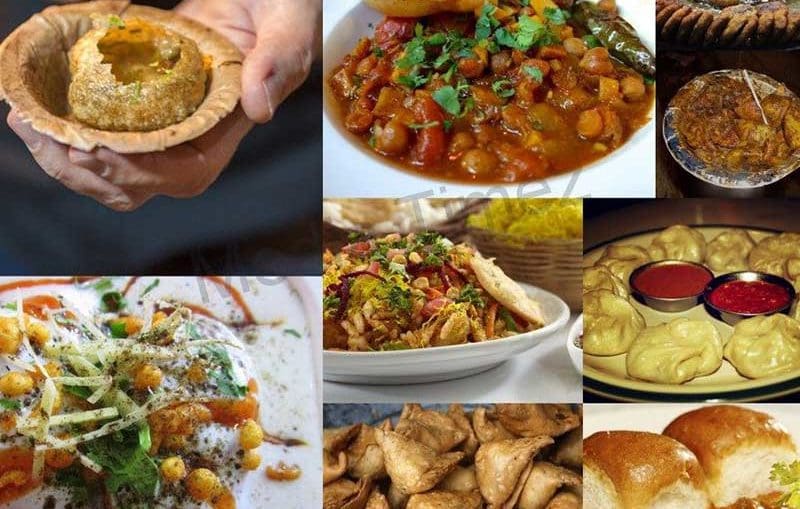 As we all know, Kolkata is a one-stop paradise for foodies, especially people with sweet tooth. The sheer variety of food one finds in this city – the cultural capital of India, is mind-boggling, and an absolute vision for most people to eat, and no, that's not an exaggeration. Bengalis are famous for their obsession with Bengali sweets – that needs no introduction, for sure – however, it's not only the sweets Kolkata is reputed for. The spicy, tangy, mouth-watering street foods that are found here will leave you dangling by a thin rope of indecisiveness of whether to die for the delicious Bengali cuisine or to melt for the exotic flavors of the desserts found here. 
Here's a list of the 10 top quality foods (in no particular order) that you ought to try whenever visiting Kolkata. 
Luchi and Alur Dom: 
You are not considered a Bengali if you, in your whole life, haven't tried Luchi – Alur Dom, ever. One of the most nostalgic memories of every Bengali might be the Sunday mornings when one wakes up to the tantalizing aroma of the spicy Alur Dom (Slow cooked potato), and the sizzling sound of the frying Luchis. This preparation is quite similar to Puris, and Dum Aloo, but one can never compare the two. This Bengali rendition of the two recipes is just irresistible to miss, and absolutely mouth-watering once you get the sniff of them. This is a combination one finds best in every home, however, if you want to savor authentic Luchi-aloor dum, "Fairlie Place" – the central business district of Kolkata – is your place.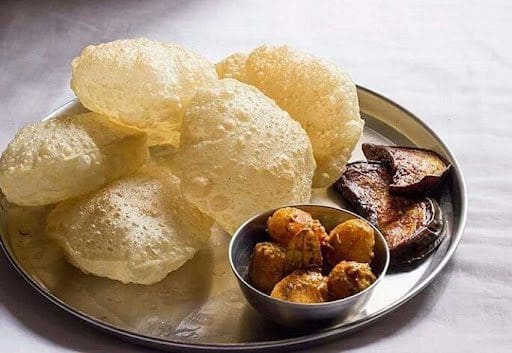 Golbarir Kosha Mangsho: 
This 92-year-old restaurant serves one of the best mutton dishes found in Kolkata and is exclusively famous for their special Kosha Mangsho (Bengali style Mutton dish) that serves every Calcuttan or Non-Calcuttan, no matter the status or class. This is considered to be the most authentic version available in the city, and can never go wrong. This preparation looks different from the other mutton dishes available in the city, due to the concoction of their special ingredients that gives it an almost blackish look. But once the scent and taste of this dish hit you, you are going to be gaga over this preparation.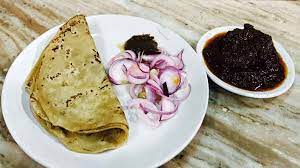 Daab Chingri from Bhojohori Manna: 
Coconuts and Prawns share a special connection in the Bengali kitchen, may it be 'Prawn Malaikari' – a creamy coconut milk curry accentuated with Ghee, and Garam Masala, which is also a dish one should definitely try in Kolkata, or the classic 'Narkel Chingri' – where prawns are steamed and concocted with fresh coconuts, but the crown will always lie with the absolutely delish 'Daab Chingri', where tender green coconut or 'Daab' substitutes as the cooking vessel. The tender coconut is stuffed with prawns, malai, cream, and milk, then slowly baked in a wood fire. This gives the dish a special creamy, milky texture seasoned with a smokiness one can only imagine. Daab Chingri is a delicacy not seen much nowadays, given its cumbersome preparation, but it will always have a place of pride reserved in every Bengali's mind.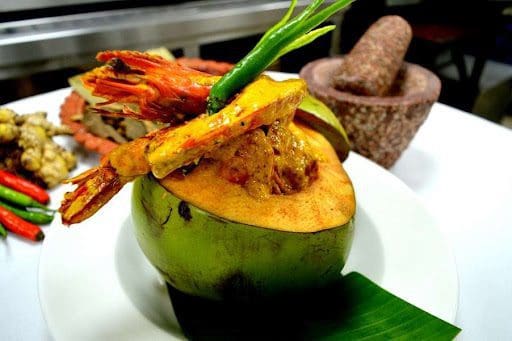 Arsalan's Biryani: 
Well, while everyone is busy relishing the spicy Hyderabadi Biryani, Kolkata too, offers a different side of Biryani – a special kind. And whenever the food Biryani is discussed, the first and foremost name that pops up in every Bengali's mind is none other than Arsalan. This is a place that every Kolkatan has known since the very early days of their lives, and is synonymous when it comes to Briyani and Kolkata. No matter how many different types of Biryani you eat, this one always stands out. The Biryani is served hot within minutes after ordering it, and as a  bonus one gets a large boiled and fried potato, and an egg along with the chicken/mutton piece and the rice. For the people who are health-conscious, biryani at Arsalan is cooked with less oil than any other place in Kolkata and is also less spicy than Hyderabadi. The flavors burst in your taste buds, providing the satisfaction that will make you want to come back to this particular restaurant again and again.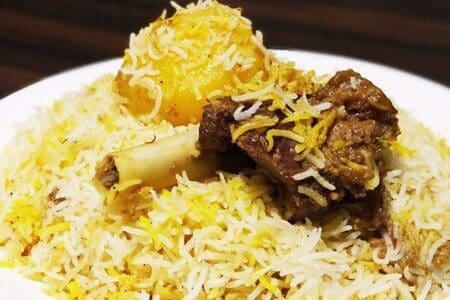 Diamond Fish fry, and Mutton Kabiraji from Mitra Cafe: 
Kolkata is popular for its street food like the chops, cutlets, shingara (Samosas), and especially the Fish Fry. There are more than thousands of shops in every nook and corner of the city selling these street foods but Mitra Cafe stands out from the rest. It is one legendary outlet and has become a household name for every Kolkatan. Some of its best preparations are the Diamond Fry, and the Mutton Kabiraji.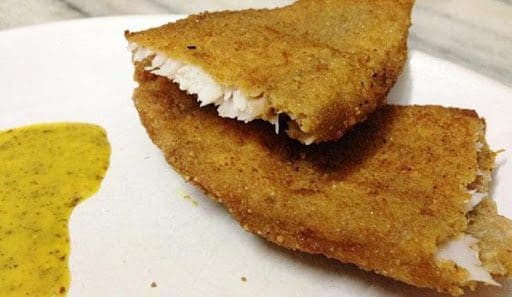 The Diamond Fish Fry is, indeed, a fishophile's delight, with a delectable filling of pure, soft Bhetki coated with bread crumbs, cut into sharp diamond shapes, and deep-fried to sinful golden. The taste of the fish is phenomenal, and can only be understood if you give in to that desire thrumming in your veins and bite into the crispy deliciousness. On the other hand, Mutton Kabiraji is another specialty of the cafe, with crumb-fried cutlet filled with juicy, minced mutton. The cutlet is dropped in hot oil, with the eggs severely beaten and dropped on top of it, giving the dish a lacy, networked texture. Simply irresistible!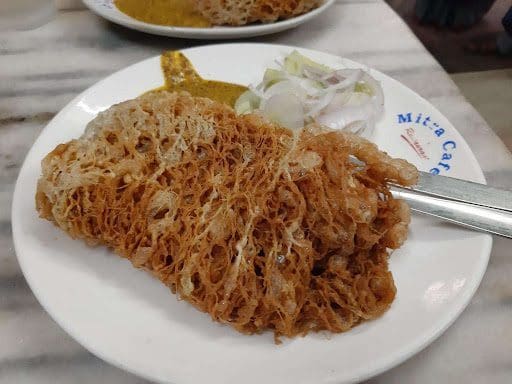 Paramount's Daab Sharbat: 
This legendary, historical Sharbat and Juice stall is an invaluable jewel for every Bengali. Designed and built by none other than Nihar Ranjan Majumdar, this stall retains the old world's charm and remains the favorite 'adda' place for every college student in Kolkata. The most famous drink of this stall was, is, and will always be the special 'Daab Sherbat'. This refreshing drink, made of the sweet, tender coconut water, its pulp, crushed ice, and syrup that remains top secret even now, has been winning people's hearts since the year 1918 when the shop just started operating. Not to mention the historic value attached with the drink – it used to be the serving drink for our freedom fighters when they used to hide in one of the secret rooms in the very same Paramount Juice stall! In fact, the entire recipe for this special sharbat was actually prepared by the famous scientist Acharya Prafulla Chandra Ray! Isn't that exciting?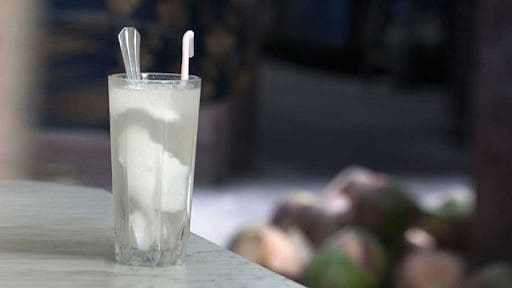 Chinese of China town: 
Once home to over 20,000 Chinese, the ChinaTown of the Tiretti Bazaar lures people from all over West Bengal and beyond with its authentic Chinese dishes. Most people are crazy about the original Chinese dishes that are found here, but there is also the Indian version of the said Chinese dishes for people not so adventurous. Breakfast in ChinaTown comprises dumplings, soups, and chili Fish, although the stock gets over as early as 7:30 am in morning. So, rise early, and you might get a whiff of what this place is special for.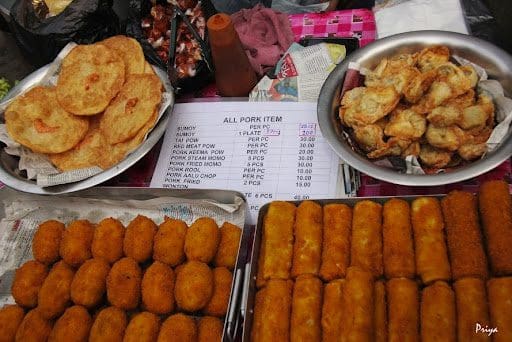 Mutton Rezala from Sabir's: 
Ah, Mutton Rezala served with Parathas is not less than any celebratory meal, am I right? An absolute favorite in Kolkata, the Rezala is synonymous with 'Sabir's'. In Kolkata, you haven't had a Rezala if you haven't tasted one at Sabir's. This 70-year-old eatery built by Sabir Ali, located on Anukul Chandra Street, Chandni Chowk, provides The Best Rezala you have ever had in your entire life. The creamy, light texture of the dish and the softness of the Mutton piece will make you fall in love with the dish, and your heart soars in pleasure. Sabir makes fabulous Parathas, missing which is a crime of its own. Eat the two dishes together, and your spirit will fly in ecstasy.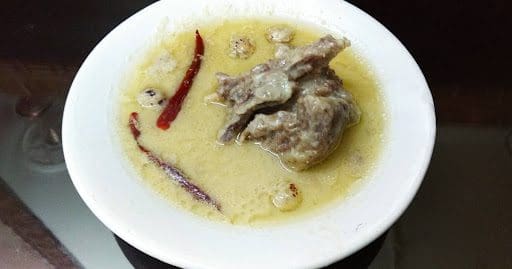 Mishti Doi from Amrita: 
You can't expect me to miss out on Mishti Doi, now, can you? Mishti Doi or Caramelized Curd is one of the most famous Bengali desserts. 'Amrita mishtanna Bhandar', located at the crossing of the Bidhan Sarani Lane, truly upholds the meaning of its name – Heaven. The upper golden crust of every 'Bhand' (earthen vessel) gives way to the smoothest of the sweet curds that you have ever indulged in. It has the richest texture, with a creamy sweetness to devour. Every spoonful will make you feel divine. Just one word for this: Heaven.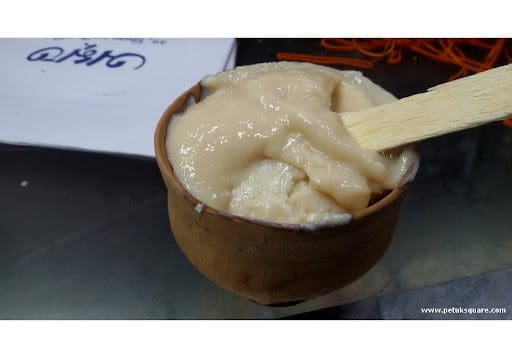 Nizam's Mutton Roll: 
It's said Kathi rolls were first invented in Nizam's in the nineteenth century, when the then owner Raja Hasaan Saheb assisted a 'Babu' (British) with meat wrapped in Paratha, and covered in wax paper, in order to avoid the dripping of the gravy, and possibly messy eating. And the rest is history – Rolls! So, when coming to Kolkata, if you miss Nizam's rolls, then nothing will be sadder than that. Superb skills are used to make the kebabs that are used in the rolls. It's finger-smacking delicious. Don't think, just 'roll' into the Nizam's, and you won't regret it.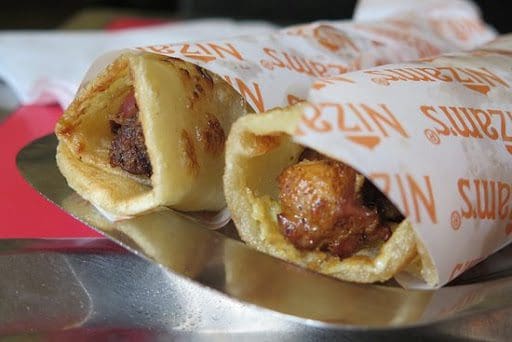 There are loads of other delicacies like the 'toast and chicken stew' from Baker's street; Dilruba Banarasi Paan, and many, many more. But whatever has been listed above surely makes the top ten, and is a must when visiting Kolkata. But for now, let's hope the hunger is stoked in all of the foodies.