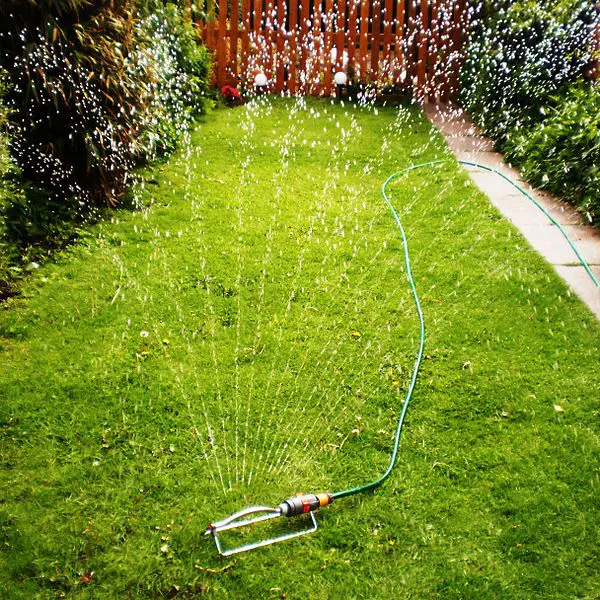 Everyone loves a green garden. It is always a beauty to behold. While you take time to care for your grasses by trimming them, you have to make sure they get adequate water supply, especially during the summer period. Gone are those days when you have to manually use a watering can or to supply water to your plants and grasses as you can now do that better and easier with a lawn sprinkler.
With the right lawn sprinkler, your garden would be looking good all year round, plus your crops would yield better fruits since they enjoy enough water.
Today, we would be looking at some of the best oscillating lawn sprinklers in the market. Oscillating sprinklers are very common because of their efficient design, allowing them to deliver water to all parts of your lawn easily.
Whether you are looking for an upgrade or you want to get one for the first time, this review guide by Reviewbrewery would help you choose the right lawn sprinkler for your garden.
Melnor XT Turbo Oscillating Sprinkler
The Melnor brand is one of the best when it comes to water sprinklers. They have built a reputation for several decades by producing various types of sprinklers for lawn use. The XT Turbo Oscillating Sprinkler is one conveniently covers a large area, reaching up to 4,500 sq.ft. It is powered by a turbo-drive motor, which makes it last longer and ensures that every part gets an even amount of water. It includes 18 rubber nozzles that deliver water at high pressure and the nozzles are designed to be clog-resistant.
Best features
Clog resistant design
Built-in flow control
Can be adjusted with one-touch
Lightweight
Orbit Metal Base Oscillating Sprinkler
The Orbit Metal Base Oscillating Sprinkler lives true to the vision of the company, which borders around innovation. With a unique design, the Orbit sprinkler efficiently supplies water evenly, so that there are no unnecessary puddles. It has a metal base that gives it a good balance, allowing it to sprinkle water for up to 4000 sq.ft and it can be easily adjusted with the slide design.
Best features
The metal base
Adjustable spray distance
Precision nozzles
Aqua Joe Indestructible Jumbo Oscillating Sprinkler
Some of us are familiar with products from Snow Joe + Sun Joe. The company has always delivered great products to be used in the outdoors and they do not leave that out in their Jumbo Oscillating Sprinkler. The sprinklers comes equipped with 20 sturdy nozzles that deliver water with exact precision, ensuring that every area – up to 4,400 sq.ft – receives equal water supply. You can easily adjust the range as you like, making it a great choice, no matter how big it small your garden or lawn is. You can also connect your hose to the system which secures it tightly with no leakages.
Best features
Water-powered Turbo-drive
Wide coverage
Leak-resistant connection
Gardena Aquazoom Square Oscillating Sprinkler
This is another great sprinkler from Gardena. It is quick to catch the eyes because of its small design but it delivers much, covering up to 3600 sq.ft. It has a great adjustable design making it great for all sizes of lawns. It has 18 powerful holes which sprout water, delivering it evenly to all parts of your garden with ease, so that your lawn remains green every day.
Best features
Adjustable design
Small and easy to carry
Melnor TurboTek Turbo Oscillating Sprinkler
Although it has less reach, covering only 2,800 sq.ft, it is also because it has slide adjusters that allow for easy positioning so that the water drops exactly where it is needed, making it great for even a large lawn with its 16 powerful nozzles. As usual with Melnor products, it features a clog-resistant system that sifts through the water, blocking dirt and anything that could prevent water flow. The sprinkler can also be quickly connected and disconnected with the Quick Connect Product Adapter.
Best features
Easy to connect
Clog resistant
Compact nature
Rocky Mountain Goods Metal Oscillating Lawn Sprinkler
The Rocky Sprinkler has an aluminum design that makes it rust-proof and rugged, ensuring that it lasts long for years. This is also strengthened by its solid brass jets which not only deliver water at high pressure but also make it last for years. Convenient for large gardens with a spray reach of up to 4100 sq.ft. and can be adjusted to suit anywhere.
Best features
Lifetime warranty
Rust-proof design
Adjustable control
Melnor 20300 Oscillating Sprinkler
Melnor does not fail when it comes to sprinkler systems and this their 20300 sprinkler relievers for your garden or lawn. With 19 brass nozzles that shoot out water for up to 3400sq.ft, you can be sure that your lawn enjoys even watering. No chance for puddles of water in unnecessary places. It has a motor that can withstand the test of time, serving you for so many years to keep your grass greener.
Best features
Resilient Motor
Brass nozzles
GARDENA ZoomMaxx Oscillating Sprinkler
This is the best sprinkler for small spaces, but it is also good for medium gardens. With an area coverage of 2,300sq.ft, the 16 nozzles present in it work wonders, evenly covering the lawn with water. Easily adjust the length and width as you wish to cover more areas or less. It has a unique design that allows it to brand propped up on a sled base for better stability.
Best features
Sled base
Compact design
Adjustable feature
UNIFUN Garden Oscillating Lawn Sprinkler
The good thing about this sprinkler is that it has three arms and they rotate, evenly spraying your lawn with water. The sprinkler was designed to save you as much water as possible, allowing you to adjust the scope of the water and the density. You can also adjust the spray direction, allowing it to spray water directly or in a 45-degree position.
Best features 
Rotating arms
Ability to adjust water density
Water-saving design
RAINWAVE Turbo Gear Oscillating Sprinkler Set with Timer
This sprinkler has something some others do not have, that is an integrated timer, meaning it can come on at set intervals. With the aid of 18 precision jets, it can spray water up to 67ft, easily covering an area of 3,700sq.ft, making it suitable for large gardens and lawns as long as it is connected to a garden hose. It has a nozzle cleaning tool that comes with the plug to make sure that your nozzles are clear at all times. It also has a wide base to complement the sturdy design, so that the sprinkler does not get pushed over.
Best features
Timer
Wide base
Nozzle Cleaning Tool
Oscillating Sprinklers Buying guide
When buying an oscillating sprinkler system, you have to pay attention to certain details. This is because not all sprinklers are built the same way and you would want something that would water your lawn right.
Weight
A good oscillating lawn sprinkler should be compact enough to fit any part of your garden. This does not mean it should be lightweight that would balance easily but easy enough for you to carry and move about as you wish.
Range
You also have to make sure the sprinkler supplies water in a range that would fit your garden. Some sprinklers can cover larger areas than the other, making them good for big gardens and not very ideal for smaller ones as they may end up messing up your driveway.
Additional Features
Some sprinklers come with features such as a timer, that allows it to sprinkle water at a particular time. Some other ones can have their speed adjusted.