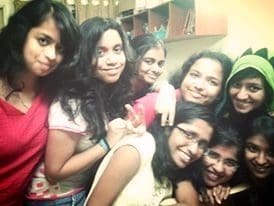 Bad first impressions, that's how it always starts. We come to a new place with truckloads of expectations and prejudices. As we enter a new world, we know that there will be people from Jharkhand, Bengal, Kerala, the moon and the sun! We are sure we wouldn't find friends like the ones in school. But the first impression is not always the last impression.
As the wheel of time rotates at 1670km/hour, we start acknowledging that loud,"Welcome to KMC," our neighbours scream for us. We open up our hearts to all the warmth that this new place has to offer to us. We start by talking about the things we hate in college and how badly we miss home. We bond over late night bitching sessions. And when someone shares their secret nomenclature for the people who they "like so much" with us, we know that we are good friends already. There are tired girls, the ones that make noise all the time. There are self obsessed ones and the ones that talk endlessly, the nerds and the Facebook addicts, different interests and different backgrounds, but end up as sisters eventually.
More than half of our stuff moves into the homesick girl's room. We can't exactly leave the kid alone, right? We rate guys for our entertainment, laugh our heads off over it. We make endless trips to the reading room and the library, hoping to spend some quality time with B.D.Chaurasia but end up talking about how a particular foramen in someone's head is blocked because the nerve responsible to inculcate a sense of style is sadly nonfunctional. We go Surf Excel shopping, take regular trips to Pabba's and walk all around the campus endlessly. There are midnight birthday parties when we dance under makeshift disco lights and the softest music possible. We find happiness in the tiniest things, together.
Sometimes, for some people, the happy bubble bursts. There are failures, break ups, fights and homesickness. When someone falls sick, everyone turns into a worried mother, praying to Gods of all faiths endlessly in huge groups. When we want to cry we know that we have more than a shoulder and a pair of ears to depend upon. We know that there's more than one heart which loves us deeply, enough to give murderous looks to the person who's being mean to you.
Two pieces of a jigsaw puzzle don't look exactly similar. In fact, they're almost opposite to each other. But that's the reason they fit into each other so perfectly! That's how soul sisterhood is. You don't need someone who thinks like you and likes the same flavour of ice cream that you like. You just need some compatibility and should be able to tolerate the presence of each other. And boom! The magic works. You feel strongly for each other and live as sisters happily ever after.
The magic worked on me. I found my soul sisters.
There's a hyperactive fashionista admired by most of the Y chromosome containing population. There's a little miss sunshine spreading pink rays of positivity all across the place. There's a cutie pie whose sweet looks are deceptive and is very mischievous. There's a Rapunzel with a razor-sharp tongue and dances like a Greek goddess. There's a disciplinarian school principal who is the best at mimicking how guys walk. There's a beautiful girl with a voice better than that of a nightingale's and has a golden heart. There's a fairy tale who would patiently listen to all your hopeless nonsense and spout witty answers in reply.
And then, there's me. The I'm-so-obsessed-with-my-soul-sisters person! Snow White had seven dwarfs sticking around to complete her story. I have seven dancing princess to complete mine.
If you like what you read here or have an opinion on what's written here, do leave a comment. You can also send in your articles, reviews, comments to

[email protected]

.