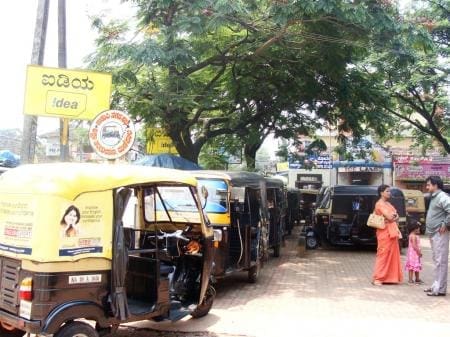 I have been living in Manipal for past 25 years, was a student of MIT, then faculty and now as homemaker. These days we all residents of Manipal are equally troubled by the unfortunate incident of June 20, 2013 and to sum up one  woman said "We women feel it is not good to have girl child at all".
I have used rickshaws in Manipal for a long time, when I was a student we had very few autos and we had to wait for an auto especially in the heavy monsoon rains. With the student population rising, the number of these along with other public transport system increased in Manipal. When I was a student in 1987 we had only one auto stand and today there are many.
The scuffles between the students and auto drivers is nothing new for us. Once  a medical student with his white coat stained with blood  had to come to the police and complain of an attack by an auto driver. In 2004-05 there was big fight, MIT students damaged some of the autos, burnt a few and the university paid for the damages done by the students.
Today I know students in Manipal are up in arms again, against the auto drivers, their anger is at a boiling point. However, as an alumni,  I want the student community to  safeguard their interests and understand certain issues.
Auto drivers have tough competition among themselves to earn their daily bread. Their problem they have solved by forming a union, as per the rules of the union, they have to be in line in the park and cannot take the passengers as they like. For example: When an auto comes near my home, he does not take me says 'you go to the stand'. It was not like this, years back.
Most of the drivers are not well-educated and belong to a humble backgrounds, they see all educated privileged students in Manipal and they want their children to study in good schools and do better job.
Most of them are from very interior rural areas and have tough upbringing and it is reflected in their talk and behaviour. They are not sophisticated like the students of the university.
Many of them are alcoholic, due to professional pressures and personal financial burdens.
My dear students, I just want to say this to you
You are from educated backgrounds and privileged ones and you should be patient with these guys.  Try to solve the problems of 'exorbitant charges' through peaceful ways.
You can demand a chart of fares between source and destination commonly used by students. You can discuss this with your college authorities or police. In the incident reported in the blog, I find it was not extra. From TC to my house near 'Joy stores' on Alevoor road, they take Rs.30 and from MIT auto stand, Rs.35. The distance is 1.3km; Indrali to Manipal distance may be same or more.
We use our private vehicles either at Manipal or in respective home towns where you cover three times the distance; here you cover with the same amount paid to the auto. It is our mind tuned to this comparison that makes us feel they charge us more.
In Mangalore minimum fare is Rs.20.
I talked to a driver about not using meters, he gave me a lengthy explanation,I have forgotten the conversation, but at that point of time I felt  the explanation was convincing.
I just want you to know that we spend a lot of money in multiplexes, branded outlets and food joints. We never question them on payment.
But here in Manipal students keep fighting with the cobblers, auto drivers, fruit sellers etc. Why is this?
Once I saw a girl student was bargaining for big apple of Rs.13. She enquired why the rate of 1 Kg of apples is Rs.130, and that for a single apple is Rs.13. The vendor used the digital weighing machine and asked her to look at the weight of an apple. The girl was still not convinced. I was at the shop and the vendor said, "Look madam, doing business in Manipal, with students who do not understand simple stuff is not easy, we need a lot of patience and not everyone can be patient!"
I've also seen some girl students of the University visiting beauty parlours, cyber cafes (in the past) and when it came to paying for the services,  saying,  in very fine and polished English, "I am sorry I have forgotten my wallet'. I have seen this not once or twice, but quite often.
Do you know that such incidents committed by a few students gives the entire student community a bad name? Does it mean the local folks, shop keepers, beauticians etc., should take up arms against the students?
This situation is no different from what a few auto drivers do to the entire rickshaw community.
Think of it! Are all auto drivers bad and all students good?
My personal experiences
During the time of crisis say accidents, these very auto drivers help us. This is my experience. Without charging a penny an auto driver admitted my husband to KMC after an accident at TC. The auto driver came to my house and reached me to KMC, did not take single penny. He said it is his human duty.
Once I had run out of fuel and an auto driver dropped me to MIT. I had handed over the vehicle key to him and he could have run away with my vehicle. With all honesty and sincerity he got my vehicle filled and dropped it near MIT and gave the key to security.
As far as I know, no auto driver has caused an accident and created trouble for students (barring the incident on June 20th, 2013).
When at weekends, girls go out of control and are in no condition to reach their homes/place of stay, these so-called 'bastards' drop these girls to the hostels/accommodation, without harming them.
They are like us, most are good and a few are bad. Let us try to understand them. Confrontation does no good to anybody.
Pray that you have happy and peaceful college life and go back with sweet memories.
About the Author: Dr. Susan Rego is an alumnus and a former faculty of Manipal Institute of Technology (MIT), Manipal. She presently lives at Alevoor, Manipal.