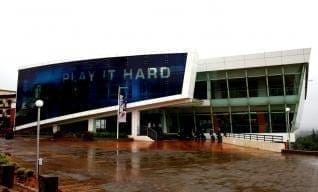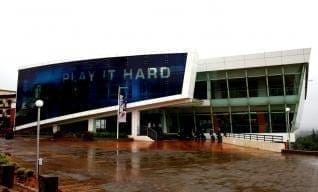 The Karnataka State Lawn Tennis Association will conduct the Corporation Bank ITF Manipal Open at the Marena Sports Complex in Manipal University from May 21-28. The qualifying rounds of the $10,000 event will be held on May 21 and 22 with the main draw beginning on May 23. In all, 20 players, including 11 Indians, have been given direct entries, while eight will make the main draw (round of 32) from the qualifying rounds.
This bit of news in the morning today, reminded me of my tryst with this wonderful game. It was the first year after joining Manipal in the year 2007, that I first saw tennis players playing at the Tennis court opposite the NBQ hostels in the Manipal University Campus. I was in awe of the players in their shiny white shoes and it was the first time, I was seeing the game being played in front of my eyes, rather than on television. Of course, now we have the MARENA tennis courts, but back then, the open courts were susceptible to the weather conditions.
The stadium at the MARENA, Manipal must be awesome….
Have never bee there though 🙁
Prabhav, my colleague at the pharmacology department was the instigator, and we purchased a Racket each, a few cosco tennis balls and decided that we would learn to play this game, come what may, during our stay in this University town. After watching a few games, Prabhav said " This looks easy! ".
That is what went through my mind when I picked up a racket for the first time at age 27. "I've been quite athletic my whole life; how hard could it be to swing this thing and hit a little ball? All kinds of old people play this game." I thought a tennis "date" would be fun.
So you can imagine my surprise when I took my place on the baseline ("What is this line called that I'm standing on?") and, as the ball came flying at me, I swung and completely MISSED. And if you have even a little experience of what I am talking about, you probably also can guess that I swung WAY too hard, which a) embarrassed me terribly, and b) shot a piercing pain through my arm into my elbow.
Thus began my relationship with this game. A game I can't say I "play" without feeling like a poser, but one that I had become obsessed, in love, frustrated, angered, fulfilled and utterly challenged by for the next two years.
Thing is, I tried educating myself on the game by trying and trying again, pushing through the frustrating days, watching it on TV and in person. Living in Manipal provides us limitless opportunities, all year round, to find a court, meet others who play and hook up to hit balls. What I hope to find more of are people in this beginner/intermediate phase who are also striving to improve, and hoping to meet others in the same boat.
That is why, I believe, the coming KSLTA tournament at the MARENA, Manipal, will be a boost for the interest in the game among the locals.