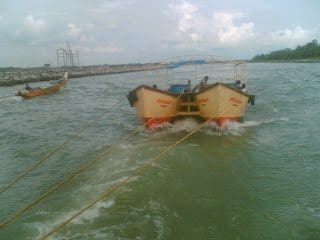 A very small island located in the mid sea not very far from 'malpe'.You can have clear idea about existence of an island from the 'malpe beach'.On the 2nd of October after being fairly convinced that Indian cricket team won't be able to make it to the giant target of 308 runs put by Australians, I and Dr Vivek made a spot plan to visit the island.In a heavily rain affected area like coastal karnataka, and that too in this season one has to confirm whether boat services are on or not.A call to the malpe office did the job for us.
On malpe port we had to wait for long till enough number of travelers arrived to meet the money requirements of local authority.In afternoon of course, you cannot expect heavy crowd for an island!!Finally we were on the bigger of the boat with the back of which smaller twin boat was tied to be pulled near to the island where passengers are supposed to shift into that one to reach proper shore.this is done since shallow and 'full of rock' shore of island is unacceptable for bigger one.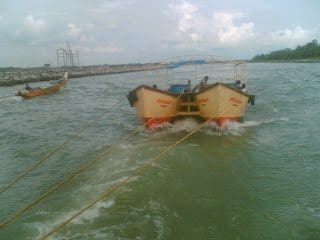 Tearing the sea water we were cruising through towards the island.Atmosphere , to our good luck , was calm and favorable but you never know.The sea is never trustworthy!!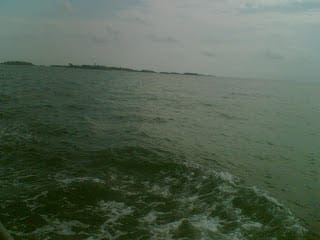 There it is.Our destination doesn't look far away but in fact it is!It took 20 minutes to reach it after this click was done.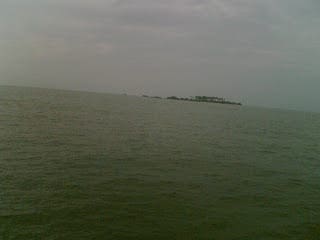 Jobless on the boat we kept on clicking!Wind helped Vivek to feel proud of his health though just for a moment!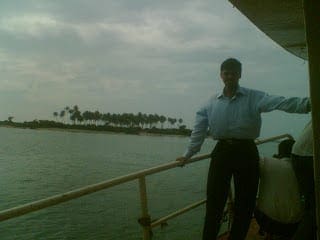 I also tried the trick but probably I am having more than enough for wind to have any significant effect!1