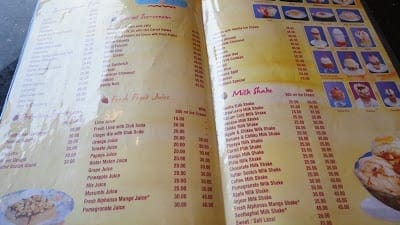 A look at the menu. You can zoom if you please:Click on the Image to enlarge
Note: All images and the modified text are taken from the Blog – FoodForThought.
One of the favorite destinations for Manipal students every weekend is the nearby city of Mangalore. Mangalore is a one and a half hour bus ride away and is one of the major ports on the west coast of India. Apart from having the only multiplex on the Karnataka coast, Mangalore is also a destination for it's oldest ice-cream parlour – Pabbas.
It is a favorite among the people of Mangalore and with Manipal lacking a good ice-cream shop, students from this university town also try to visit this place in their weekend holidays. Pabba's is always full of people, at any time of the day and on all days. On weekends, you will be given tokens just to enter the place!!
Tiramisu
So it might not look like your typical tiramisu, but it sure tastes pretty good! 🙂 If you like a lil coffee ice cream on the top with a layer of chocolate cake and chocolate sauce right beneath, and then more vanilla and chocolate ice cream with little chocolate chips and cashew nuts within, this is definitely the one you should go for!
The Chocolate Dad!
Now this ice cream is for those who dig solid/powdered caramel! Chocolate icecream with nuts, over which lies a layer if caramel and topped with a scoop of vanilla icecream and chocolate sauce! YUM..
For the Fruit addicts are the following perfect icecreams :
The DilKhush!
I couldn't help but notice this to be one of the favourites with the older crowd – people who have been visiting the parlour since they were kids and are now parents or older. The name is supposed to mean HAPPY HEART. And most people claim that this is the state they achieve having eaten this icecream! 🙂 Well, its got a scoop of strawberry, vanilla and butterscotch icecream with raisins, cashew nuts and pieces of fruits like apple, mango and so on, usually topped with strawberry sauce.
The Parfait!
My favourite The Parfait. It is just perfect with a lot of fruits at the bottom, covered with jelly, milkshake and slabs of various ice-cream flacours. This mouthwatering dessert is then topped with nuts and cherries. In fact by itself, this can be a completely satiate your hunger. Perfect for one and can be shared by two!!
Bambino
This one's got hot Carrot halwa sandwiched between a slab of Vanilla and a slab of Butterscotch ice cream. Its topped with chocolate and strawberry sauce. I did not enjoy this one much, probably because I do not appreciate the carrot much 🙁
If you love you ice cream with Jelly, this one is for you
Also available here are snacks like cutlets, sandwiches, mini pizzas, milkshakes, thick shakes, fruit juices!
A must-visit for any ice cream lover in Mangalore! Prices are very reasonable and the ambiance is quite good.
All Images and most of the write courtesy – Food For Thought