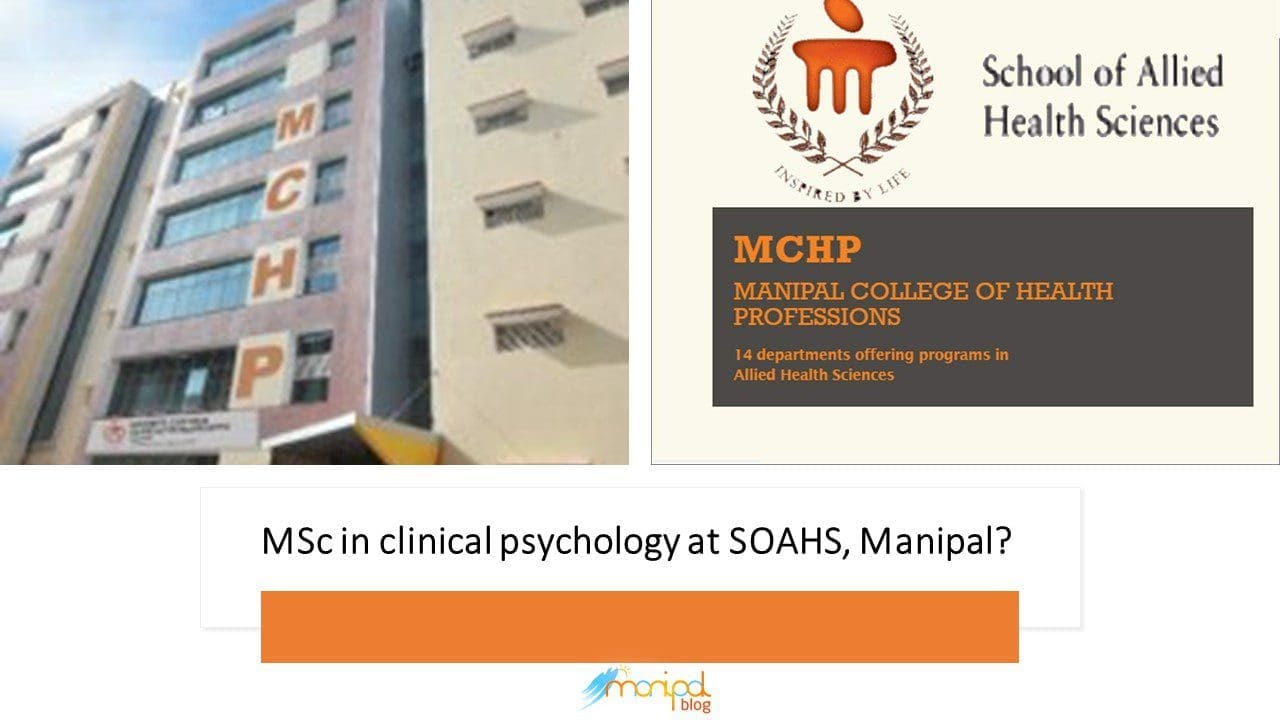 SOAHS (School of Allied Health Sciences)
SOAHS (now rechristened as MCHP), Manipal is among the finest institutions in the applied health science Genre. With revolutionary methods of teachings, both practical and theoretical, it becomes quite easy for the students to sustain in this highly competitive modern era. This highly esteemed institution was established in 2000 and since then has paved the way for the illustrious careers of many incredible talents — one of the most refined courses available at SOAHS, Manipal, in Clinical Psychology.
The clinical psychology program at  MCHP Manipal is even acknowledged and recognised by the Rehabilitation Council of India, which speaks volumes of this highly valuable course. Thus, a Master's degree in this program would enhance the stature of the students, who are looking for great future endeavours in clinical and health sciences.
Extremely refined teachings
SOAHS, Manipal emphasises the core learning of various essential concepts, which makes the students stand in a league of their own. A firm hold on specializations like clinical psychology, adult psychiatry, and other health training proficiencies makes MCHP, Manipal an ideal course for students who are seeking a master's degree.
With precise guidance from the veteran faculty members, even the most complex nuances involved in health and medical sciences like neurology, dermatology, psychiatry, and surgery are well grasped by the students, which gives them an upper edge over other students in the medical field. Students are also trained in various software-oriented assessments and quality interpretation for all-round development.
Some crucial competencies
SOAHS, Manipal is a highly reputed institution in health and allied sciences that lay the foundation for students. With impeccable competencies in Psychotherapy, Hypnosis, Neuropsychological Assessment, Cognitive remediation, and IQ Assessment, MCHP Manipal, provides practical impetus to a career in the field of health sciences. Students pursuing a master's degree in clinical psychology would be equipped with every armoury in their arsenal, which would pave the way for significant future endeavours.
There are not many institutions in the genre of medical science, which overpower SOAHS in medical teaching proficiencies.
Force to be reckoned with
SOAHS, Manipal is one of the highly acclaimed institutions which is preferred by thousands of students in the previous decade. Gradually, it has risen to the top of the file with flawless results and great placement records. With 600 acres of land, it possesses almost everything what a medical student aspires for. A humongous library, sophisticated training centres and a massive anatomy museum, this institution has every essential feature which would prove to be decisive in enhancing the stature of students in a competitive field.
All these characteristics make MCHP Manipal one of the ideal prospects for pursuing higher studies which privilege the students with the crucial elements for great productivity. State of the art museum centres for research also proves to be crucial for precise practical knowledge of the students.
Great collaboration and placements
Attached to highly reputed Kasturba medical college, SOAHS is well recognised by many prominent health organisations, and due to impeccable results of the students, it becomes quite inevitable for them to get internships in such big health organisations. Many students can make the most of this opportunity and often end up getting placed with massive packages (LPA). Thus, due to a high reputation of MCHP, Manipal, the students who prefer higher studies like M.sc are preferred over the students who have pursued a bachelors degree in the given field.
Due to the rapid popularity of clinical psychology, students are more inclined towards eminent institutions to ensure a great push to their dream careers.
Conclusion
SOAHS, Manipal is undoubtedly a highly refined and esteemed institution in medical and health sciences and is rated quite highly by students as well as other prominent organisations. Thus, taking admission in M.Sc clinical psychology at MCHP Manipal, would be a great decision.