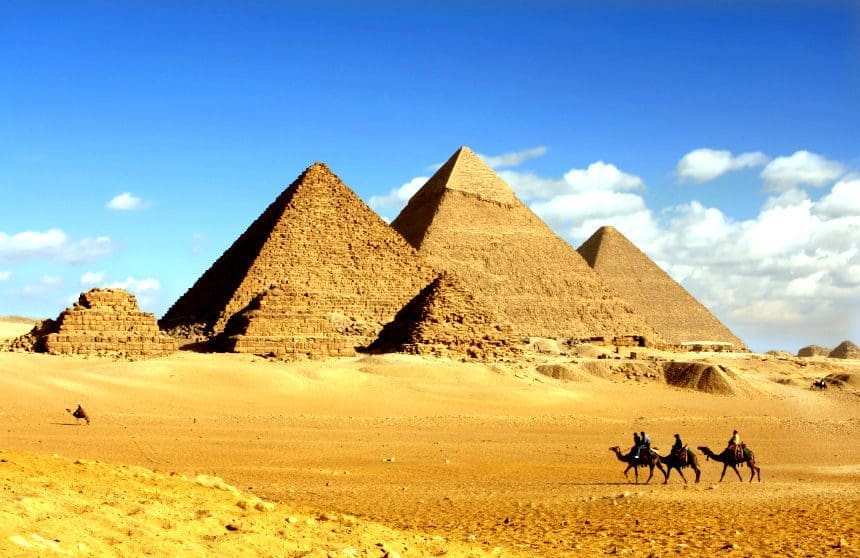 Ever since I watched the movie 'The Mummy', I have been fascinated with the Egyptian civilization. So when I got the chance to visit Egypt, I couldn't contain my excitement.
As mentioned in my last article, we had an overnight stay in a resort in Sinai. The next day early morning we set out to Giza, where the pyramids are situated. We went through the Ahmed Hamdi tunnel, which goes under the Suez Canal. It connects the Asian Sinai Peninsula to the town of Suez on the African mainland. Basically it's the crossing from Asia to Africa.
By afternoon, we reached the city of Giza. We were taken to an Indian restaurant there called the Taj Mahal Restaurant. The best part was there was a group of Egyptian dancers in the restaurant, who entertained us with their Bollywood dance numbers.
After lunch, we headed to the Pyramids. The place is so crowded with tourists from all over the world. The pyramids are so massive and to have built these mega structures to such precision without modern technology is truly remarkable. The three main pyramids of Giza are the pyramid of Khufu (the great pyramid), Khafre, and Menkaure. Beside each of these main pyramids, there are 3 smaller pyramids. One is allowed to climb on the pyramid but not to the top of it.
I got in one of the smaller pyramids, which is free entry. The pathway is very steep and narrow, with no stairs, just wooden planks and you have to walk it while hunched over! Ultimately you climb down to reach an empty burial chamber, where the Pharaoh's wife was supposedly buried. Climbing back up was quite a task and scary, I can imagine going through the big pyramids would be even worse.
Our next stop was the Sphinx. We took a picture in front of it in such a way that even the Pyramids would come in the background behind the Sphinx.
The next day, we headed to the Cairo museum. The museum is just filled with every Egyptian treasure you can imagine. It takes almost a day to cover the whole museum but due to time constriction, we just had 3 hours to cover the museum. It's worth the visit and for those who love History, you sure will enjoy this place. There is a Royal Mummy gallery which houses eleven mummies. The best exhibit of all is King Tutankhamen's treasures. It covers almost the whole of second floor of the museum. King Tut's famous golden mask, his coffin and treasures will leave you astonished.
It was indeed an incredible experience. Stay tuned for there's more to Egypt coming in the next few weeks. Send in your comments, articles and photographs at [email protected].