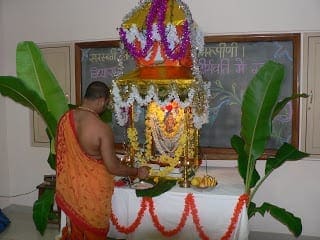 Saraswatipuja (The Goddess of education) is actually done on the auspicious day of 'Vasant Panchmi' and 'Bengalis' celebrate durgapuja (The Goddess of power) on the day of dashera (Vijaya dashmi).However , its been trend since years in our department to celebrate to worship The goddess saraswati during navratri.Last year I missed it for my home trip for 'dandiya' (stick play'.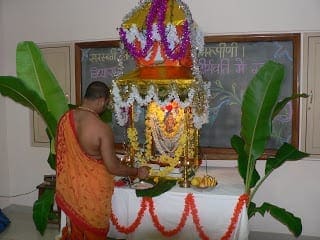 The setup is created in the departmental library.The junior most postgraduates are given the responsibility or say opportunity to arrange and decorate everything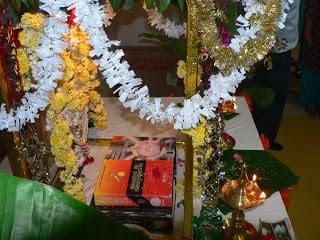 More traditionally, along with the goddess , pen, pencils and notebooks are also kept. We kept 4 most commonly used pharmacology textbooks.This is what I like very much about Indian customs.They possess great amount of respect and love for everything which help them move forward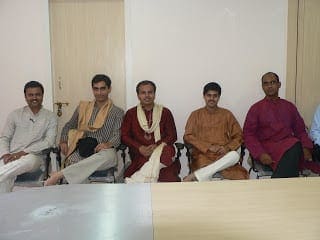 The code for guys on the day is kurta paijama as we have adopted and girls should wear saris(preferably yellow if it is being celebrated on vasant panchmi).The latter part was missing here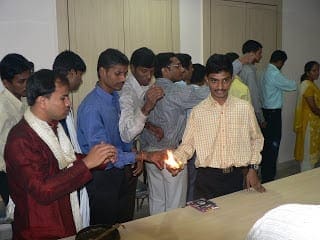 The puja per se is over and aarti is being circulated.It is a form of blessings to extend it s reach to each individual.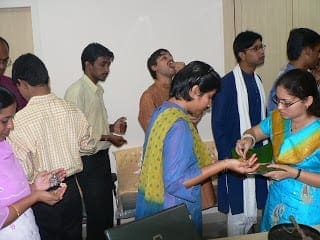 'Aarti' is followed by 'prasada' usually a sweet and again a form of blessing.Probably 'the most loved by kids' part of the puja.I believe that few of elderlies can also be considered 'kids' for that matter!