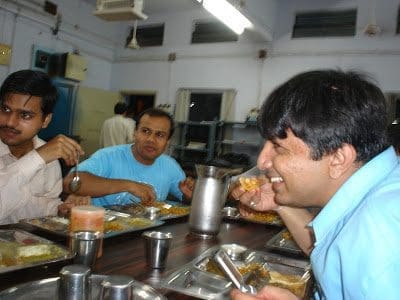 The NBQ Mess is a busy place especially when we guys get in. The pharmacology table I believe is the loudest of all and when we all get together it is the funniest too. Cracking jokes lifts us from any depressing moods we might have inadvertently fallen into.
The guy in blue in the foreground is Dr.Pratik from the department of Forensic Medicine and toxicology and was in the team that defeated us in the Toxicology cup Match.
Here Prabhav is in one of his usual PJ Moods, trying to show all his teeth without opening his mouth. The food is usually long gone but we sit at the table to enjoy the atmosphere.
This is one of the pathology guys. One of Reetesh's friend whose name I Forget. At the Pharmacology table all are welcome to join in the fun. Seriousness is strictly forbidden. No one clicks any photos of me. So decided to click one myself. I look good no?
Bobs and The Don are in the "Absence Seizure" group with occasional spikes. This is one such moment. Actually i was trying to capture the blur in the background, but it remained just that … A Blur!