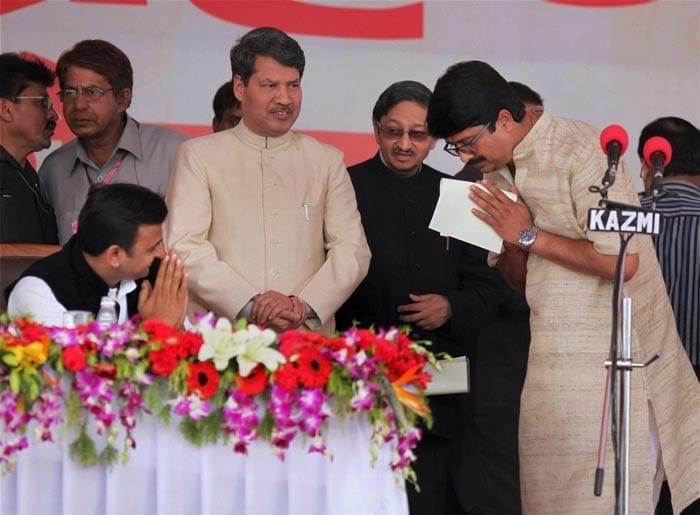 During the festive season of Holi, Akhilesh Yadav was sworn in as the new Chief Minister of UP heralding a fresh regime change from the erstwhile rule of Mayawati.  Around the same time a 12-year old child was killed by celebratory gun fire allegedly by a Samajwadi Party (SP) activist.  For a party aiming for a new face by vowing to the public that goondaraj won't come back this incident was a big farce. And it was not an isolated one either. As it became clear that people had believed in their promise and the SP was set to gain an absolute majority in the state, the ghosts of its earlier mistakes came to haunt Akhilesh Yadav.
Mayawati's Bahujan Samaj Party (BSP) was a Dalit-centric party and it had come to power based on their strength. As such, the Dalits became the first casualty in the goonda's line of fire. There were widespread reports of SP supporters vandalizing Dalit villages and beating up even the women and children. Two Dalit leaders were murdered with the suspicion of the hand of a SP minister in one case. These incidents sure caused a ruffle among the father-son duo who time and again tried to dismiss them as stray acts of violence. They tried to reason that these were just the handiwork of some vandals within the party and would die down in the coming days. Sadly, their words didn't match the actions of the grass-root party workers. The violence didn't even follow a particular trend—they even attacked the journalists who were covering the election process. In Jhansi, they tried to muffle the journalists all because of the fact that their candidate from that constituency had lost. They demanded that they should declare him as the winner instead in their news reports!
There seems to be a return of the goondaraj to UP rightly predicted by outgoing CM Mayawati. The young leader of the SP Akhilesh Yadav seems to be honest enough and determined in his mission: that of seeing a new, transformed SP. He had painstakingly travelled throughout the length and breadth of UP in a slew of 'yatras' to mobilize the people for that cause. Perhaps if it was Mulayam, his father as the chief campaigner people would have been wary of his promises. But Akhilesh's a fresh face; moreover his credentials are also impressive. An engineer with a foreign degree, he seemed to carry an enigma that enthralled the rural populace. In spite of that, he's simple in his outlook and honest in his sayings. All these molded public opinion for him and they overwhelmingly voted for a better change for UP. But superficial changes for the party meant the malady of goondaraj would show its ugly head sooner or later.
Analysis showed that the SP had fielded the largest number of candidates with criminal backgrounds. And today because of that, former thugs like 'Raja Bhaiya' and many others are now occupying cabinet berths in the state Assembly. Akhilesh Yadav has time and again clarified that no vandalism would be tolerated within the party ranks threatening that such elements would be dealt with strictly. The fact that violent elements still exist within the SP show that Akhilesh Yadav hadn't taken any concrete measures to keep them in check. SP supporters even torched the rice mill of a BSP leader blatantly disobeying their own leader. No doubt, a leader of such a huge organization cannot rein in all his followers. Till now, he has only made appeals and requests his supporters to show restraint in their 'celebrations'.
One wonders now, whether these are really 'celebratory' vandalism or the return of the former Dark era in the political history of UP. Mayawati had come in to power replacing Akhilesh's father Mulayam solely because people at that time were fed of the goondaraj of the SP workers. Although her administration did little improvement in the overall prospects of UP apart from erecting her own statues, yet there was the absence of this kind of hooliganism during her term. It's sad that public memory is short-lived, just a couple of terms of Mayawati and they had already forgotten about the horrors of yester years. This probably helped Akhilesh Yadav in galvanizing their opinion by projecting his squeaky clean image of the harbinger of change for UP. He should however, have kept in mind that a mere change in the party head won't work for the SP.
An overall revamp is necessary to keep the goons on the sidelines. That way, he can at least restrain them, if not have control over them. Many are saying that since the SP has a comfortable majority, it has enough options to do exactly that. Allocating 'Raja Bhaiya' the portfolio of Prisons is definitely not going to help Akhilesh in his noble cause, if he really intends to change the face of SP and UP for the better.
| | |
| --- | --- |
| | This is a Guest Post by Manish Parashar. He is a B.E. Mechanical Engineering student at the Manipal Institute of Technolgy, Manipal. |