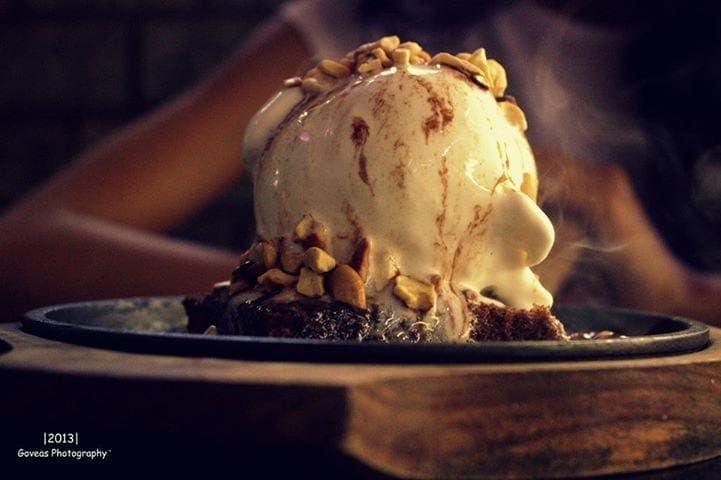 After listening to all those tiring lectures and then half-mindedly going to the hostel thinking, whether or not to eat the flavorless mess food, it's always a routine for the KMC-ites to make a pit stop at 'Cherry Square', the place I'd like to call 'KMC's hub'. It's no wonder that after a tiring day at college, ANYONE would fall for those blinking neon lights which reads 'OPEN' and once you step in , trust me, you're in for a treat. The pride and glory of Cherry Square is definitely their wide array of ice creams. Some have claimed it to be the best in Mangalore and I for one would not argue with them at all. The overall appearance of the place is very appealing guaranteed to turn the heads of many passers-by. Even more, the interior appears to be very cozy and welcoming. As soon as you step in, your olfactory nerves cannot help but pick up the pleasant aroma of all that is sweet and delicious.
Although the food is good and the place is admirable, the less number of tables and the slow service is definitely a black spot on the otherwise perfectly good hang out place. It is open from 11 am to 10 pm, so if you're on your way back from your hospital postings, you can always make a stop here to satisfy that hungry tummy of yours.
Hey foodies,  hungry for more?
Well I've got more Cherry Square-ness coming your way!
What if you are thinking about giving that one big birthday treat but you want it to be light on your pocket? Well no need to worry Cherry square has another branch in Balmatta , not so far yet not so near from the one mentioned before.
This Cherry Square has a restaurant layout with delicious Chinese, Continental and of course North Indian and South Indian cuisine. Prices are very reasonable and the food is amazingly good. An air-conditioned place is available for dining unless you prefer a 'bistro-style' experience outdoors. Either way, the place is spacious and allows anyone to throw a perfect party. Nevertheless, the star of their cuisine is definitely 'Some like it hot'- The sizzler platter carrying a brownie and ice cream topped with chocolate syrup and nuts. I must say this one is indeed an explosion inside the mouth. The sweetness of the vanilla ice cream and the chocolate syrup complements the bitterness of the dark chocolate of the brownie and then comes the crunchiness of the nuts.
The grilled sandwich and chilly chicken are among my favourites! Moreover, if you are craving for more chocolate try the 'Chocolate War'.
It's all sweet and mellow in Cherry Square and it's the best place to hang out or to have a cup of coffee during those rainy-dreary days. Be it for 'an all friends hangout' or an evening with your loved one, this is the place to be.
Send in your articles, reviews, photographs to [email protected] or [email protected].