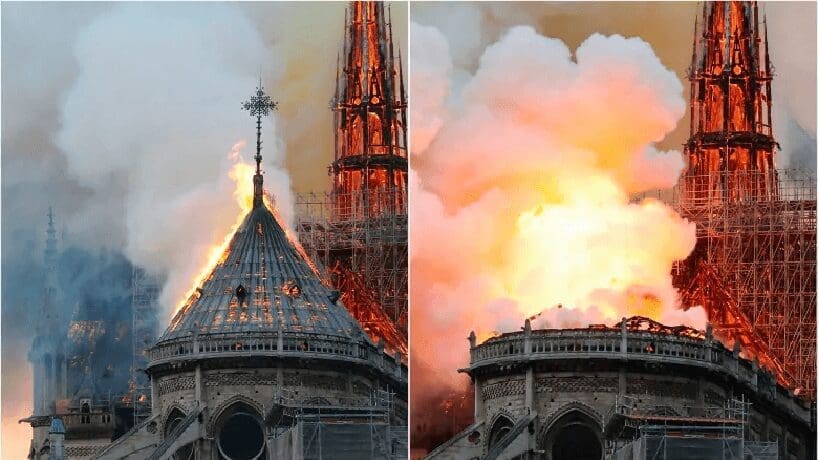 Mihika Saxena | Staff Blogger
A catastrophic fire engulfed Notre Dame Cathedral in Paris on April 15th, a regular Monday evening, altering the city's skyline. The Cathedral of Notre-Dame is among the most famous landmarks in Paris, drawing about 13 million visitors a year. The cathedral, whose name means Our Lady, is the seat of the archbishop of Paris.
The fire burned for several hours, destroying the 850-year-old cathedral's iconic spire and roof before firefighters contained the blaze early Tuesday morning.
A pair of bell towers immortalized in Victor Hugo's tale "The Hunchback of Notre Dame" survived, along with the cathedral's elaborate stonework facade. Officials said priceless artifacts were saved, including the Crown of Thorns, believed to be a relic of the passion of Christ.
Notre-Dame had survived for eight centuries—survived plague and wars of religion, survived the French Revolution, survived the Nazis. It's the heart of Paris, not only a Catholic site but the preeminent symbol of European cultural consciousness, the heart of France, the kilometer zero from which all its farthest villages are measured. Noble in architecture and art, it has long been a symbol of the transcendent human spirit.
President Emmanuel Macron visited after dark to survey the scene. The mayor of Paris, Anne Hidalgo, spoke on television of seeing the flames from her office window in the Hôtel de Ville, and feeling "powerless." This loss will leave a black mark on these officials, even if the fire wasn't in their hands.
The cathedral was built on a small island called the Île de la Cité, in the middle of the Seine. Construction began in 1163, during the reign of King Louis VII, and was completed in 1345. It is considered a jewel of medieval Gothic architecture.
It is considered as an essential building as Henry VI of England was made the king of France inside Notre-Dame in 1431.
Napoleon Bonaparte, who also sought to save the famous cathedral, was crowned emperor there in 1804.
In 1909, Joan of Arc, who had helped France battle the English and was burned at the stake centuries earlier, was beatified in the cathedral by Pope Pius X.
References for this article:
1. Notre-dame Cathedral: A Short History – Youtube. (n.d.).
2. The Notre Dame Cathedral Fire Altered The Paris Skyline – Cnn. (n.d.). Retrieved from https://www.cnn.com/2019/04/15/world/notre-dame-cathedral-fire