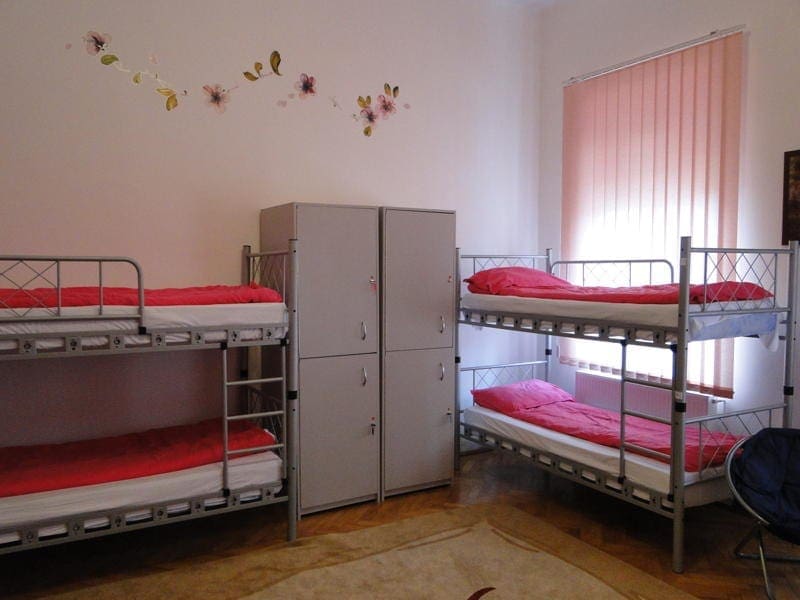 Staying in a hostel with lockers is vitally important when travelling. Although having things stolen is not a common thing, you need to know you will be able to store your belongings safely while they are out with your person. This is important both for the safety of your valuables, but also for travel insurance purposes. If your belongings get stolen out with your person, and they were not stored securely, then you may find it hard to claim on your insurance. I therefore thought it would be useful to point out the best types of lockers, both to help your decision when staying at a hostel, but also to help hostel managers and owners, because it's important they have the right kind. If a hostel does not have lockers available at all, then I strongly advise you do not stay there.
A locker should be able to fit any kind of padlock
The best kinds of lockers are the one's where hostel guests can fit their own padlocks. Being able to fit their own padlock to a locker gives a hostel guest extra peace of mind because they know they are the only person with a key, and also it means they can just carry one padlock with them at all times regardless of what hostel they stay at. It's important however, that when hostels are providing these sorts of lockers, that they are able to fit padlocks of varying sizes, to suit all sizes of padlocks that guests may bring with them. There is also the opportunity here for hostels to sell padlocks to any guests who may not have them, so it's a win win situation as far as I'm concerned.
Lockers should be free
This is not a common problem, but I recently stayed in a hostel where you had to pay for the facility of the locker. To me, you should not have to pay for security. I don't mind paying for any extras like internet/wifi, breakfast, etc, but I feel that when you pay for a nights stay in a hostel it should include all security costs. It's not like in a swimming pool or a train station where they charge, because you don't need to go swimming, and you don't need to leave your belongings in a train station, so it's a luxury that you pay for. You do however need to be able to guarantee that your belongings are safe in the place that you are staying, and therefore I think this is a huge disadvantage if you have to pay just to make sure your stuff doesn't get stolen.
Big enough to fit a backpack
The amount of hostels I've stayed at where the lockers aren't big enough to fit a small backpack is incredible. The one's I have stayed however, which have been big enough to fit all my belonging have been great. The reason for this is because when you are only staying somewhere a few nights, you don't want to have to unpack your whole backpack into a locker to then have to re-pack it again 2 days later. Of course, you could just put your expensive belongings into the locker, and leave the rest next to you bed in you backpack, but I've actually had clothes stolen in some backpacker hostels. It may not be a big expenditure to replace them, but it is still a nuisance, and still money you shouldn't need to spend (whilst not enough of a loss to really grant claiming on the travel insurance. I therefore love it when I am able to just put my backpack into a locker and lock it away. If hostels are buying lockers in bulk, I can understand that the standardised smaller ones are probably much cheaper to buy, but most of them probably weren't built for the purpose of backpacker hostels. A good way to save money and get big lockers is just to make them yourself, or hire a joiner! One hostel I stayed at had huge big hard wood lockers, with the metal bit to fit your padlock onto. They were very secure, big enough to fit an entire backpack, and they paid a lot less than they would buying fully built one's by just putting a bit of work in themselves. The same can also be done using other materials.
Lockers next to your bed
Most hostels already do this, but occasionally you will get some hostels which position the lockers outside of the rooms. For both convenience and security, lockers are best placed in the rooms, preferably next to the beds. If the lockers are in the rooms then they also locked in the rooms when people are out. Also, it's just easier if you want to put something in or take it out if it is next to your bed. For instance, if there is wifi access in the room (whether free or not), if I have my laptop in the locker I can reach over, unlock the locker and get it without any fuss. If it's in another room or down a stair any time I want anything, I personally find it to be a pain.
Security is the most important thing a hostel can offer. If you don't have that, you have nothing. Lockers are a very important thing to have while you are staying in a hostel, and if a hostel doesn't have adequate lockers, or doesn't have them at all, then I strongly advise you don't stay there.