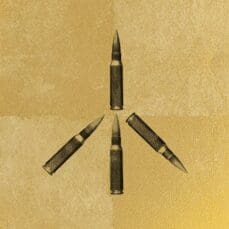 I stand across and gaze at you
In your eyes I see death, my friend,
I welcome the sword on my neck
Death's no more a miserable end.
Your obnoxious wish for power
Lead you to kill time and time again.
What for will you build an empire
When there's no man left to reign?
Your brethren shall be happy though,
As you sharpen the blade of your sword,
For you'll bring them pools of blood,
Wounded men and pots of gold.

We'll trade the silver and the gold
Only for peaceful words that you could speak
As the wine descends down your throat
Words of love are all we seek.
Treason has taken over you, friend.
Can't you hear your little son?
He sings the sweet symphony of peace
And begs you to put down the gun.
A lot of blood's been shed, oh friend.
Put down your arms and see
The wonderful life that could still be yours
And your li'l boy who sings of peace.