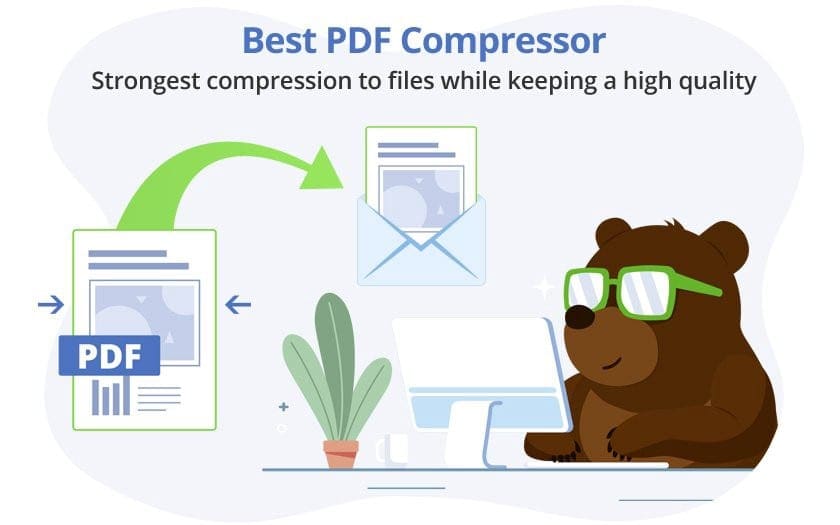 There are different types of file formats that you can choose for your computer files and data. One of the best and most popular types of file formats is the portable document format or PDF. This is mostly used for any document created on computers and handheld devices such as smartphones.
However, PDF files are sometimes needed to be in other file formats. There might be times that you will need your PDF files in Word format. If that's the case, you will need to get a PDF converter. The best one to use for PDF conversions is PDFbear. If you are not familiar with PDFbear, this article will explain all the details and why this converter tool is the best.
PDFbear Facts
While there are tons of PDF converter tools online, PDFbear remains the best online tool converter. If you are looking for a free PDF to Word converter that does not require any installations and subscriptions, PDFbear is the answer.
You don't have to worry about saving space for a new installation on your computer because PDFbear can be accessed on your web browser. All you need to do is type in pdfbear.com, and it will direct you to the converter website.
Once you are on the converter website, you will be welcomed by different PDF tools and features that you can use for all your PDF files. Besides converting, PDFbear can also extract, edit, merge, view, and optimize PDF files. It has a wide selection of options for you, and you will never find anything like it that is free and accessible as PDFbear.
How can I use PDFbear in converting PDF to Word?
If you wish to convert PDF files into Word format, it's very doable on PDFbear. All you need is a few clicks, and you will turn your PDF files into Word files in no time. It will only take you seconds to convert PDF files, and here's how to do it.
First, you need to upload the PDF file that you wish to convert into Word format. You can simply drag and drop any PDF file on the website, and it will automatically start the scanning process. Once the document is scanned, it's time for you to choose your options.
Since you will be turning your PDF files into Word format, choose the option PDF to Word. The scanning has already extracted the texts from your PDF file, so you will need to select the form you will be transferring it to. Once done, click Convert.
The conversion will only take seconds to complete. Once it's done, you now have a nicely formatted Word file. You can download the file immediately, send it to a friend or colleague via email, or modify it to your liking.
PDFbear's Award
Among other PDF converters and tools you can find on the internet, PDFbear is like no other. It has been awarded as the Best Choice for PDF to Word Converter because of its smooth conversion and user-friendly interface. Also, PDFbear partnered up with Solid Documents, making their converters give their users the best output. All of the extracted texts from the PDF file will remain in the converted Word document.
PDFbear Features
Aside from the award recognized by PDFbear, they have more features than you already know. PDFbear is flexible, and it does not limit to conversion only. PDFbear is your all-in-one PDF tool that you can always rely on in terms of your PDF needs.
Simple conversion process
Converting PDF to Word has never been comfortable with any other converters. PDFbear makes it easier for users to convert any PDF file into different formats in just seconds. All you need to do is follow the four processes: upload, scan, convert, download. As easy as that, you will land on a newly converted Word file for you to use.
No installations needed
Another great thing about PDFbear is you don't have to worry about installing new software on your device or computer. We all know how inefficient it is to download software because you will have to save some space for it. PDFbear can be accessed online, and all you need to have is a stable internet connection to convert files.
User-friendly interface
One of the best things PDFbear users love PDFbear is because of its user-friendly interface. The website is straightforward, simple, and organized. It is also easy to find the tools and options for your PDF files because everything you need to use is there.
Whether you are a tech-savvy type of person or are not very familiar with PDF tools, PDFbear is for everyone. All you need to do is click a few options, set your customizations, and convert. As long as you are connected with a good internet connection, the conversion time will be as quick as a fox.
On-cloud services
If you are a person who is always on the go and you need to convert files as soon as possible, PDFbear is the converter to use. For converted files in the past days or hours, you can access the files to be converted on the site through PDFbear's cloud system.
Takeaway
With all the stuff mentioned in this article about PDFbear, it is no wonder that it is recognized and awarded to be the best PDF to Word converter online. You will never have to worry or stress about not having a Word copy of your PDF file because, with PDFbear, the conversion is just a few clicks away.