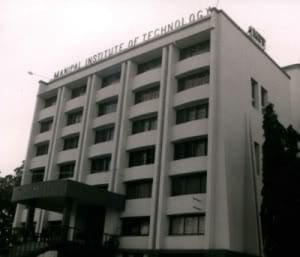 An open forum discussion on the topic "Indian Education System" was held today at IC, MIT as a part of the Revels 2012 campaign. The discussion was conducted by the Student Council MIT and in essence had gone a long way in opening up new avenues and ideas.
The session comprised of 5 panelists, including Dr. K.J.Kamath, Mr.Nakul Shetty among others. Dr.Vinod V Thomas, Dr. Ramesha C also actively took part in the stimulating discussion.
The gathering was initiated with the addressing of key issues like the reason for lack of standards in Indian institutions. Why do foreign institutions excel holistically? Is it because the quality of teaching is a notch above? Or is it because the students are in a different mindset?
Next, Manipal-specific issues were put forth. The problem of teachers mechanically reading out from their PowerPoints, without due effort to teach, was brought up. One first year student raised the following question, I paraphrase: When I am not interested in the chemistry subject, since I am here to pursue another discipline of engineering, why is it that I am forced to study chemistry in my first year?
"We in MIT, Manipal enable students to opt for a change in branch after their first year, and having a common syllabus for all first year students, aids this fact" said Ramesha C, Associate Director, Student Welfare.
Another point which was brought up was that of having an interactive and approachable Faculty Advisor or mentor for each student. In the present scenario, the Faculty Advisors are not easily approachable in times of need, though it ostensibly is so. Amongst the solutions suggested, were taking the help of a final year student in this issue, to guide and nurture the juniors.
To conclude the session, Dr. K.J.Kamath, assumed a student's role and spoke to the panel addressing the various qualms of the students. A student from the crowd, represented the teachers, and gave their perspective of the problems. It was a huge learning experience for me, and am looking forward to more such discussions!