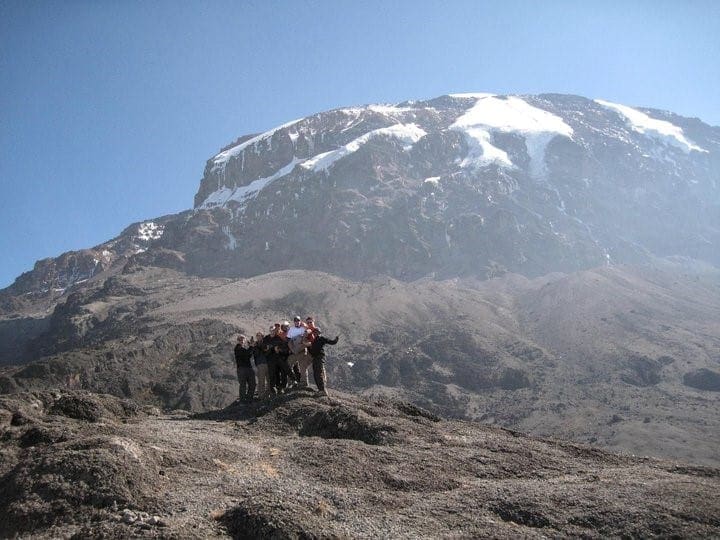 Located in the northwest of Tanzania, near the border with Kenya, Mt. Kilimanjaro is the highest mountain on the African continent and one of the famous seven peaks of the world (The highest mountain on every continent). It rises 4800 meters above the plains of East Africa and measures 40 kilometres across! The weirdest part of all this is that it is the tallest freestanding mountain in the world, created by the twin forces of fire and ice.  It is actually a volcano, or rather three volcanoes, with the two main peaks, Kibo and Mawenzi, the summits of two of those volcanoes.
The summit was first reached on October 6, 1889. Climbing Mt. Kilimanjaro is an exciting experience – not only does it require one to be in good physical condition and suitable acclimatization, but also, great determination.
The mountain is located very close to the equator and hence you will find every type of climate on this one single trek!  From the plains of East Africa, on trekking to the summit, you will pass arable land at 800-1800m, a lush forest at 1800-2800m, heather and moorland from 2800-4000m, alpine desert at 4000-5000m, and arctic conditions above 5000m. Mojhi.com is a great site to gain more information about visiting this peculiar mountain as a tourist.
Climbing Mt. Kilimanjaro would be more thrilling if you plan it with Mojhi.com, you can visit their Facebook page at https://www.facebook.com/mojhi.adventure/.
Is it hard to climb Mt. Kilimanjaro?
Although Mt. Kilimanjaro has a reputation of being one of the safest climbs, tourists who do not respect the trek find it difficult and some even die while attempting to get to the summit.  Experienced mountaineers can climb Mount Kilimanjaro in around 5 to 6 days to reach the top. However, due to the short nature of the trek and the rapid ascension, like with all high altitude mountains, poor acclimatization can cause considerable discomfort including difficulty breathing, nausea and headaches.
Kilimanjaro has a large failure rate, mainly due to tourists believing that it is an easy climb and being unprepared and inexperienced.
As mentioned earlier, if you are well acclimatized, the climb will not be very difficult as the trails are well-marked. The view from the summit though is spectacular and the best time to see the African continent is at dawn. This will need you to begin your final attack on the summit at midnight!

Summit day will be very long and tiring, but incredibly rewarding. Any pain and discomfort that you felt during the days before will all disappear in a second and will be replaced by the biggest sense of achievement and satisfaction you have probably ever felt!  It really is a magical moment.  For a lot of people, it's not until they have got back to the hotel, showered and fed that the realisation of what they have achieved really starts to kick in!