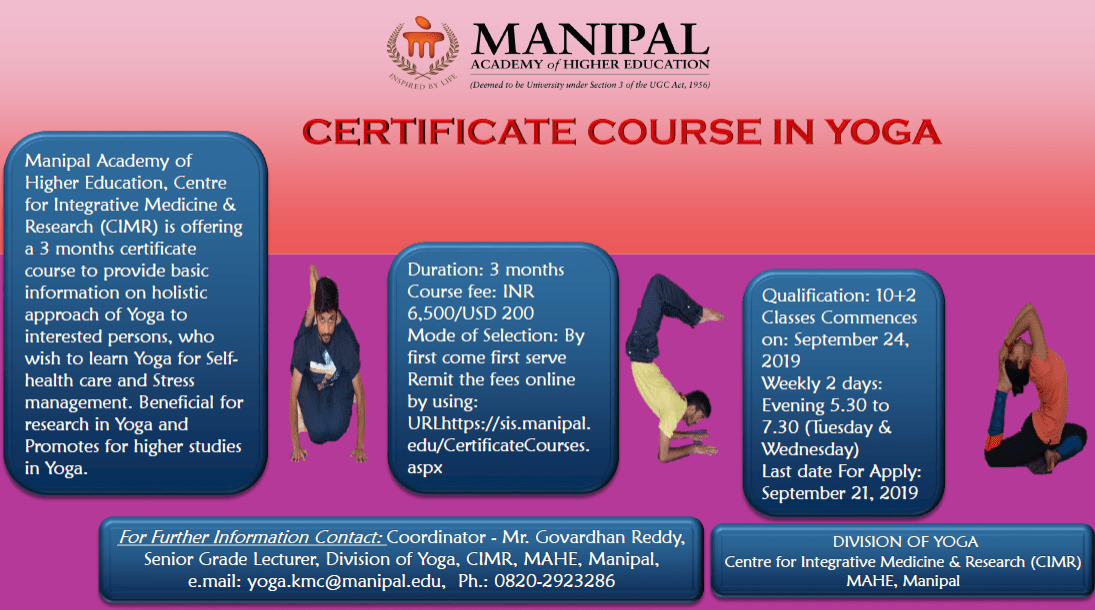 Manipal University is one of the topmost universities in India, and not only because it provides the best courses in MBBS and Engineering, but also courses such as MSc in Yoga Therapy. Whether you want to become a chef, a lawyer or a yoga instructor, the university provides certified courses in every field. Coming to MSc in Yoga Therapy, it is one of the best courses, and the students get to know all about health, fitness, and meditation throughout the sessions.
Now, there are many questions which might come to your mind, like whether doing an MSc in Yoga Therapy course is worthy or not, and whether one can become a yoga instructor without certification and many more. Below are the reasons and the answers which will suffice your curiosity.
Reasons why you should take a yoga course
Get to know your body:
The human body is like a mysterious island, and there are various things that we still don't know about our bodies. Throughout our life, we use around 2% of our brains, while the capacity of using mind and the things that it can do when we use it more than 2% is unimaginable. The same goes for our body, and yoga will help you to know your body better. Every human body is different, and yoga helps you in understanding the unique body type of your body.
Yoga helps in healing:
Yoga prevents the body from getting injuries, and it also helps the body in healing. Not just physical health but yoga even heals the mental health of the person. Yoga improves your focus, concentration, and will help you in connecting with your soul and attaining peace. In this chaotic world, having peace is considered a boon, and yoga helps you in getting that.
Yoga will help you in knowing your strength:
As said above, we don't know our body, and yoga helps us in understanding our body. Along with that, it even helps you in understanding your strength, which will surprise you. Yoga helps in discovering the inner power of the body and can make you capable of doing all the things that will make you stronger.
Know your mind:
Not only your body but through Yoga, you would even get to know more about your mind and the secrets it holds. Connecting with soul, discovering the chakras, and the inner power that you have, all this you can know through this yoga course. It will not only help you in achieving peace but will even help you to connect with other people with whom you will meet.
Why should you choose MSc in Yoga Therapy at Manipal University?
Manipal University is a reputed university that will offer you a variety of courses. The yoga course delivered by the university is a recognized course, and the certification that you will get after the completion of the course is of the highest value. Not only that, the MSc in Yoga Therapy, offered by the Division of Yoga, Centre for Integrative Medicine and Research at Manipal university has the best faculty and instructors who will teach you all the things about yoga that will further help you in creating your future.
It has classroom teaching, seminars, application of yoga therapy, sessional examinations and clinical studies, which will help you with dealing in real-life situations so that you can tackle them easily in the future. The yoga course will help you in creating your yoga centres and will even make you capable of giving yoga classes in schools and universities.
MSc in Yoga Therapy curriculum includes:
Classroom teachings, seminar, assignments and tutorials.
Patient interaction for assessment and application of yoga therapy.
Classical text, basic science and applied medical science.
Application of yoga as therapy with the basic text knowledge.
Sessional examinations, seminars and clinical studies.
Duration: 
MSc in Yoga Therapy – 2 years (4 Semesters)
Citizenship:
Indian nationals can apply under the General category. Foreign nationals or NRI or Indian nationals supported by NRI relatives can apply under the Foreign/NRI category.
Qualification:
Candidates with minimum 50% marks in any science degree or its equivalent course are eligible to apply for MSc in Yoga Therapy.
Admissions
General Category:
For MSc Yoga Therapy, admissions are done on the basis of marks obtained at the qualifying examination and there is no entrance test.
Foreign/NRI Category:
Admissions are done on the basis of marks obtained at the qualifying examination.
Career opportunities
Set up own yoga centres, work as a yoga therapist and teach in colleges and universities. This yoga course will help you both physically and mentally so that you can attain peace and make you able to help others.