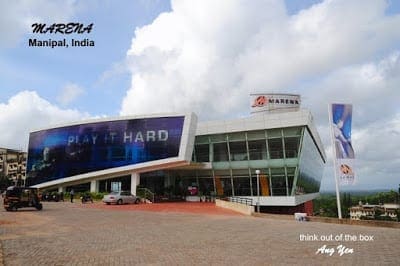 MARENA – Manipals Indoor Sports Arena
Image Source: think.out.of.the.box
Gone are the days when you have to run in the rain, lift rusty metal bars, and play basketball with cow manure on the courts. On September 1st, 2010, The Marena officially opened in Manipal and solved all of our problems.
To flaunt its state-­of-­the-­art facilities and provide an appetite for athletes, Manipal gave a sneak preview of The Marena during the Inter-­Medics Basketball tournament. To keep its facilities up to par, Manipal University outsourced the maintenance and training of the facility to Energy Wellness, a company based in Bangalore. And it definitely lives up to that reputation because the gym equipment is from Italian makers, Technogym, who are the official suppliers of the Olympics.
In addition, The Marena contains:
an indoor jogging track,
a café,
squash courts,
a basketball court,
locker rooms equipped with a sauna,
futsol courts made of astroturf,
badminton courts,
virtual games,
and much more.
It's going to improve everyone's lifestyle as it is a world class facility which has an amazing wellness program and a sports complex. They can get recharged, rejuvenated, and refreshed using different areas of the facility. Facilities such as the gymnasium, futsol court, virtual stimulators, sauna/spa and locker rooms come at a price. Students and faculty will have to pay a yearly membership of Rs.9600/-­ and Rs.4800/- respectively.
If you're here for less than a year and don't want to pay the full amount, you have to get special permission from the school stating that you are here for a short amount of time. To sign-­up, you'd first have to go to the MAHE Finance Office where upon providing proof of payment, you're given a form and directed as to where to go and what to do in order to complete the membership registration.
The only flaw to this state of the art Complex seems to be its sexist rules, one of which is, "A woman should remember that in all sports requiring strength, she will be outclassed by most men. Hence, she should not attempt to play against them on even terms!"
Facilities Available.
a) Entry Level: Gymnasium, Cafeteria, Sports Shop.
b) First Floor: Walking/Jogging Track.
c) Level Minus-1: Sauna, Steam Bath, Change Rooms, Lockers.
d) Level Minus-2: Badminton Courts(5), Squash Courts(4).
e) Level Minus-3: Basketball Court.
f) Level Minus-4: Services.
g) Level Minus-5: Cricket, Football, Simulated Games.
h) Besides above there will be Tennis Courts at open to sky areas.
2. Ellgibility to use MARENA. Faculty, Staff and Students of MU who hold the MU Combocard will have access to the facilities EXCEPT for the facilities listed at Para 3 below.
3. Following facilities will be accessible only to the members of MARENA:-
a) Gymnasium
b) Sauna&Steam Bath, Lockers.
c) Cricket, Football, Simulated Games.
4. MARENA Membership(Optional)
a) Students of MU. Rs 9600/- per annum(01st Sep 2010 to 31st Aug 2011). Yearly membership is mandatory.
b) Faculty/Staff. Rs 4800/- per annum. For each family member equivalent amount will be charged for membership.
c) Temporary Membership(MU Guests, Students on short courses, Guests of FI Valley View)
i) One Day: Rs 50/-
ii) One week: Rs 250/-
iii) One Month: Rs 1000/-
5. How to be a Member.
a) Membership forms will be available wef 11th Aug 2010 at MARENA and Students Finance.Soft copy is also being mailed to Institutions for distribution.
b) Faculty, Staff and Students will register at Students Finance by paying the applicable fee after which their Combo Cards will be enabled.
c) For family members a separate I-Card will be provided.
d) Temporary members can register at MARENA or Students Finance.
6. Instructions on use of MARENA facilities will be put up at various facilities.
7. Specific mention is made on the use of footwear (soles) that are specific to each facility.This will be displayed at MARENA and also explained by the staff to preserve the special wooden floors which are specific to each facility. The staff have the mandate to deny use of the facilities to those who are not wearing the correct footwear.
8. The Mangalore Sports Complex work is underway. Manipalians at Mangalore will have to wait just that longer and are requested to bear with us.