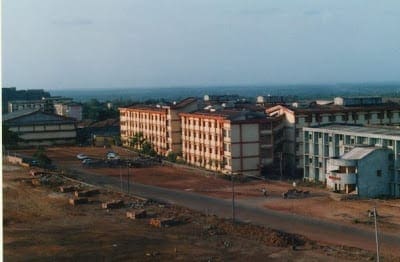 All pics courtesy @maheshpai, from the album by the same name.
The 9th Block and Annapoorna mess in 1999
9th Block before the glamour
Ground floor of the Central Library – The inside of the MIT Central library
Kamath Circle – Before Shiva, before the Auto stand, before the wall, before the Food Court. Heck! This was even before the Circle was built!
MIT from TC. Yes, TC. – Before they built the Manipal Logo and Fountain wala circle
Green MIT before the Cement age
Another View!
Yet Another view of the old Manipal Institute of Technology Campus
Where are all the buildings? Manipal of the late 90's.
A view of The MIT Quadrangle in 1998
Another view of the MIT (Manipal) Quadrangle
The original snack shack, before it was shifted to the one at Tiger Circle
Student Elections in 1998 – In the days of print media
The Lending Section of the MIT Central Library
The MIT Central Library. We kid you not.
The Syndicate Bank area – At the entrance to the Campus. Used to be and still is quite a busy area!!
The Text Book Section – People used to study too 🙂 No facebook or twitter 🙂