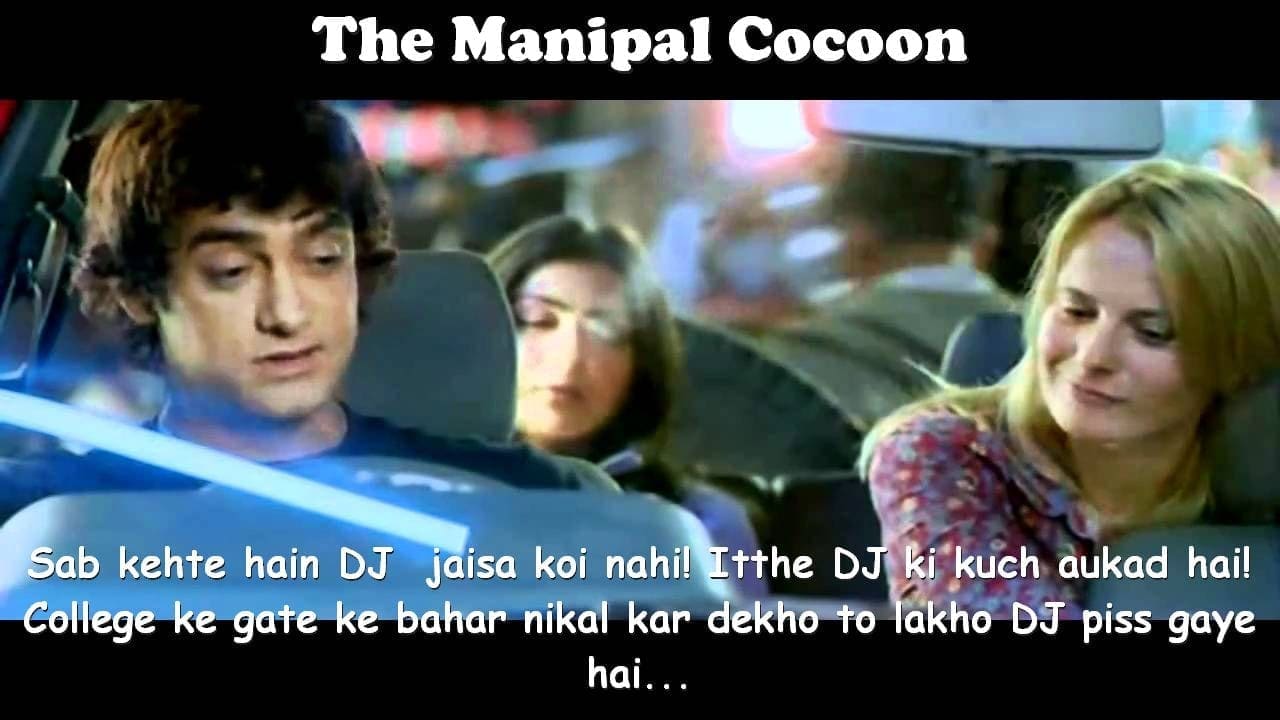 It is often said and it has been an oft repeated cliche of sorts that pervades the blogosphere, the Facebook pages and the Twitter timelines – "Manipal – The best days of my life". Blame it on the University marketing video of the last decade, which till date is very popular and goes viral in spurts. So why exactly is Manipal – the best days of my life for so many who pass out of these hallowed gates?
Another thing I often come across, mostly from my colleagues and often my Facebook 'friends', is them saying – "Manipal shielded me from the fact that the world is not as straight as Manipal led me to believe"! One of my acquaintances told me recently that she had totally forgotten that there are elderly people and children in this world, and that she couldn't adjust to life outside Manipal. She was finding it difficult, tied down to a job, the discipline required and the responsibility that comes with it!
Strangely, the first thought that came to my mind from this situation was of Daljit Singh in Rang De Basanti. I could so easily relate to DJ's fear of going beyond the life of college campus and friends due to the uncertainty on the other side of the college gates and the fear of being just another face in the crowd. For me, it is the relative dullness in life after campus that brings out a craving to go back and live that spirited life forever?
Manipal is a Cocoon, shielding us from the big bad world outside the college gates. Once we leave, we realise how cynical it can be!
I've been through this too. I did not study at Manipal though, not my undergraduate study at least. I went to Belgaum. The shift to Manipal for my post graduation brought me in knowledge of the Manipal Cocoon! While in Belgaum, I was left to fend for myself, with no social support structure from the college or the professors, here in Manipal, a cocoon enveloped me. The teachers were kind, staff courteous and I had a very hard time believing that people could be nice. Belgaum had made me cynical, and that scared the shit out of me when I came to Manipal.
?The Manipal Cocoon:
Manipal is a cocoon in more ways than one. It is relatively isolated from the world. Relatively because it is more? of a village-town. Only the student population is cosmopolitan. Hidden away in the hinterlands, most students would have difficulty in identifying it before they come here. It is the first taste of freedom for majority of the students. A first time away from their parents and the constant nagging. A first time with strangers who are thrown together and gel into a friendship that may last for a lifetime. A first time exposed to a member of the opposite gender! A cocoon because, Manipal tints the eyesight a rosy pink. You are shown only the bright side of life, as most colleges do!
There are time constraints to perform well in class, to enhance your resume, join a club, keep up with your friends and watch your fitness, but they do not claim every hour of your life!
Manipal shields you from what is to come next. Most students do not know what to do after they graduate! They do not know how to live beyond Manipal. The first few weeks after the finals are spent celebrating. Maybe on a beach, maybe a road trip, maybe? in their rooms, painting their toenails black with a Q-tip and shoe polish. But mostly, worrying about what to do next. Yes they've got a job, yes they'll be living away from the parents, but how will they survive without the social structure that was supporting them in Manipal?
The point is that the Manipal cocoon — even with a full course load and the various extra-curricular activites- provides many hours in the days and weeks that need killing. And because most of us, as students, saw our hours as in need of killing — as opposed to thinking about giving a few of these hours to our communities in one way or another — we feel inadequate when we come out into the big bad world.