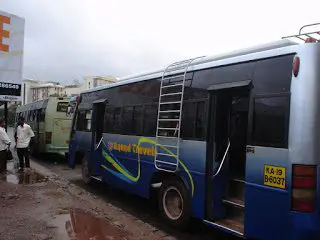 Last Sunday we made a trip to Mangalore as most of us had not seen this coastal city and wanted to explore it. Mangalore is an hour and a half's journey from Manipal if you get a good driver and a good bus, but generally it takes 2 hours. Since Ashwin hails from the city we decided that he would be our official chaperon and guide on the tour around the city. Though I hail from the town of Brahmavar, I have not seen Mangalore intricately in all of my 28 years of existence on earth.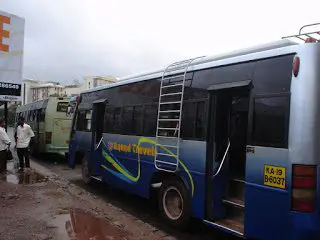 So it was decided a week in advance that we would make the trip and spend a day there. The night before i had ambivalent feelings and did not want to make the trip , but decided to go in the morning. We decided to start early but finally started only at 8:30. That is the bus we took. Anand Travels. It was a mini bus with reduced seating capacity but the driv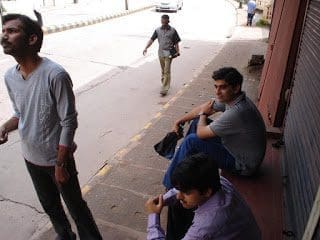 er drove well and we reached Mangalore at 10:30. The early morning breeze felt nice on my face and there were not many passengers so it was a pleasant journey. I listened to music on my Mobile device and enjoyed myself.
After reaching Mangalore there was a confusion as to were we should be getting down. We had asked Ashwin to pick us up at PVS but then the guys talked of getting down at the Bharath Mall stop. But good sense prevailed and with a little help from the fellow passengers we got down at PVS and waited for Ashwin to arrive. Prabhav and Vivek were tired and sat down , while Madhu went around looking for a place to have his breakfast. In this picture he seems to have grown horns. I wonder how I click such pictures.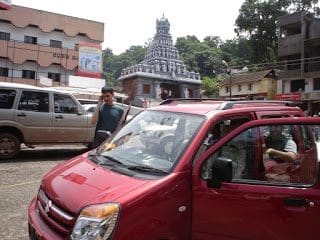 Ashwin arrived 15 minutes later giving enough tine for Madhu to have his breakfast and me to get an issue of 'The Week' magazine. Vivek bought the Times, but did not read it and it was last seen in the trunk of Ashwin's Brand New Wagon-R.
Tags: Mangalore, PVS, Adlabs