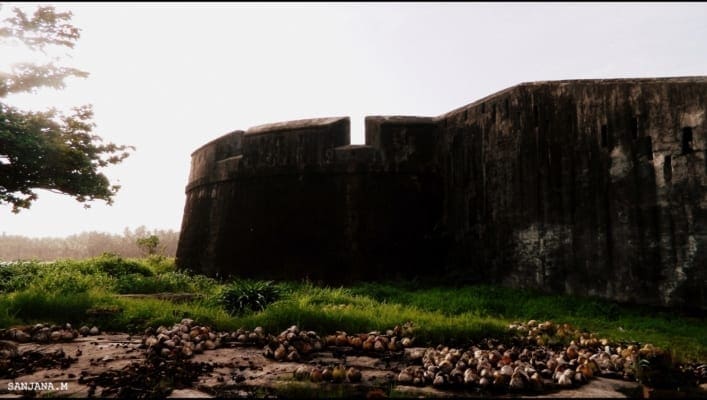 "India is the cradle of human race, the birthplace of human speech, the mother of history, the grandmother of legend, and the great grandmother of tradition. Our most valuable and most astrictive materials in the history of man are treasured up in India only! " –Mark Twain.
Indian History includes  fall and rise of many kingdoms. Monuments  built by different kings, throw light on the history of India, including one of the Seven Wonders of the World 'Taj Mahal', Red Fort, Victoria Memorial, Charminar, Hawa Mahal and many more. Mangalore also has a small history of its own, one of which is 'Sultan battery'
The Sultan Battery watch tower, constructed by Tipu Sultan the 'Tiger of Mysore' in 1784, is situated 4 km from Mangalore city, the chief port city of the Indian state of Karnataka. The word Battery meaning firing of canons.
It's a man made piece of  beautiful work located amid-st the beauty of nature will attract people.They always find peace and come out of there worries for a short period of time.It's a very nice place to hang out,you find all age people coming here adults come here to relax,couples have there time,children play.The beauty of the palm trees along the steam of river is awesome.
CLOUDY VIEW FROM THE TOWER
Now let's go down the lane of history of Sultan battery. Built in black stones, the tower gives the impression of a miniature fortress with its arrangements for mounting cannons all-round. It was built to prevent English warships from entering the Gurupura River. It was constructed from stones of churches destroyed by Tipu Sultan, during his 15-year imprisonment of the Mangalorean Catholics and the other Christians. There is rumored to be an as-yet-undiscovered cave near this location that is the entrance to a tunnel that reaches Tippu's fort in Srirangapatnam.
Sultan battery has also served as a place of occupation for fisherman. There are many boats,boat houses,and ferries taking us to Taneerbavi beach and Kuruva island.
"many people spend too much time trying to be the captain of someone else's boat.learn to be the lighthouse and the boats will find their way"
Though Sultan Battery is an abandoned spot , it deserves an appointment due to its wonderful construction.
"Among the many misdeeds of the British rule in India,history will look upon the act depriving a whole nation of arms as the blackest" -Mahatma Gandhi
Send us your work-[email protected] or [email protected].