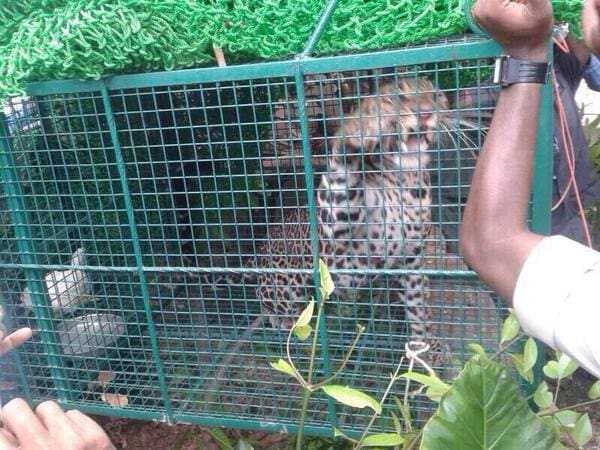 A leopard visited Manipal just a week after A.P.J Abdul Kalam visited the university town. It all started when some of the locals complained about missing pets and birds from around their houses. People were suspicious of an animal attack but no one was sure about it. The rumors were confirmed when the leopard was spotted at End Point on Sunday.
The authorities started searching for the lone cat and cornered it near NBQ canteen last night (8.4.2014), a mere 200 metres from where the Utsav annual events of the Manipal University were being held. The search was halted due to insufficient light and equipment for catching the leopard. Locals in the area prayed throughout the night for the safety of their families.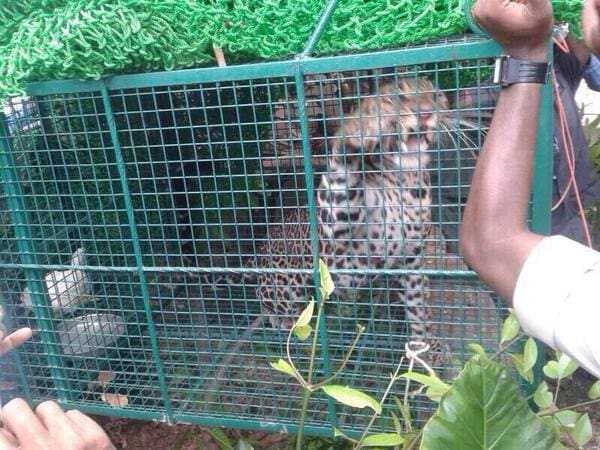 At 6am today, forest officials together with Manipal police arrived at the scene for a thorough search. Cages with live chicken as bait were brought to help trap the leopard and at 2pm today with a loud yayy, the leopard was caught. It is believed that the leopard came from the Someshwara Wildlife Sanctuary.
About the Author: Sajjad Fazel is a 5th year student of Manipal College of Pharmaceutical Sciences. His passion is photography and you can see some of his skill at www.sajjadfazelphotography.com