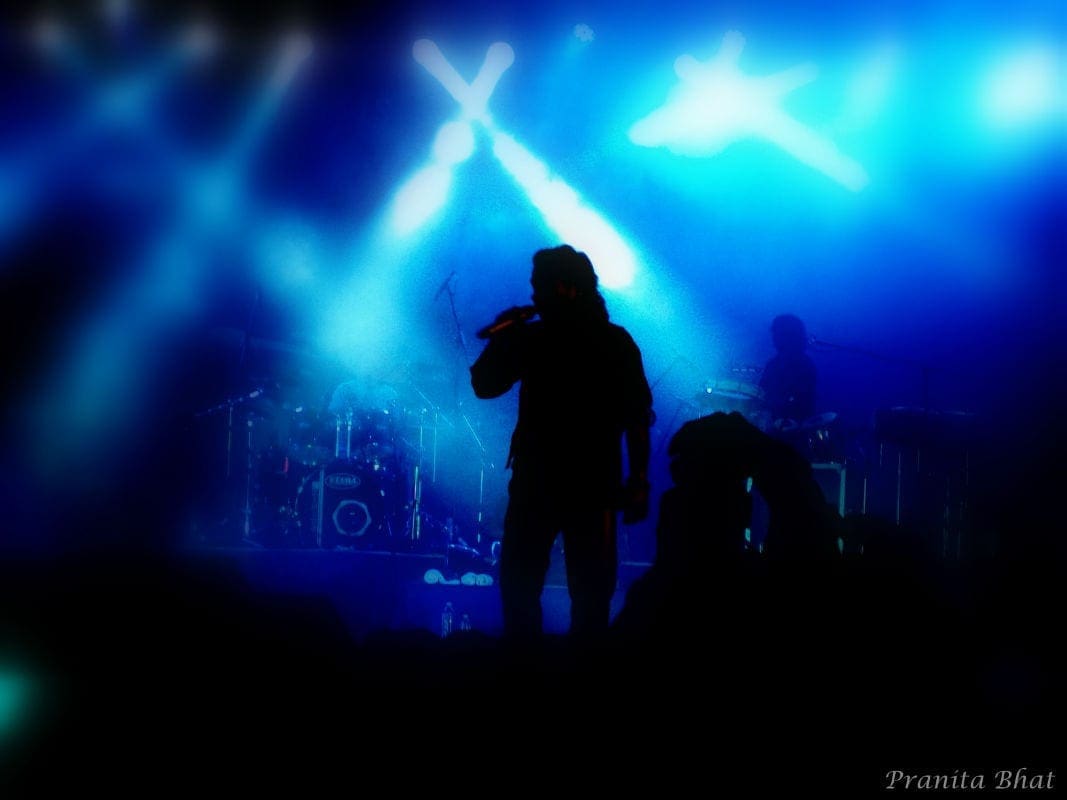 KAILASH KHER – The name in itself sounds divine, doesn't it? I wonder the person who named this great artist knew at that time, that he would some day in future play a part in helping mere mortals like us experience KAILASA through his music!
As the word itself says, Kailash refers to heaven or more specifically the heavenly abode of Lord Shiva. When the band 'Kailasa', a word modified from his name itself, came down to Manipal on 27th March, thousands of people thronged to KMC Greens to watch the MIT Proshow. The tickets were sold out like crazy. All this to listen to one man, one voice – Kailash Kher!
This man's success story reminds me of the fact that what is meant to happen will always find a way. Little did he know as he struggled and failed through his business, that something he enjoyed so much – Music, his heartfelt hobby would someday make him one of the most sought after singers in our music industry. He's adored by younger and older generations alike. Sir Albert Einstein once said – "Everybody is a genius. But if you judge a fish by its ability to climb a tree, it will live its whole life believing that it is stupid". This is a best example to prove this. Had Kailash Ji never tried his luck in Music, he would have probably spent his whole life feeling extremely ordinary. Extraordinary feats are performed by people like him who honestly recognize themselves and strive and fight for what life has to offer.
All of us have hobbies, but how many of us dedicate our free time to it passionately? Doing something out of liking differs way too much from doing something out of passion. That's what I learnt from Kailash Ji. His undying zest in music got him to a juncture in his life which lead him to his destiny, and presented us with a taste of music that touches our soul with every song in one way or the other inspiring us to reach ours!
The emotions that pour forth his songs are those of pure bliss. Many of his songs are strangely sung by a male, voicing the thoughts of a female. That kind of makes it all the more interesting. Teri Deewani, Saiyyan etc. Also they portray intense devotion towards something, be it loving God or loving a person. The lyrics touch the deepest chords of my heart. His music is highly inspired by the Indian folklore and the Sufi genre along with the western euphony resulting in a beautiful fusion, which brings in the ethnic, yet modern touch to his songs which is all the more enchanting.
Kailash Ji has sung for movies also, involving those in other regional languages including Kannada. He's known to have a quick grasp of languages and has rendered super hit songs to every movie he's sung for. The honesty and love that seeps out of his songs makes you fall in love with each one of them, whatever language it be. Music has no barriers, does it? Something that comes out of an honest heart and a pure soul can never be not felt!
Backed up by his amazing band members, their fourth album Rangeele was recently released, the songs of which i haven't heard yet. But i for one am sure it's gonna end up in my playlist on repeat for some days to come. Over all, the KAILASA CONCERT for me was an amazingly divine musical experience. Relishing the ever-enthusiastic Kailash Ji's delightful earthly voice in all its glory, and that too LIVE, was only next to seventh heaven to me. With God's grace, may he go a long way ahead, i wish with all my heart. At the end of the show, i found myself humming –
"Tune kya kar daala, marr gayi main, mitt gayi main.. ho ri, ha ri.. ho gayi main… TERI DEEWANI… DEEWANI…"
Kailash Ji, that one was for you! 🙂
Following are a couple of  fan videos from the Kailasa concert, held at Manipal greens as part of the Revels Proshow!
[vsw id="fBMCJAW_oVk" source="youtube" width="425″ height="344″ autoplay="no"]
[vsw id="mfzomjiJ2ug" source="youtube" width="425″ height="344″ autoplay="no"]