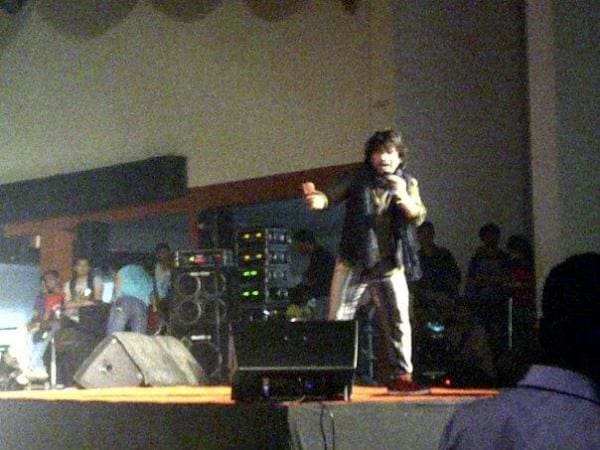 Call him phenomenal, call him a rock star and call it a night. Kailash Kher  promised to woo the crowd with his soulful voice, make them sway to his rhythm and give them something to remember for the rest of their lives. Playing live with his band Kailasa, at the KMC Greens, Manipal on MIT Manipal's, Revels 2012 Pro Show, Kher sang his hit numbers, shared his life's experiences and tried his hand at Kannada numbers, yet wasn't able to connect with the cosmopolitan audience that is Manipal.
The event started with a poor joke played on the Karnataka state name and lasted for a little over 2 hours. Before the concert, Kher had said, "When I sing live I want to connect directly with the audience. I want them to feel my presence in flesh and bones. They must be able to taste the magic of my live performance." Dressed in a green gown suit with a black scarf around the neck, Kher's presence on stage was brought a huge round of applause from the expectant crowd. His notes never stirred from their place and the melody in his voice often moved something deep inside.
He began with "Piya Re Piya Re" and followed with soulful and wistful numbers, "Teri Deewani" and "Kaise Batayein". Showing his love for the audience Kher called five random girls from the audience, to dance along with him.  The crowd was crazy, and there were so many people that at one time,I felt like an ant in a stampede! And there were little people enjoying the show from the comfort of their balconies,in the nearby KMC girls hostel!! Ha Ha !!
By presenting a blend of soft Sufi numbers and fast beat songs, Kher both sent chills down the spine of the audience and turned them into carefree mystics. However, the non-fans,couldn't identify with many of the numbers, which were not so famous.  Towards the end we could hear the people in the crowd complaining about the poor choice of songs, the higher prices for non-MITians and MITians complaining that they wouldn't even pay the 100 bucks next time.
The ManipalBlog.com Verdict: 2.5 out of 5!