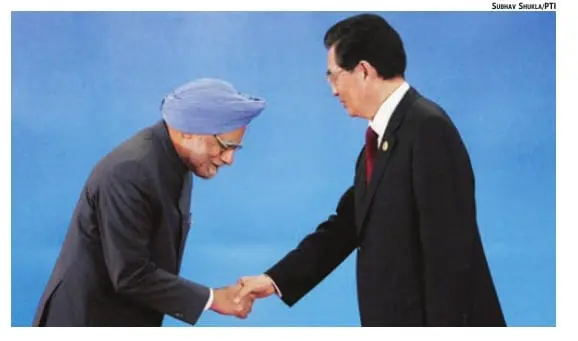 India has long been befuddled by trying questions on it's sketchy foreign policy, never more than in the  reign of the current government. With fledgling loyalties being tested by increasingly real threats, will we be able to take the right stand , or are we destined to repeat time worn mistakes?
If it were possible to choose neighbours, we would be anywhere but the place destiny has placed us in the map. With fiercely documented wars with China and Pakistan, Sri Lanka's internal turmoil spilling onto our lands, Political unrest in Maldives, the eternally sorry state of affairs of Afghanistan, it seems fate has dealt us a hard blow.
Speaking of China, in the midst of countless ongoing peace negotiations that end up circling the same issues, China has recently declared a significant increase in its defense budget expenditure of almost 12%.  A significant hike that takes Asia's arms race to the highest in the world. This bespeaks a sorry state of affairs indeed . If no provocation could induce China to thus boldly buy weaponry, imagine how a similar manoeuvre from India would cause it to react. Whilst people back home expect there to be a sound safety net, the only reaction that the foreign and defense ministry could elicit was that of "concern".
Moving on, India seems to have been caught in the throes of the war brewing between Iran and Israel. With the recent bombing of an Israeli Diplomat's car uncomfortably near the PM's residence, our involvement was but a foregone conclusion. Iran is becoming increasingly defiant in the fact that they publicly announced the preparation of several nuclear missiles. India's role seems clear, except it owes most of its oil and natural gas supply to Iran with which it's also in talks for a gas pipeline. This almost explains why it turned a deaf ear to Israeli claims of an Iranian hand in the attack. But procrastinating too long wouldn't further its cause either. Israel has the support of the United States and S.M. Krishna and his slew of advisors would do better to take a firm stand.
The Maldives haven't escaped these turbulent times either. Its first democratically elected government was taken out in a coup and India, in a lightning fast switch of sides (for it supported the outgoing govt), transferred its loyalties to the new successors in tune with the US's stand, amidst ominous forecasting by the ex-PM of Maldives that the new govt would side with China and against India unlike him. Thus it remains to be seen if we have gained an enemy or earned the gratitude of a friend.
These troubled albeit adamant decisions brought forth by the foreign ministry do little to dispel the uncertainties we find ourselves in. Nothing but a strong stand from the higher echelons would set our minds at rest and put these questions at bay. Here's hoping for a stronger India!!
| | |
| --- | --- |
| | This is a guest post by Adyasha Ranbir from MIT,Manipal. Originally from Odisha, she loves reading and averages about 2 books a day. Her favorite books are To kill a mocking bird,Jane Eyre and Sherlock Holmes to name a few. She also loves to sing and gorge on food. |